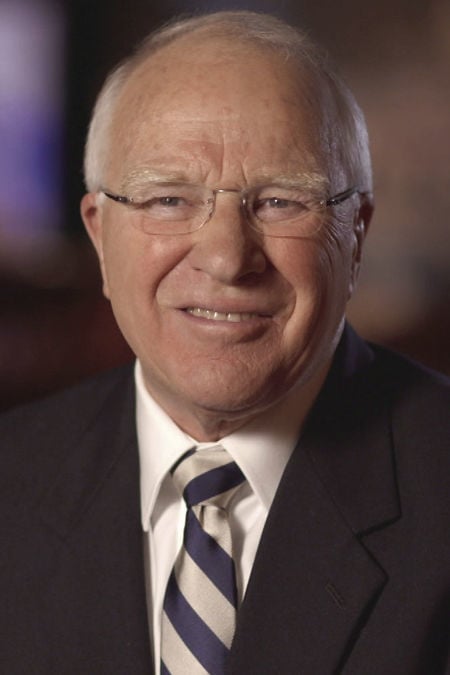 April 21, 1938 - March 22, 2020
Eldean 'Dean' Borg of Mount Vernon died at the University of Iowa Hospitals and Clinics on March 22, 2020, after a brief battle with pancreatic cancer. He was 81.
Eldean was born April 21, 1938, in Forest City, Iowa. The oldest of eight children of Albert and Addie Borg, he learned the values he showed throughout his life: a strong work ethic, service to others, a keen focus on family, and deep faith in God. As is entered in the Congressional record, he epitomized "Iowa nice."
He married Linda Leach of Forest City on August 31, 1957, and together they had four sons: Randy, Barton, Lindsey and Matthew. Linda died September 21, 1973. Eldean married Sheila Feeney of Rock Island, Illinois, in September 6, 1975. Together they have a daughter, Kierstyn (Mickelson).
Eldean became a letterman at Iowa State University as a half-mile runner as he earned a bachelor's degree in journalism. He also earned a master's degree in public administration from the University of Iowa. His love for Iowa State was evident throughout his life as he supported a wide variety of programs and initiatives. He was honored with Iowa State's Distinguished Alumni Award in 1988. He loved football Saturdays with his family and fellow Cyclones.
He was commissioned as a second lieutenant through Air Force ROTC upon graduation from Iowa State in 1959. He merged his focus on public service with his love of journalism as he served on active duty for four years as an Air Force public information officer. He continued to serve as an Air Force reservist and rose to the rank of lieutenant colonel.
At the urging of his broadcast director, Eldean became known publicly as Dean as his civilian broadcast career took shape at WMT Radio and Television in Cedar Rapids. He approached his work as a reporter and news director from the standpoint of serving the listeners, giving them access to information and insight as he covered stories across the state and the world, traveling to Vietnam to report on Iowans in the war there and to Paris for the historic peace talks. His professional career expanded in 1973 when he became director of public information for the University of Iowa Hospitals and Clinics. In this role, he helped to connect Iowans, Midwesterners and the nation to the hospital's growing premier specialties.
In addition to his full-time work at UIHC, Dean became host of Iowa Public Television's weekly show 'Iowa Press' shortly after its creation in 1971 and led the program for more than four decades, leaving the role in 2017. He felt a strong responsibility to use the weekly forum as a way to give Iowans the opportunity to learn about important issues and viewpoints and was known for his insightful questions that got to the heart, and truth, of issues. He retired from UIHC in 2010 and went back to his roots in radio as a senior correspondent for Iowa Public Radio and its WSUI station. Through his career he interviewed every president from John F. Kennedy through Barack Obama and countless state officials and citizens.
His work at UIHC and on broadcast channels earned him many awards for outstanding achievement in communications and journalism. He also repeatedly was recognized for his lifelong engagement in community service and his passion for helping others. Although his work often put him in a spotlight, he preferred to be a streetlight giving people a clearer view. No matter the environment, Dean approached his reporting from the standpoint of public service and always was ready to shift into reporter mode when he saw an opportunity to give others connection to a story. Despite his many professional roles and their wide variety of interests, he held himself to the highest standards of objectivity in his journalistic approach.
Although his professional pursuits took large portions of Dean's available time, he found ways to give more of himself through active roles in his church as a teacher and lay leader, support for youth programs like 4-H, service on school boards for Mount Vernon Community Schools and at the state and national levels. He also served on multiple boards and advisory councils and the American Legion, including more than four decades on the board of the University of Iowa Community, now GreenState Credit Union. He also loved to spend time outdoors and was a lifelong arborist and caretaker of nature. He found great joy in time with his family, especially to share stories of treasured memories and life lessons.
He is preceded in death by his parents, his first wife and siblings Marlin, Shirley and Pauline. He is survived by his wife, Sheila, his five children and 10 grandchildren: Christopher and Devan (Randy and Barbara); Zachary, Lucas and Elaina (Bart and Laureen); Tanner and Nathan (Lindsey and Deb); Emily and Anna (Matthew and Lynda); and Caroline (Kierstyn and Kent). He also is survived by siblings Betty, Sharon, Lyle, Julie and their families.
He will be buried in Mount Vernon, Iowa. His family will hold a private funeral and burial due to precautions around the coronavirus pandemic. A memorial service may be scheduled later in the year. The Borg family invites memories of Dean to be shared on his tribute wall at https://www.stewartbaxter.com under obituaries. Arrangements are with Stewart Baxter Funeral & Memorial Services, Mount Vernon.
In lieu of flowers, to honor Dean's lifelong interest in learning and opening doors of opportunity consider donations to the Mount Vernon Community Schools Foundation (https://ia-mountvernon-lite.intouchreceipting.com) to help to fund an annual scholarship for a high school graduate, or to the Iowa PBS Foundation (http://www.iowapbs.org/friends) to help fund an annual internship for a college student pursuing a degree in journalism.
Dean's family thanks the wonderful doctors, nurses and other health professionals at the University of Iowa Hospitals and Clinics. They were his colleagues and friends over many years and his caretakers in his final days.
Be the first to know
Get local news delivered to your inbox!