At the June 8 Mitchell County Board of Supervisors meeting, the use of the American Rescue Plan Act to help fund the county maintenance garage was approved.
ARPA was signed into law earlier this year, providing monetary relief for those impacted by COVID-19. Auditor Rachel Foster said the garage could be used as a drive-through clinic and as storage for Public Health.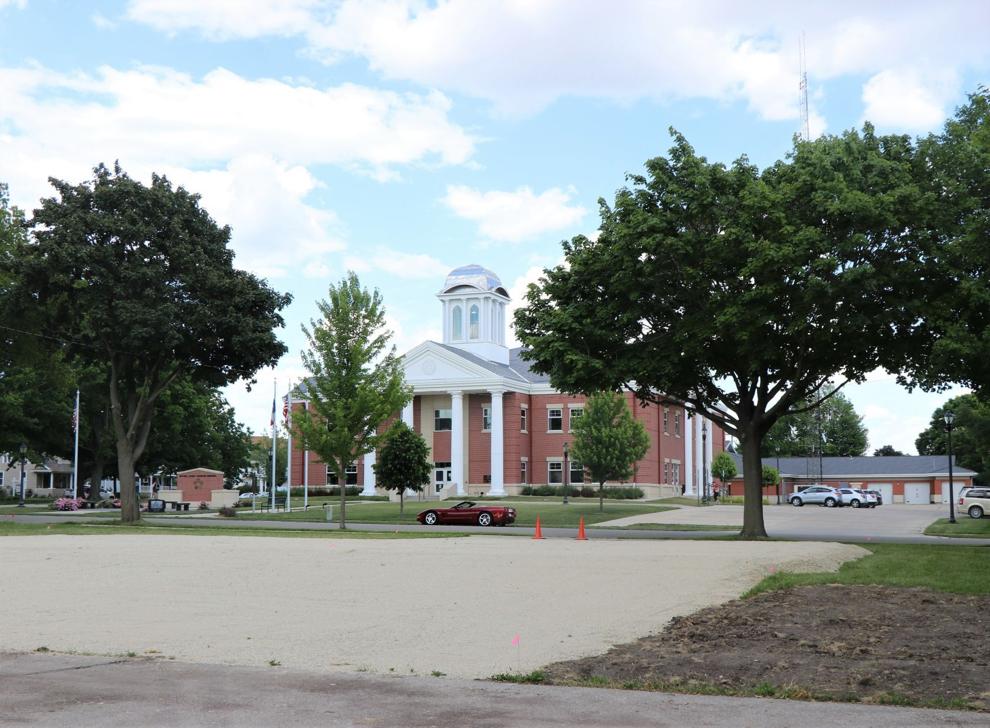 Groundwork has begun on the garage west of the Mitchell County Courthouse and near Public Health headquarters.
Engineer Rich Brumm said the paving of Foothill Avenue continues. He indicated it is difficult for him to predict the rate of progress.
"I'm not going to get too optimistic that they'll get a mile a day," he said. "They might get a half a mile or three quarters."
Brumm estimated that going forward it would be a two-week paving project.
"But then we've still got shoulders," he said. "Their new schedule shows that paving will still be done by the Fourth [of July] and they'll still probably be doing some granular work. Obviously, the closer they get to town, the faster they'll pave, because they'll have fewer miles to travel."
Supervisor Mike Mayer asked about the status of a Primrose Avenue bridge near the state line with Minnesota. Brumm said it depends on how the Board wants to spend bridge money, and that it would be an expensive bridge to replace, in part because it is a long span. He provided an estimate of around $1 million.
"I guess we've always planned on doing something, but priorities have kicked in," Brumm said, noting there was little north and south traffic on the road. "We can put our forces towards it, it just reduces the forces put toward someplace else."
Brumm added the bridge has been closed for almost 10 years.
Supervisor Steve Smolik said that some residents want it to stay closed, and that some want the bridge reopened.
"I know there's always access because the wind tower roads run back and forth," Brumm said. "And [landowners] have their private roads that run east and west through there. I think they've always been managing to get to and from their homes.
"There's nothing in the direct plan. We've always wanted to do something up there, but everything else popped up more critical than that, because there's not a lot of activity in that area other than the local people driving through – it's not much of a through road."
Smolik said the Board could have a discussion about whether or not to put the bridge in the program.
"That's a structure that could be considered [for] state money," supervisor Jim Wherry said.
A resident requested the Board consider opening a relatively short, dead end road near the state line. Brumm said he believed it was once called Bridle Avenue.
"The whole right of way is a forest," Brumm said.
"There's a reason why we abandoned it," Smolik said.
County Attorney Mark Walk said if they wanted to turn it back into a road, the price tag could reach $1 million. Brumm estimated around $600,000 for less than a mile of road.
"The general rule is, if it was abandoned, it's gone, there's nothing the county can do with it, even if they wanted to," Walk said, adding he would need to see the papers for a more informed legal opinion.
"I can tell you officially it's a closed road," Brumm said. "It's basically a glorified driveway if one person's going to live on the end of it. It's a dead end."
Wherry said that based on historical aerial photographs, it did not appear it had ever been maintained as a road, but was a two-wheel dirt path in the 1950s and 1960s before being overgrown with vegetation.
"We've got plenty of roads open and not enough guys to maintain them the way it is," supervisor Todd Frein said.
Jason W. Selby is the community editor for the Mitchell Country Press News. He can be reached at 515-971-6217, or by email at jason.selby@globegazette.com.