SWEA CITY | West Hancock's wrestling team was dominant Thursday, Jan. 3, picking up a trio of victories in Swea City. 
The final scores were West Hancock 48, Eagle Grove 29; West Hancock 73, Garner-Hayfield-Ventura 6 and West Hancock 74, North Union 3.
Their most narrow victory, a 19-point win against Eagle Grove, seemed close in comparison to their other two matches. The Eagles combined to outscore Garner-Hayfield-Ventura and North Union 147-9. 
West Hancock experienced immense success Saturday, Jan. 5 at St. Edmond High School.
The final scores were West Hancock 66, AGWSR 13; West Hancock 61, Roland-Story 15; West Hancock 78, St. Edmond 6 and West Hancock 39, Southeast Valley 27.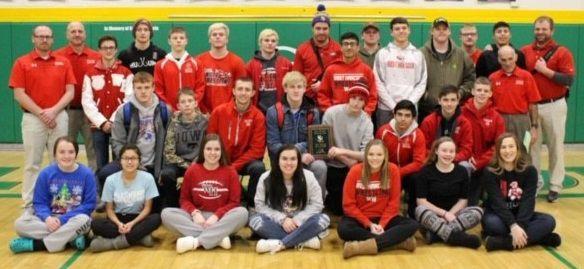 Kane Zuehl, Dalton Subject, Bryer Subject, Bennett Bruns and Tate Hagen won their match against AGWSR.
Mathew Francis, Chandler Redenius, Matt Larson, Dalton and Bryer Subject, Zuehl, Hagen and Bruns won against Roland-Story.
Forty-eight of the Eagles' 78 points against St. Edmond came via forfeit.