Another week, another victory for Osage. 
The Osage wrestling team came out of Saturday's Class 2A, District 4 match with plenty to celebrate. The Green Devils scored 145 points to earn a team district title, and pushed six wrestlers through to next week's state tournament.
In total, 10 area wrestlers advanced from the Humboldt match.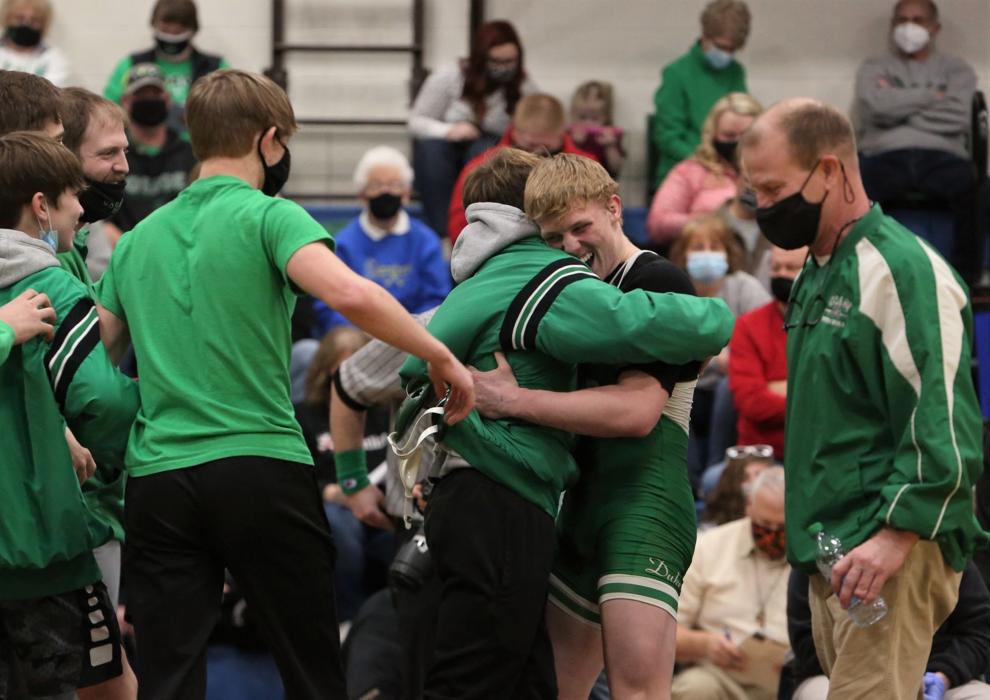 Along with Osage's six wrestlers, Forest City will send three to state, in Brock, Kellen, and Reese Moore, while Clear Lake sophomore Max Currier pushed his way through as well.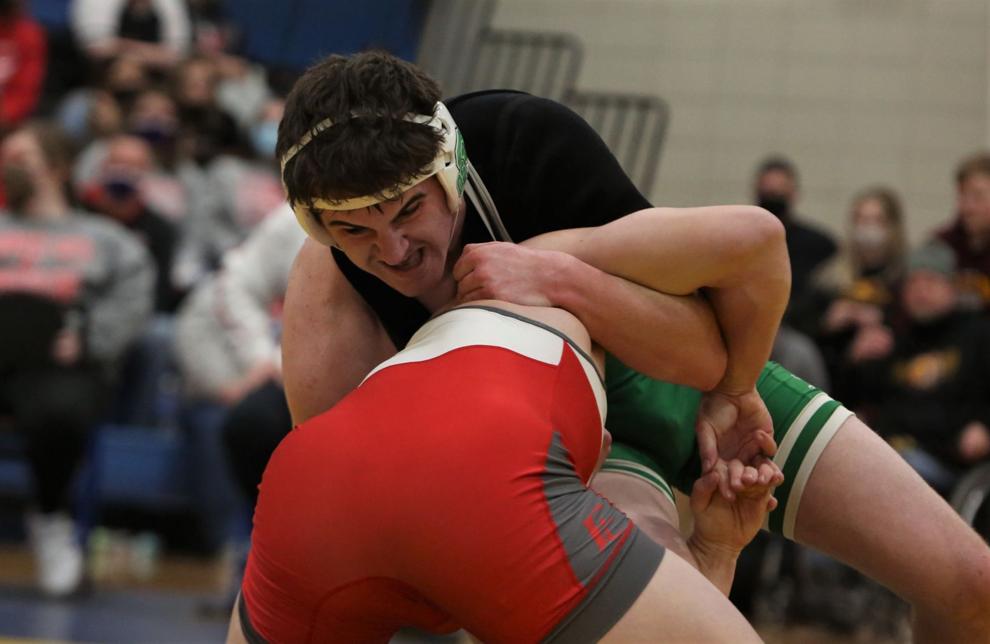 Osage freshman Tucker Stangel was the first area wrestler of the day to punch his ticket, as Stangel followed up his semifinal pin over Spirit Lake Park freshman Levi Dunn with a win by fall in the 113 pound final.
At 120, Currier advanced for Clear Lake with a second place finish. He started the day with a 12-5 win over DJ Muir of Humboldt, and then lost in the finals to Jonathon Burnette of Spirit Lake Park, 10-2. Thanks to his runner-up finish, Currier clinched his spot at Wells Fargo Arena. 
After finishing third at districts a season ago, falling short was not an option for Currier. He has wrestled at Wells Fargo Arena many times, but he knows that his first state experience will be special. 
"I've been there on the AAU level, and I've wrestled there all throughout my youth and absolutely loved it," Currier said. "It's just a sudden rush, and I'm assuming it is going to be the same way."
Currier's teammate, Tyler LeFevre, did not advance to state after both of his matches at 106 pounds. With one wrestler going on and another ending his season, it was an overall bittersweet day for Clear Lake. Now though, they can focus all of their efforts on getting Currier to the top of the podium. 
"The goal going into every year is to get 14 kids down to the state tournament, but it is a lot nicer when all of us coaches can zero in on one wrestler," Clear Lake head coach Evan Johnson said. "Our biggest goal as a staff right now is to not overcoach him, and just let him do his thing and wrestle."
At 126 pounds, Forest City sophomore Kellen Moore fell in the first place match to Jase Goodell of Humboldt, and then advanced with a 13-4 major decision win against Cale Kirstein of Clarion-Goldfield-Dows in the second-place match. 
In the 132 pound finals, Osage senior Averee Abben beat Forest City's Brock Moore by a 7-0 decision, though Moore's second-place finish clinched his second straight state tournament berth. 
In the 195-pound wrestleback, Reese Moore made it through as well, with a victory by fall over Osage senior Keaton Muller. 
Moore competed in the wrestleback because of his loss in the first place match to Matthew Wirtz of Emmetsburg, but with his win, all three Moore's will go back to state for the second straight year. 
"I had a pretty good first round match, and then in the finals I didn't wrestle my best match," Reese Moore said. "I bounced back and ended up beating (Muller) to go. It feels great to get the opportunity to go down to the Well again to compete."
At 145, No. 2 ranked Green Devils' sophomore Nicholas Fox beat Clarion-Goldfield-Dows senior Remington Hanson by a 6-0 decision, to clinch his spot at the tournament. After finishing second at state last year, Fox is looking forward to having his teammates with him when he gets his shot at redemption. 
"I'm excited, because the more guys you get through, the funner it is down there," Fox said. "The state tournament is just a blast, and hopefully we can get that team title again."
The fun continued for the Green Devils in the 170 pound finals, with a 4-1 win from senior Colin Muller, followed quickly by a 6-4 win at 182 by Spencer Mooberry, over Keegan Bradley of Spirit Lake Park. 
At the heavyweights, 220 and 285, both Barrett Muller and Cole Jeffries beat their opponents in the third-place match, but failed to advance to state. 
The final victory of the day for the Green Devils came in the 152 pound wrestleback, when junior Joey Potter pinned Noah Strantz of Okoboji to clinch his spot at state for the first time.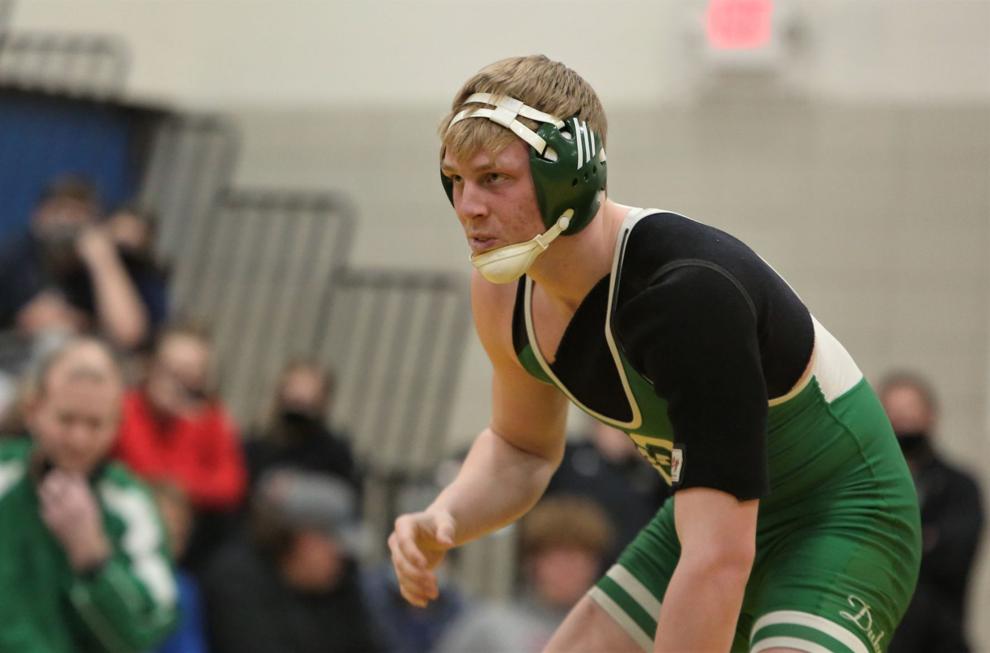 It was a thrilling moment for the Green Devils, who erupted with joy on the sidelines when the referee blew the whistle.
"It was amazing," Potter said. "I couldn't stop smiling. It's my junior year, so it's good to win it and finally get to go down individually. It was pretty exciting."
For Osage head coach Brent Jennings, the district tournament is like a yo-yo of emotions, as he congratulates his euphoric wrestlers who have punched their state ticket, while consoling those who fell short. 
"That's the end of the year in this sport," Jennings said. "It's all over the place, up and down from one match to the next, and one kid to the next. It's probably why we do it as coaches, to get on that high and enjoy it. I'm happy for the kids that made it, and proud even of the ones that are here that didn't."
Clarion-Goldfield-Dows finished second in the team standings behind Osage with 83 points, while Spirit Lake Park placed third, with 80. Forest City placed sixth overall with 45 team points, while Clear Lake finished 11th, as its pair of wrestlers combined for 12 points. 
All of the advancing wrestlers will compete at the state wrestling tournament in Des Moines, beginning Thursday.
Other area qualifiers
The Mason City wrestling team qualified three wrestlers and finished in fifth place at Saturday's district meet at Waverly-Shell Rock.
Kale DiMarco (106), Jace Rhodes (132) and Cooper Wiemann (145) all placed second. DiMarco won, 11-6, in his wrestle back match. Rhodes beat Dubuque Hempstead's Gable Brooks in his wrestle back, while Wiemann beat Cedar Falls' Connor McCartan.
The West Hancock wrestling team was dominant at the Class 1A Sioux Central district meet. The Eagles took first place out of 14 teams with 99 points.
West Hancock crowned Kellen Smith at 120 pounds as its lone champion, but qualified six total wrestlers. Smith won by technical fall in the championship match.
Ethan Boothroyd (106), Kane Zuehl (152), Bryer Subject (160), Matthew Francis (190) and Cole Kelly (220) all took home runner-up finishers.
At the New Hampton Class 2A district meet, Charles City placed fourth with 59 points and Hampton-Dumont-CAL (HDC) placed ninth with 32 points. 
For the Comets, 285-pounder Chase Crookes placed first, while Caden Collins (170) and Tino Tamayo (220) were runners-up.
For the Bulldogs, Carl Barkema at 152 pounds was their lone champion of the day. Jack Showalter at 120 pounds was the only other qualifier.
Shane Lantz covers sports for the Globe Gazette. You can reach him at Shane.Lantz@GlobeGazette.com, or by phone at 641-421-0526. Follow Shane on Twitter @ShaneMLantz.