In its final time out before the winter break, West Hancock suffered a pair of setbacks Tuesday night in a top of Iowa Conference West Division triangular at Eagle Grove. the Eagles fell to Eagle Grove 53-18 and lost to Lake Mills 59-9.
In the loss vs. Eagle Grove, Dalton Subject won by fall at 138 pounds, Caleb Eckels won by fall at 182, and Hunter Hagen won by forfeit.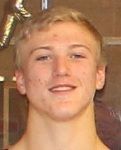 The dual against Lake Mills provided Hagen, who's ranked second in Class 1A at 195 pounds, an opportunity to square off with fifth-ranked Gabe Irons. Hagen took advantage as he earned a hard-fought 4-1 win by decision.
Chandler Redenius picked up a win by forfeit at 285 for the Ealges' only other win of the night.
West Hancock is back in action Jan. 4 in a triangular at Forest City.