This will be a big week for the fate of summer sports in North Iowa.
For better or for worse, West Hancock senior Tate Hagen had an unforgettable senior year. 
The West Hancock School Board reopened the high school head boys basketball coach position, allowing the current coach Brian Peterson to reapply.
On Friday morning, the dreaded news finally came down for spring sports in the state of Iowa.
The Iowa Print Sports Writers Association (IPSWA) released its All-State girls basketball list, and North Iowa was very well-represented, with…
With plenty of time on all of our hands with the high school, college and professional sports all on hiatus, now is the perfect time to rememb…
West Hancock has had quite the winter high school sports season.
The West Hancock girls basketball team looked to be on the way to its second-straight championship game appearance at the halftime buzzer on Friday. 
Before West Hancock's Class 2A quarterfinal game at the Iowa High School state tournament on Wednesday, head coach Paul Sonius said the team's…
For Tate Hagen, senior year has been perfect so far. 
On Saturday Hagen became a champion, winning the Class 1A 195-pound state title, for the Eagles' first state wrestling title since head coach …
Several West Hancock students received basketball post-season awards.
The West Hancock girls basketball team left no doubt that they are the team to beat in the region as they easily handled Clarion-Goldfield-Dow…
On the second day of the Iowa High School wrestling tournament, there have been a few surprises so far for North Iowa teams. By day's end, fiv…
The Newman Catholic boys basketball team pulled off a 48-47 upset win over St. Ansgar in the Class 1A-District 3 first round game Thursday nig…
The Top of Iowa released its annual All-Conference team on Wednesday, with Osage coming out very well-represented.
Well, the time has come for the final girls basketball rankings of the season. With the regional tournament starting this week, we can now sep…
Six West Hancock wrestlers made the trip to the Class 1A, District 1 meet on Saturday at Denver High School. Next week, those same six will be…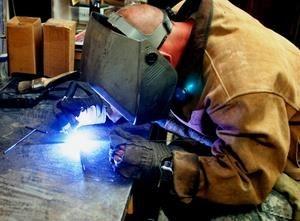 J & J Machining, Welding & Fabricating
West Hancock's Tate Hagen picked up where he left off last, winning the IHSAA 1A, Sec 1 title Saturday at Lake Mills High School.
West Hancock 61, Belmond-Klemme 31: The West Hancock girls basketball team rode another dominate offensive performance Tuesday to remain undef…
West Hancock 65, Belmond-Klemme 42: The West Hancock boys basketball team improves to 12-9 after a win Tuesday on the road.
Longtime West Hancock football coach Bob Sanger died on Wednesday from complications from leukemia, at the age of 74. Sanger was the head foot…
The West Hancock girls basketball team is on the brink of an outstanding, if not memorable season.
The West Hancock wrestling team walked away with a pair of victories in a quad on Tuesday night, as the Eagles beat South Hamilton and Manson …
West Hancock 79, North Iowa 10