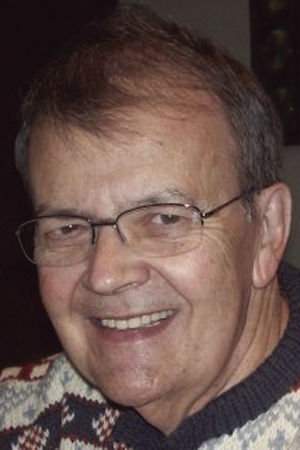 Leonard Ohren Markusen, 85, of Moorhead, MN, passed away on Sunday, March 22, 2020, at Bethany on University, Fargo, ND. Leonard was born on July 18, 1934, to Edwin and Petra (Ohren) Markusen in Minot, ND.
Leonard grew up on the family farm near Towner, ND, attended country school in the area and graduated from Dakota Lutheran Academy in Minot, ND. He attended the Lutheran Bible Institute in Minneapolis, MN, for one year before attending Concordia College, Moorhead, MN, for three years and finally graduating from Minot Business College with his Business Certificate.
After graduation, Leonard became the Office Manager at Dakota Lutheran Academy, where he was also the Dean of Boys and taught Freshmen Religion. After the school closed, Leonard moved to Forest City, Iowa, where he worked at Waldorf University as the Admissions Office Manager for 35 years. Leonard was united in marriage to Marjorie Lund on September 10, 1983, in Minnetonka, MN. Their daughter, Jessica, was born in 1988. While living in Iowa, Leonard prided himself on being the organist at Immanuel Lutheran Church in Forest City. At the age of 65, Leonard retired from Waldorf, yet continued to play the organ for the church. Leonard & Marjorie moved to Moorhead in 2011.
Leonard had a great sense of humor and was a proud Scandinavian. He liked to garden, feed the birds, read the paper and go for walks. He loved the liturgy and hymns of the Lutheran Church. He enjoyed attending concerts and cultural events. Leonard overcame many health obstacles, including a severe form of esophageal cancer, major heart surgery and other health issues later in life. Despite his health struggles, he made the best of every situation and was a very content person. He enjoyed being with family and friends. He loved spending time at the family farm in North Dakota or along the North Shore of Lake Superior.
Leonard is survived by his loving wife, Marjorie; daughter, Jessica Markusen; brother, Stanley Markusen; brothers-in-law, Richard and John Lund; nephew, Jeremy (Mark) Lund; and many other loving relatives and friends. He is preceded in death by his parents, Edwin and Petra; and brother, Edwin "Sonny" Markusen Jr. Leonard's brother, Erling Markusen, passed away on July 11, 2020.
A memorial service will be held at Trinity Lutheran Church, Moorhead, MN, on Friday, September 11, 2020, at 1:00 P.M. A live stream of the service will be available at 1:00 P.M. on the Trinity Lutheran Church webpage and Facebook page at http://trinitymhd.org, as well as Leonard's webpage at www.wrightfuneral.com, where a guestbook and video tribute may also be found. Final resting place will be at Norway Lutheran Church Cemetery, Rural Towner, ND, on Saturday, September 12, 2020, at 1:00 P.M. Masks and social distancing are required at the memorial service and graveside service.
In lieu of flowers, memorials preferred to Norway Lutheran Trust, Trinity Lutheran Church Organ Fund, Concordia College Music Department, or Waldorf Lutheran Foundation.
Obituaries Newsletter
Sign up to get the most recent local obituaries delivered to your inbox.