BRITT – West Hancock Community Schools honored military veterans with programs at the middle school in Kanawha and at the high school in Britt.
Keynote speakers were Gerald Edgar, Vietnam veteran and Hancock County Veterans Affairs coordinator, and Britt Mayor Ryan Arndorfer.
"Why do we honor our veterans? Speaking as a veteran, it isn't because of what I did, what my father did in WWII and my father-in-law, what my brother-in-laws did in the Vietnam War, what my daughter did in Afghanistan a few years ago and my great-great-great grandfather in the Civil War. We are honoring the right and the fact that you and I are living in this great country," said Edgar as he spoke at Kanawha.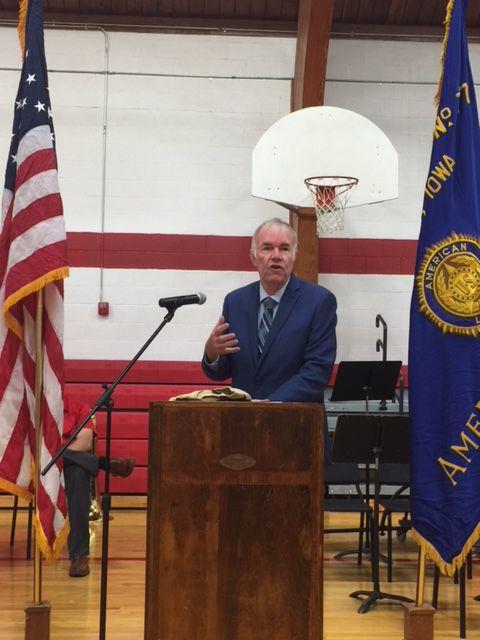 Of the 8 million veterans, nearly 90 percent are over the age of 60, Edgar said. 
Edgar challenged students to speak with veterans they know. 
"If you know someone who served, go up and talk to them," he said. "It will be more news to you than what you'll read in a history book."
Dan Peterson, West Hancock High School principal, opened the program by saying, "Today's assembly marks the 100 year anniversary of the ending of WWI, which ended at the 11th hour of the 11th month of the 11th day in 1918. That war which began over competing ideas of nationalism, militarism and imperialism has echoes through today's generation."
He said learning from the past is the key to ending all major wars.
Peterson said the graduating class of 2019 is the first in which a majority were alive during the Sept. 11, 2001 attacks, "...which led to our involvement in our longest running war in history."
He said as the war drags on it is no longer news and people are prone, "To forget the sacrifice, the hardship, the commitment and the people involved to make our nation a free one," he said. "Especially when newly-recruited soldiers weren't even alive to remember what the war is about. That is why Veteran's Day programs are so important, so future generations can be educated and reminded."
Arndorfer read the death toll statistics from World War I through the Gulf War.
"Since the founding of the United States over 1.3 million Americans have given their lives for this country. That is the price for freedom," he said. "Those who we asked everything of ask only one thing of us in return – that we remember them, that we honor them and that we speak their names."
"Thirty days before his death President John F. Kennedy told us a nation reveals itself not only by the people it produces, but by those it remembers," Arndorfer said. "Not everyone will serve. But we can remember the names spoken here today, the faces of those who stood amongst us only moments ago and we can honor their sacrifice and their service."