The City of Britt is addressing city water service with multiple unprecedented large-scale projects to accommodate growing regulatory, community and fire protection needs well into the 21st century.
Britt's 82-year-old, 100,000-gallon capacity water tower and 1955 water treatment facility long exceeded their anticipated useful life. If the 150,000-gallon new water tower and new water treatment facility last anywhere near as long, and they could, Britt will be able to provide premium municipal water service for decades.
The new water treatment plant will have gravity filtration with reverse osmosis processing, soften city water enough to allow Britt residents to discontinue use of home softening and filtration units, enable the city to treat for future regulated contaminants, and allow for chloride discharge reduction to the city's wastewater treatment facility, reducing burdens there.
"There is the potential for DNR changes to water quality levels," said Mayor Ryan Arndorfer. "Doing a reverse osmosis system allows us to be adaptable to those kinds of changes."
The project cost of the elevated tank is estimated between $1.4 million - $1.8 million with the cost of the new water treatment facility between $5.7 million and $6.9 million. Annual operating and maintenance costs for the new treatment facility could be about $54,000 higher due to more specialized equipment, more processes, and higher chemical costs.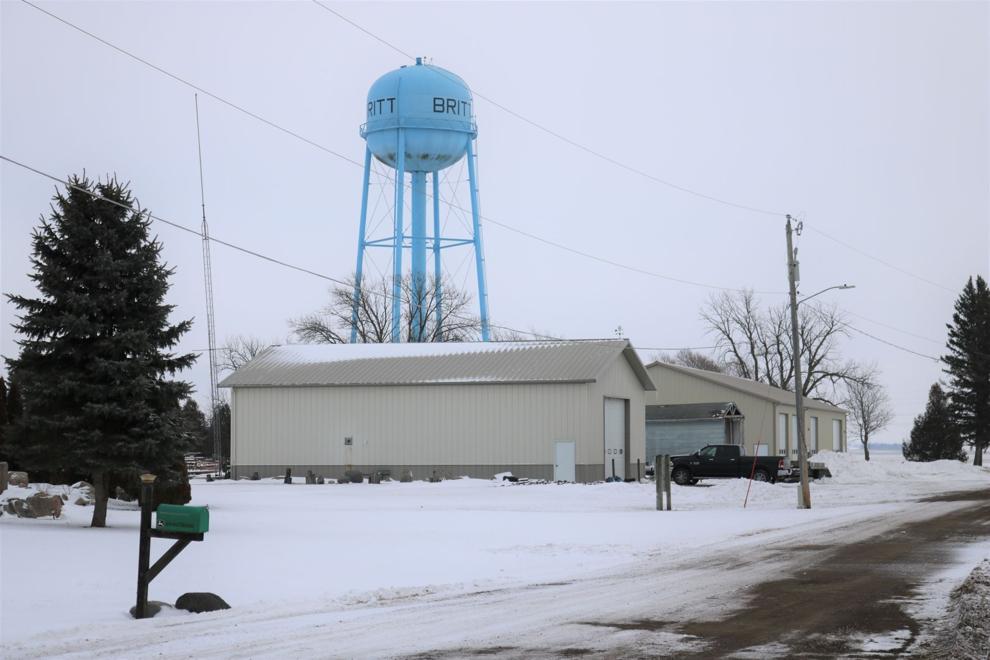 In a December Town Hall Meeting, Bolton & Menk Facility Project Manager Katie Sterk noted that while the new treatment facility has a 20-year design life, it could easily last up to 65 years or more once built with proper care and maintenance.
Sterk explained that the 1955 plant and equipment is old, obsolete, and in such poor condition that it is not economically feasible to rehabilitate. It has served the community for more than 65 years, but it has corrosion and delamination, valves that are not always opening and closing properly, and it is not effective at removing manganese, for which the Iowa Department of Natural Resources is proposing higher removal standards in the future.
The new treatment plant will be able to handle higher removal of other contaminants that may be cited in future environmental requirements. The new facility requires more space due to modern equipment, so adding reverse osmosis treatment from day one of new facility operation is the most cost effective.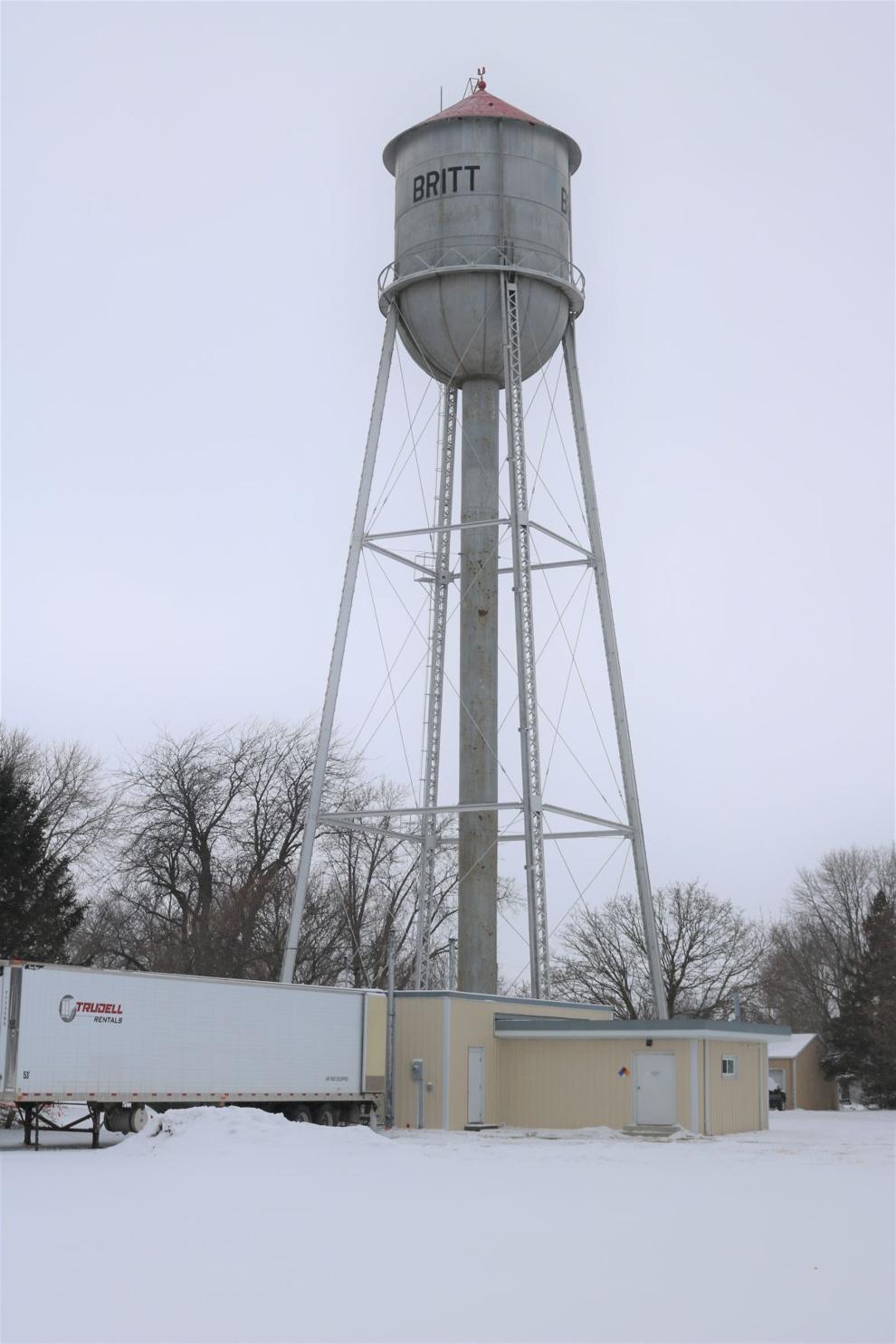 The new treatment facility will be constructed on the site east of the existing water treatment facility location. Rehabilitation of the existing treatment facility was not considered viable due to the age and condition of the existing treatment facility as well as the building requirements for the new equipment.
Wes Brown, Bolton & Menk Tower Project Manager explained that the 82-year-old tower has serious delamination and corrosion issues on the inside and outside of it. The tower could have undergone a costly rehabilitation to add another 10-20 years, which would not have provided an additional 50,000-gallon capacity recommended for fire protection. However, both Brown and Sterk noted that the city's 200,000-gallon tower built in 1979 should last another 30-40 years with proper cleaning and painting.
The new 150,000-gallon, single-pedestal tower will be built on the same block and just north of the existing tower, which is anticipated to be decommissioned and torn down once a review process from the State Historical Society, related to a low-interest state revolving fund loan for the water projects, is completed.
The new tower will immediately improve water flow and fire protection throughout the city's approximately 18.6 miles of water main once completed.
"It is a balancing act, spending money and determining what can wait," said Arndorfer. "In the last 30 to 40 years, not everything has been done, so now it needs to be fixed or replaced and that's where we are," said Arndorfer.


The water project timeline includes reverse osmosis water testing being completed this spring. The IDNR environmental review should be completed by the end of this winter as well with construction of the new tower spanning from spring through fall of next year. Brown said the delay in demolition of the old tower will not impact the new tower construction. Water plant construction is scheduled for fall 2021 through spring 2023. Brown said that existing mineral/hard water buildup in city pipes won't cause long-term issues after the new plant goes into service sometime in 2023, but there could be some temporary implications.
"There could be a period of transition for the pipes that have scale buildup," said Brown. "This will be temporary as there are means that will be used to avoid any long-term degradation." Brown also noted that persistent iron staining issues should relent once the new plant is in operation.
Mayor Arndorfer noted that the city's water irrigation rate program for watering lawns will continue through the coming water projects and rate changes. Customers can receive a special water rate for water used in conjunction with an irrigation meter.
Mayor Arndorfer stressed that the city took decisive actions to first address water tower and facility needs before future wastewater facility needs. The reduction in chloride discharge to the city's wastewater treatment facility as a result of the new water treatment plant provides a good starting point.
Last November, the Britt City Council held a public hearing regarding the use of State Revolving Funds Environmental Clearance for its Iowa Department of Natural Resources project for a water treatment plant improvement and water tower.
City Administrator Debra Sawyer reported that no written objections had been filed by any resident or property owner of Britt regarding the authorization of the use of State Revolving Funds Environmental Clearance for the Iowa DNR project. In addition, no oral objections were noted at the hearing regarding the use of State Revolving Funds.
The scope of the work for the new water treatment facility includes:
• Construction of a new masonry brick water treatment facility on the lot adjacent to and just east of the existing water treatment facility.
• Installation of a package gravity filter system and reverse osmosis processing system, including chemicals, pumps, and tanks.
• Construction of a new raw water main from both wells to the new water treatment facility.
• Replacement of three blocks of water main on Center Street West.
• Provision for better water quality and ability to remove arsenic, iron, manganese, and water hardness from treated water. It has been noted by the project managers that previous unfiltered iron buildup caused staining that was a big issue, leading to corrosion and delamination of the old tower and other equipment that is being replaced.
On Feb. 12, the Iowa DNR issued its finding of no significant impact environmentally for the Britt water projects related to the state revolving loan funding.
"It has been determined that the proposed action will result in no significant impacts to the surrounding environment. This determination is based on a careful review of the engineering report, the environmental assessment and other supporting data which are on file at the Department of Natural Resources' office in Des Moines," said Iowa DNR Environmental Specialist Karrie Darnell in a letter explaining the findings.
Britt has two wells that supply raw water to its treatment facility. In the past, the City had a third well, which was abandoned and sealed in the 1990s. The Iowa DNR reported that raw water from Britt's two wells contains arsenic at levels just about the Maximum Contaminant Level, which must be reduced through treatment prior to distribution.
Britt's water treatment facility was constructed in 1955 and has not been significantly updated since that time. The facility was designed to remove arsenic from the City's raw water supply by use of a pressure filtration system. While the facility still produces good quality water, the filtration system, as well as piping, valves, and other appurtenances are beyond their useful lives.
The anticipated life of a pressure filtration system in 1955 was approximately 20‐40 years. Britt's existing filtration system has been in active use for 65 years with minimal significant improvements. Filter media was last replaced in 1971. Since 1971, the only modifications to the system have been the addition of a fluoride feed system for dental health.
In its report, the Iowa DNR stated that due to the age of the existing pressure filtration system, it is likely that the existing Britt treatment facility could experience a catastrophic failure which would preclude the city from providing filtered water to its customers.