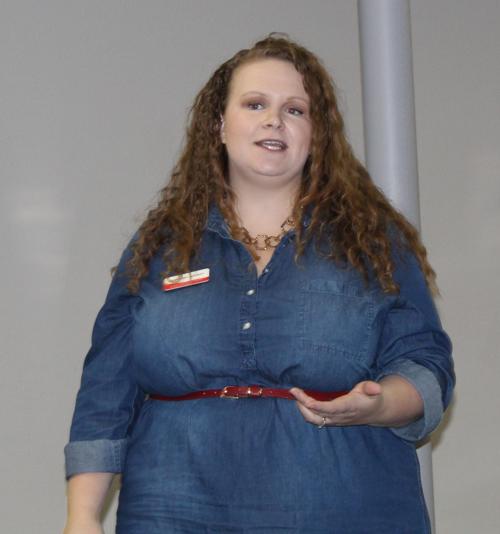 Suicide is a difficult subject to discuss regardless of your age, gender or occupation.
Due to an alarming rate of suicides among famers, Iowa State University (ISU) Extension and Outreach staff members are presenting programs around the state to help identify farmers who are contemplating taking their lives, due to tough economic times, aging, substance abuse or family-related issues.
During a recent agriculture workshop held in Garner, Mackenzie Johnson, Human Science Specialist with ISU Extension and Outreach, provided a session on how to spot suicide tendencies among members of the farming community.
"The rate of suicide among famers is right up there with adolescent, and veterans," Johnson said. "We tend to realize how high the veterans' rates are, but we never realize the farmers' rate is high also.
"We focus this training on helping others recognize the signs of suicide. You might see these signs in a neighbor, another farmer or in someone in your church."
Johnson introduced attendees to the "CORN" Program. It is a program designed to help know how to engage with someone who might be contemplating suicide.
"CORN" stands for the following:
O: Offer support, listen, and respectfully ask, 'Are you thinking about killing yourself? (Research has proven asking this direct question actually lessens the risk of suicide.)
R: (If a person answers yes) Refer them to a helpline, lifeline or to local resources.
N: Never leave a person alone or without a plan and never leave a person without hope.
To educate attendees, who included both farmers and agri-business professionals, Johnson provided some of the causes for why someone might be thinking about committing suicide.
• More men die when attempting suicide than women.
• There are signs of depression that result from losses of finances, relationships and illnesses.
• Substance abuse multiplies the risk of suicide five times.
You have free articles remaining.
• Unwillingness to seek treatment for issues or having made a previous attempt also increases risk.
• Overreliance on self, which brings isolation.
Johnson also shared some warning signs which can be present when someone is contemplating suicide.
• Posting or writing about death,
• Rage or seeking revenge,
• Increase in alcohol or drug use,
• The person feels trapped with no way out,
• Dramatic mood changes, which can be both sadness or excessive happiness,
• The person has no sense of purpose,
• They start giving away sentimental or valuable possessions,
• Threating to kill themselves and searching for a lethal way to do it.
If someone should notice these signs, Johnson said to show concern by having a respectful visit with the individual and by asking the hard question, "Are you thinking about taking your life?" If the person indicates there is a problem, stay with the person while they make a call to a hotline or make an appointment with a local mental health provider.
For those who are struggling with the thought of suicide, she said the person needs to know there is easy access to mental health professionals who can help them. The person can also find a mental health care system that will help provide solutions.
In addition, she said individuals need to rely on a network of family and friends for help.
"With time, a depressed person can learn positive ways to confront what currently seem to be insurmountable issues," Johnson said.
Johnson provided attendees with a list of hotlines to call if an individual is facing a crisis. They include: National Suicide Prevention Lifeline 1-800-273-8255 or chat at suicidepreventionlifeline.org/chat; Iowa Concern Hotline 1-800-447-1985; Veterans Crisis Line 1-800-273-8255 and press 1; Crisis Text Line, text "Home" to 741741.