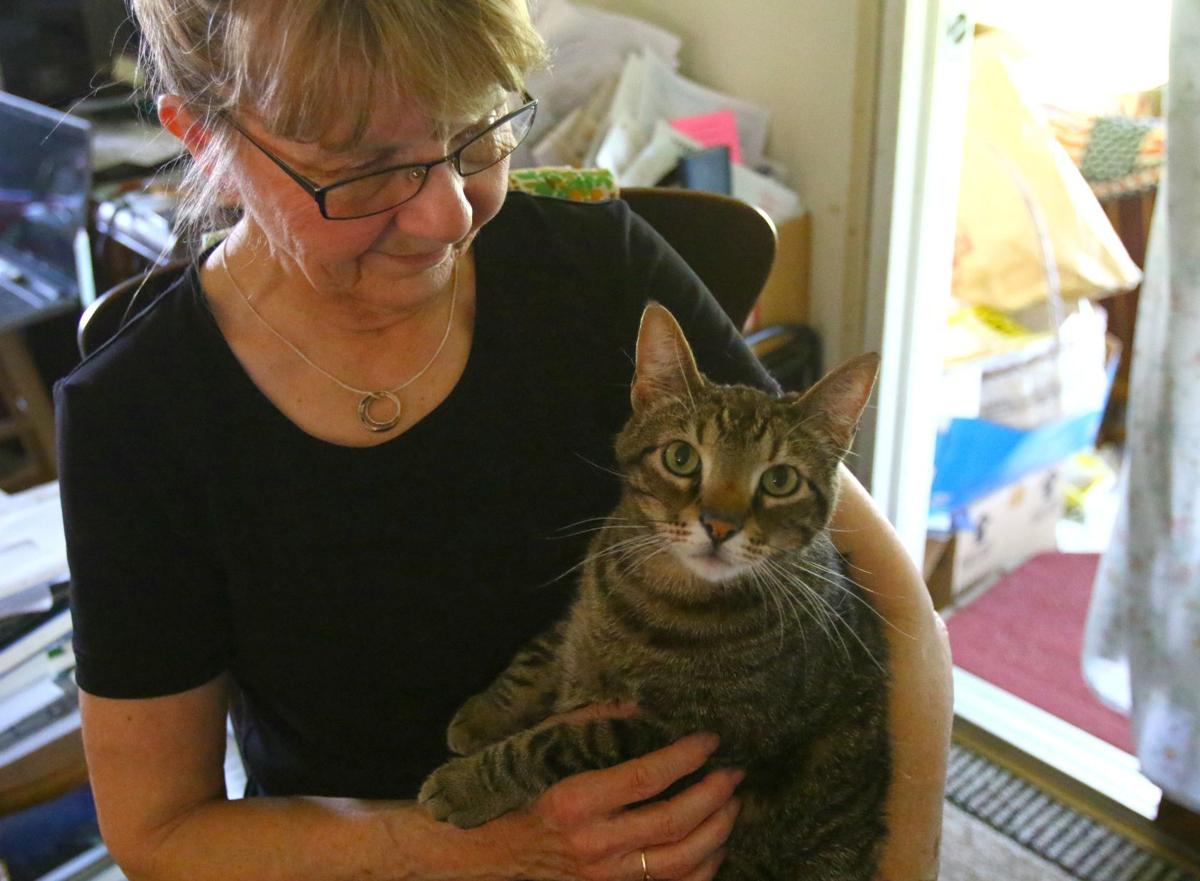 Laurie Eden has often said there's an invisible neon sign above her house only cats can see.
"They're good friends, good company," she said.
The Britt resident said she grew up around cats – primarily strays that came and went for food – but even their momentary presence left a lasting impression on her and her family.
Over the years, she's owned 11 cats, but many more have crossed her path.
"I've always loved them," Eden said as she was petting one of her cats sitting on her lap.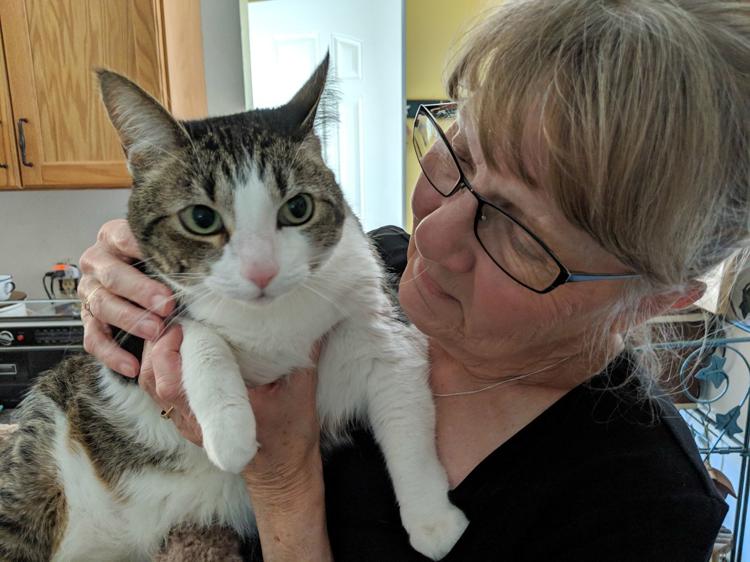 The first was a kitten her husband, Robert, brought home to Britt after he found it at a job site while he was working with his father.
He was more of a dog person than a cat person, but he allowed it inside.
Fast forward 40 years, and she's had to say farewell to many of her furry family members as well as her husband and youngest son, Brian. Robert died in 2014, and Brian died in 2017.
"It's always nice to have them waiting when I come home," she said. "They're always happy to see me as long as I feed them."
Eden currently owns three cats. Two 7-year-old short-hair siblings, Lucy and Jack, and a 14-year-old black and white long-haired cat, Smokey, that belonged to her son, Brian.
Lucy and Jack are from the summer of "beau coup cats," where she became acquainted with nearly 20 felines that year.
Before that summer about seven years ago, two pregnant feral cats arrived in Eden's neighborhood on the north side of Britt and the cats – mother and daughter – visited her house regularly.
In the spring, the daughter had two males and a female in Eden's garage.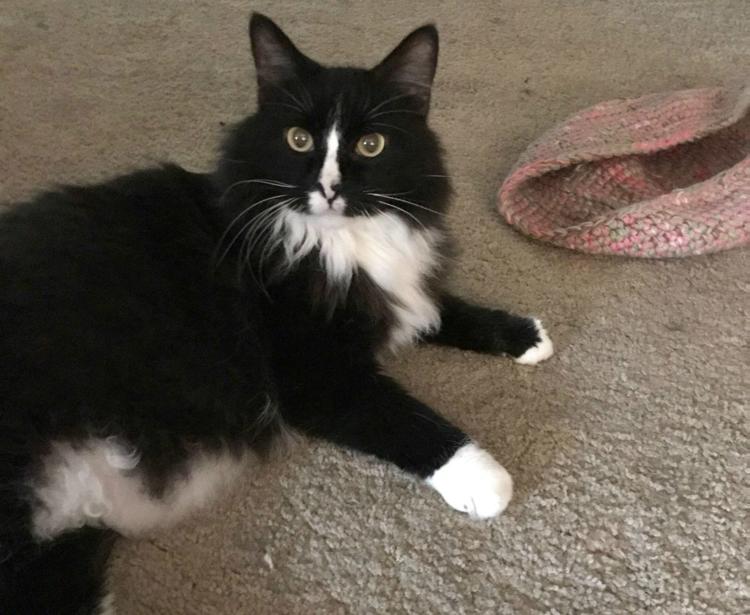 Ironically, the female cat wandered to Original Saw Company, the business Robert started in the late 1980s that their son, Allen, now owns and operates.
Eden took a litter box, food and the cat's two brothers there.
Today, the two brothers remain Original Saw's "shop cats."
"They come and go in the warmer weather, but they have their shots and they're fixed," she said. "They're healthy."
The next spring, another one of the mother cat's daughters showed up with four kittens, and in the fall, the mother, who Eden calls the "grandmomma," arrived in the neighborhood with seven kittens.
Eden found the kittens by a neighbor's step and brought them home.
"They were so tiny," she said, adding she never saw their mother again.
Eden, with the help of her husband and mother, bottle-fed them to health.
"I couldn't let them die," she said.
Eden, who had two cats at the time and wasn't in the market for more, was hoping to find homes for all seven kittens, but she was only able to find four.
She named the remaining three Lucy, Jack and Memphis. Memphis died last summer.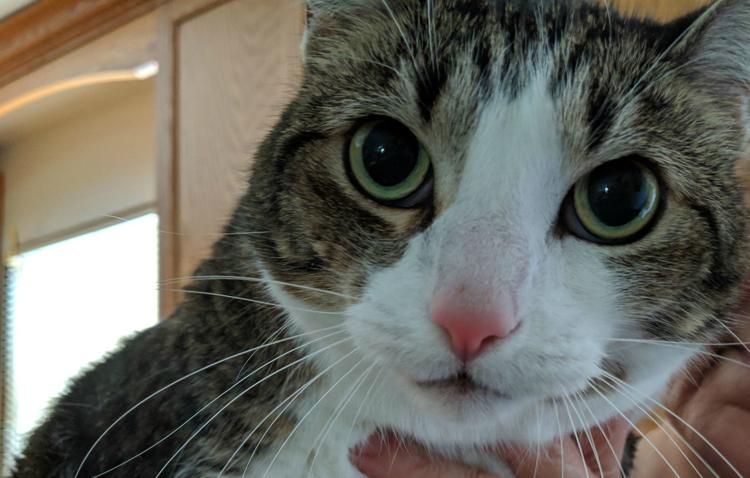 In December, Smokey joined the family.
"Their personalities are all quite different," Eden said, noting they all still get along despite their differences.
Jack is the most social. Lucy is shy and quiet, except when she's hungry, and Smokey is laid back and handsome, she said.
They were resting in different areas of Eden's house on a sunny afternoon in Britt, occasionally making an appearance while Eden is talking. They catch her attention. She smiles.
"I got too soft of a heart I guess," she said.
Photos: West Hancock High School Graduation
Reach Reporter Ashley Stewart at 641-421-0533. Follow her on Twitter at GGastewart.
Be the first to know
Get local news delivered to your inbox!