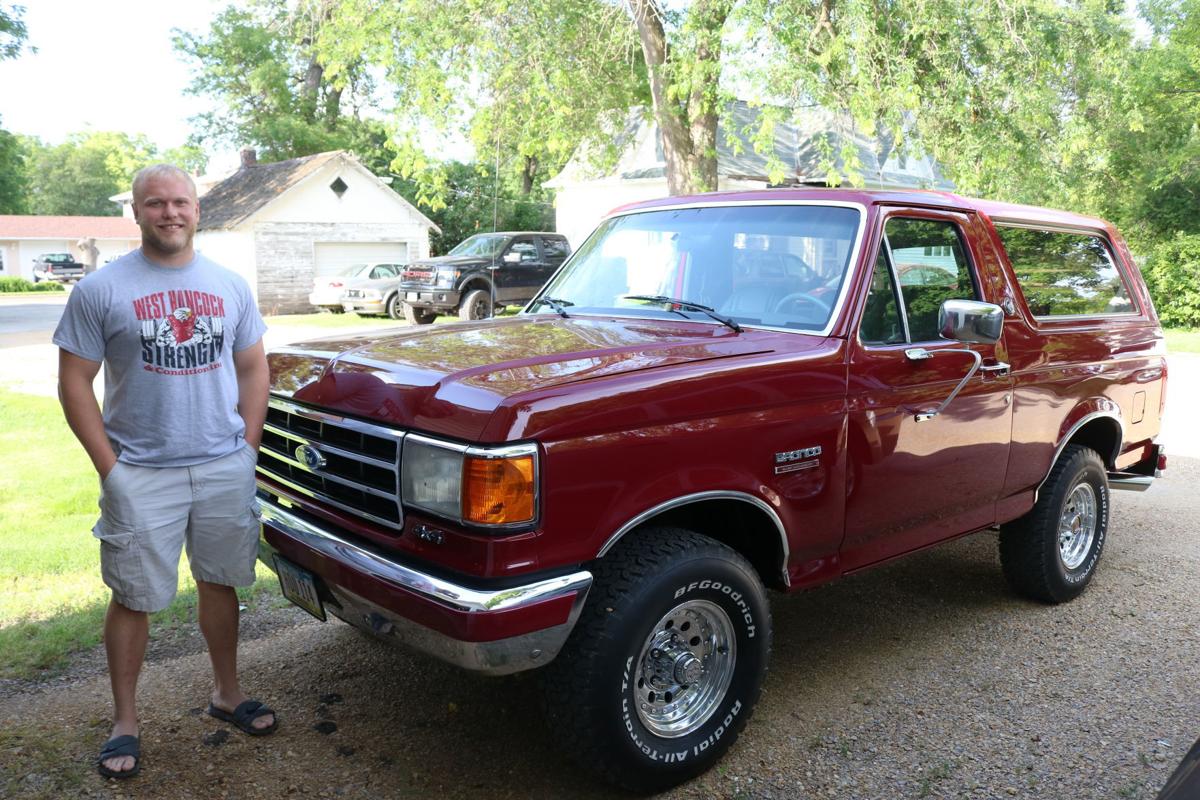 The first Britt Night Cruise of the year is coming up Wednesday, July 17 on Main Street in downtown Britt.
Car collector Seth Goepel said it is one of the things he looks forward to in the summer months.
Goepel, who grew up with car collecting, is one of the car collectors exhibiting. He will show his 1991 Ford Bronco silver anniversary.
"I've just started, but my dad and grandpa have always been collecting cars," Goepel said. "…I've always been around it."
Car collecting in the Goepel family started with his great-grandfather and descended down the generations to Goepel, he said.
"My great-grandpa worked for Pritchard's way back when," he said. "And I guess we're kind of into Fords."
Goepel said when he was growing up his dad, Stacey Goepel, had a 1973 Ford Gran Torino sport as well as some Mustangs and Broncos.
Goepel's grandfather, Craig Goepel, has a 1967 Ford Fastback Mustang, a 1969 Ford Torino and a 1976 Ford F150.
Together, the Goepels own Seth's great-great-grandmother's 1954 Ford Custom Line.
Bob Leerar, Seth's other grandfather, also owns a candy apple red 1957 Chevy Bel Air.
Goepel said the '69 and '73 Torinos, his '91 Bronco and the '57 Chevy will all be in the Britt Night Cruise.
Goepel said his favorite car is a '73 Torino because his father had one when he was growing up. He said it was supposed to be his but was gotten rid of instead.
Goepel plans to collect more cars if his wife lets him. He is specifically looking for a 1972 Gran Torino sport. Goepel also wants his collection to mainly be focused on Fords.
"I'm a big Ford guy," he said. "My grandpa was a Ford guy, my dad's a Ford guy, I'm a Ford guy, my great-grandpa was a Ford guy…I grew up around Fords."
Seth said they participated in the cruise last year, though at the time he didn't have his Bronco. He said his favorite thing about it is all the people and families coming together to enjoy the cars.
"I like to see all the different cars," he said. "I think it's cool just because Britt is usually a boring town and then Jared [Wingert] helped bring this all together, and so it's something you look forward to during July, August and 'September.
Then it's something I love, so of course it's something I'm going to participate in."
The cruise had its start last year with 60 to 70 cars, 30 to 40 bikes and 20 to 30 trucks per show.
This year event organizer Jared Wingert, owner of Mojo Productions, said they focused on advertising the event more to get more sponsors (This year there are about 60 sponsors, 40 of which are cash bonds, Wingert said.).
Wingert said this year there will be some inflatables in addition to the car show.
"We're really just going to have a really good thing for the kids, a way for the town to get some income and for people to have things to do," he said. "The thing that Britt kind of has for a weeknight thing."
The event is held from 6 to 9 p.m. on the third Wednesday of July, August and September on Main Street in Britt and is free of charge to enter – the only things not free at the event are the food and beverages.
Be the first to know
Get local news delivered to your inbox!