When Herman Goll, of Klemme, received his tax bill, he suspected something was wrong.
He was looking at a $3,012 assessment for work Hancock County had done on a drainage tile in Ell Township, Section 20.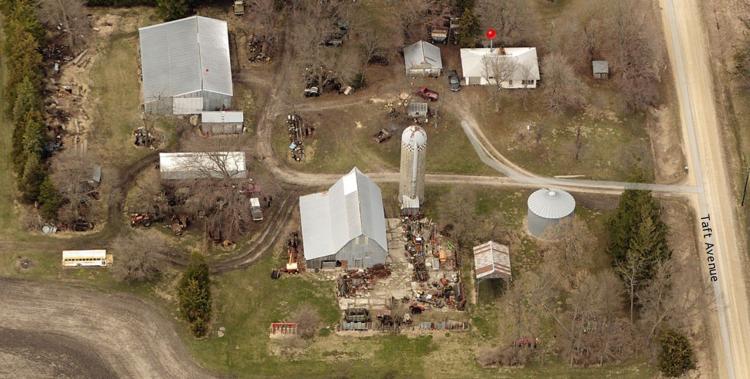 Goll's property lies within that section in Drainage District #9. But he was pretty sure he didn't own the land where the work was done so he contacted Ann Hinders, drainage and payroll clerk for Hancock County.
Turns out he was right, but the fix may cost as much as the error.
That little piece of land to which Goll referred was annexed into Hancock County in 1973. As is the case with every transaction, the piece of land's location was entered in the treasurer's book with the key geographical descriptor - "Northeast of the Southeast."
At some point as the years went on -- Hinders can't tell exactly when because not all the treasurer's books have the years on them -- the descriptor changed to "Northeast of the Northeast."
"The original handwriting is perfect," said Hancock County Supervisor Jerry Tlach. "It's just that somewhere along the line, it got copied wrong."
In at least three different years back to 2006, when Klondike Trust bought the property Goll farms, Goll paid assessments for work done totaling about $400.
Given the complicated look of a property tax bill, those numbers didn't draw the farmer's attention - but the $3,012 did.
And the process to correct an assessment is onerous.
Hinders told the Board of Supervisors last week what it entails. First, all the property owners in Drainage District #9 will receive notice that the error was made, and the correct property owner will be assessed the $3,012.
Then, the county must host a public hearing -- this one will likely take place in November, Hinders said -- and publish a public notice of it. 
The public hearing must be attended by the county Board of Supervisors, who will hear any comment on the correction and ultimately decide whether the correction should be made. Previous discussions of the error at the county board meetings would seem to indicate no strong objections to the change at this point.
Should the change be approved, the correct property owner will find themselves owing the county more than $3,000. The residents of Drainage District #9 -- including Herman Goll -- will be assessed the costs of the mailing, public hearing and anything else related to making the correction.
And Herman Goll will not be credited for any of the payments he made in the past, even though the error wasn't his.
"We don't look backward," said Hinders, who acknowledged she'd never seen anything like this in the five to six years she'd worked as drainage clerk. "We just look forward."
Be the first to know
Get local news delivered to your inbox!