The City of Britt will change its waste hauling provider from Waste Management to Absolute Waste Removal for the next five years.
Since the city's current contract with Waste Management will end on June 30, it has been looking at other waste hauling options for the past couple of months, and in its last city council meeting the council unanimously approved the contract with Absolute Waste Removal.
City Administrator Debra Sawyer said the city has had some issues and complaints with Waste Management, such as some streets being missed for pickup.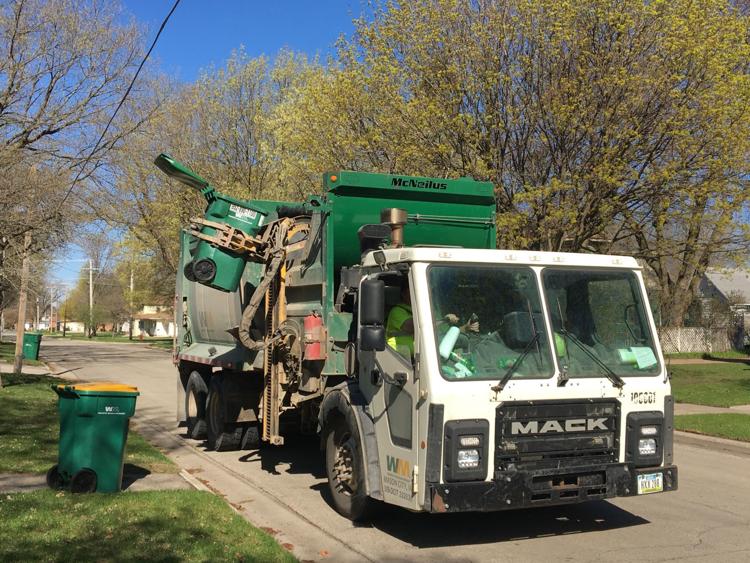 When they brought the issues up with their local Waste Management manager, Britt Mayor Ryan Arndorfer said they didn't get much response unless they really talked to him.
"We don't seem to get a great response until we really chew [him] out, and then he's really responsive, which is good, but at the same time we'd rather not have all the issues to begin with," Arndorfer said.
Arndorfer said he wanted to make sure the city's rates to residents does not change, which are currently $8.61 a month for a 35-gallon bin, $11.79 a month for a 65-gallon bin, $14.76 a month for a 96-gallon bin and $4.18 a month for recycling.
Britt residents select the bin size that best suits their needs, so a person living alone may only need a 35-gallon bin but a family of six may need a 96-gallon bin.
"We want to make sure that everyone sees that cost stay the same and hopefully receive a much better service because we all know the issues and complaints we've had about Waste Management," Arndorfer said.
While the residents pay these rates to the city, the city is pays different but similar rates to the waste hauling provider.
Waste Management offered Britt the rates of $7.61 for a 35-gallon bin, $10.79 for a 65-gallon bin, $13.76 for a 96-gallon bin and $5.90 for recycling, which is every other week, with a 3 percent increase each year and a fuel surcharge if the price of the fuel goes over $4 per gallon.
Absolute Waste Removal, on the other hand, offered Britt $9 for a 35-gallon bin, $11 for a 65-gallon bin, $13 for a 96-gallon bin and $5 for recycling, using two 18-gallon bins and which will be every week, with a 2 percent increase each year and no fuel surcharge fees.
Both services serve commercial clients directly and offer assistance during a spring or fall cleanup.
Sawyer said because Absolute Waste Removal has only a 2 percent increase and no fuel charge, theirs is the realistically lower bid, and she feels comfortable working with them.
"I've heard good things when I ask other communities that have them," she said. "They don't seem to have any kind of problems, and when they do have anything that needs to be addressed it's handled right away."
Though the per resident bin charge for the smaller bin from Absolute Waste Removal is a little higher than what the city is charging its residents, Arndorfer said they'll balance those numbers out so someone using the smaller bin does not suddenly pay more when the city switches waste hauling providers.
Britt is also trying to have its waste taken to the Landfill of North Iowa instead of the Waste Management landfill it's been taken to for the past several years.
If they manage to get into the Landfill of North Iowa, Bowden said the waste removal price would be even less since the disposal would be less.
Absolute Waste Removal can also provide smaller businesses that don't go through a lot of trash, like salons, a bin rather than a full dumpster, according to Absolute Waste Removal sales representative Michelle Bowden.
Additionally, they offer roll-offs for commercial businesses and residential customers and temporary dumpsters for those doing a remodeling project but don't have enough to fill a roll-off, Bowden said.
The contract will start July 1 and will go through June 30, 2025, and Sawyer and Bowden are working together to form a logistics plan for the transition and distributing bins.
Grace Zaplatynsky can be reached at 641-421-0534.
Be the first to know
Get local news delivered to your inbox!