The latest information on this weekend's winter storm. Travel is no longer recommended on I-80 west of Stuart.
Here's a list of event cancellations, due to the coming winter storm. Keep checking back for additional information as it becomes available: 
Nine area students qualified for the next level of the Knights of Columbus free throw contest Iowa.
The West Hancock wrestling team was perfect in the Saint Edmond Duals on Saturday.
Lake Mills 68, West Hancock 28
West Hancock 62, Eagle Grove 21
After a dream season, the honors just keep coming for the West Hancock football program.
Britt City Council members will meet with Garner city officials on Tuesday in Britt to receive input about Garner's experience with purchasing…
A new online research tool, known as AEA Scout, has been launched by Iowa's Area Education Agencies and ensures that students and families hav…
Britt Fire Chief Jon Swenson announced the purchase of new equipment at a department update with Britt City Council on Jan. 7.
State officials who track weather trends say Iowa received about six more inches of rain than usual in 2019. With 41.5 inches of rain falling …
The West Hancock wrestling team rolled over its opponents on Thursday in its own quad meet.
The West Hancock wrestling team held its own in the Hampton-Dumont-CAL Dual Tournament on Saturday, downing Clear Lake 42-34, St. Ansgar 54-21…
West Hancock 56, Bishop Garrigan 55
Bishop Garrigan 80, West Hancock 29
Road tripping has always been a part of my life, so it should be no surprise that travel is a large part of my life today. Growing up in Iowa,…
The West Hancock girls basketball team remained perfect with a convincing 62-23 victory over Newman Catholic at home on Friday.
The West Hancock boys basketball team came back from a first-half deficit to down Newman Catholic 65-48 on Friday night to pick up its third s…
The Britt Area Food Bank, formerly located at the Britt Hospitality Room, has made it through the first holiday season at its new location at …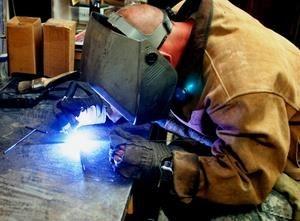 J & J Machining, Welding & Fabricating
I have lived in North Iowa all of my life and I have had the opportunity to travel a lot. One of the places that I had not been to as an adult…
You can't get enough of those draft horses, Britt. Readers from the Britt area deemed our behind-the-scenes look at the annual show the top st…
The little things can have the largest impact. And in this case, it's true, but it's not just one little thing, it's a lot of them.
Upon arriving in North Iowa, I have been met with a plethora of new experiences, from farming to draft horses to courts to schools.