When the Iowa Girls High School Athletic Union Class 1A volleyball rankings were released on Sept. 24, a new program was included on that list.
For the first time in years, the St. Ansgar volleyball team was back in the rankings at No. 15. Now, after 13 wins in a row, the Saints sit at No. 9 in the most recent version of the standings.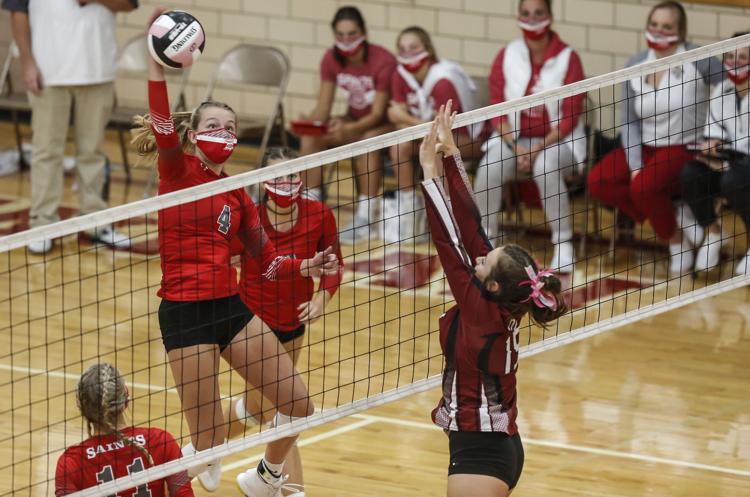 Some programs don't take the standings that seriously, as the ranking holds no real weight when it comes to when the whistle blows and the team squares up against its opponent. But don't tell that to the Saints – who are ecstatic to be recognized.
"We haven't been in the rankings for probably five or six years, so I think that's a point of pride for them to get up there and stay up there," head coach Tyler Johnson said.
The goal for the Saints? Keep moving up.
"I think we're ranked No. 11 right now and they want to keep moving up in the rankings as much as they possibly can," Johnson said. "Control what we can control as far as that's concerned. They know that the one thing that they can control is to try and keep winning."
Winning is what the Saints have done recently. Since starting off the season with a 5-4 record, St. Ansgar has gone on a 13-game win streak – including a three-set win over Newman Catholic in Mason City on Tuesday night.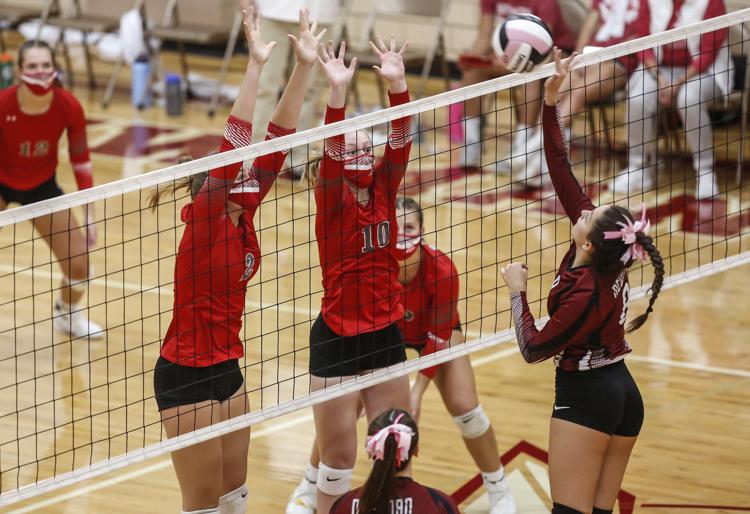 "We've tried to pick things up in practice and we've tried to use our momentum from the games before to kind of push us and get us going for the next game on," senior Hali Anderson said.
Anderson is the set-up player for a talented group of balanced hitters this season. She leads the team with 426 assists this year. A trio of senior hitters have been a consistent force that has powered the win streak for the Saints.
Senior Brooklyn Hackbart has 138 kills this year. Not far behind her is senior Blayne Koster with 134 and senior Gracie Urbatsch with 122.
"The offense that we have is kids that have been putting a lot of time in since probably eighth grade," Johnson said. "They've improved every single year. Being able to get some kids that can take some hard swings at the varsity level really helps us."
The win streak pushed St. Ansgar to finish second in the Top of Iowa East standings behind Class 3A, No. 1 Osage. With postseason assignments for regionals coming out sometime next week, Johnson is looking forward to seeing what's ahead.
"We just kind of got to see what our draw ends up being," Johnson said. "I know there are a lot of tough teams out there that we might have to play, so that's why we're trying to control what we can control and just try and win the matches we think we should be capable of winning."
In the 2019 season, St. Ansgar lost to North Butler in the quarterfinals of Class 1A, Region 5. Many of the players from last year are on the 2020 team. Last season's premature exit doesn't sit right for them.
"We're really hoping to make it further than we did last year and play our best for regionals," junior Kennedy Schwiesow said. "We're really hoping for a state appearance this year."
St. Ansgar hosts Crestwood at 7 p.m. on Monday in its regular-season finale.
Be the first to know
Get local news delivered to your inbox!