Currently, the Osage High School OASIS classroom is a few couches in the agricultural shop.
With the pleasant late summer weather, first year OASIS coordinator Amber Bruder finds the situation suitable. Her students enjoy opening the dock door and doing their work.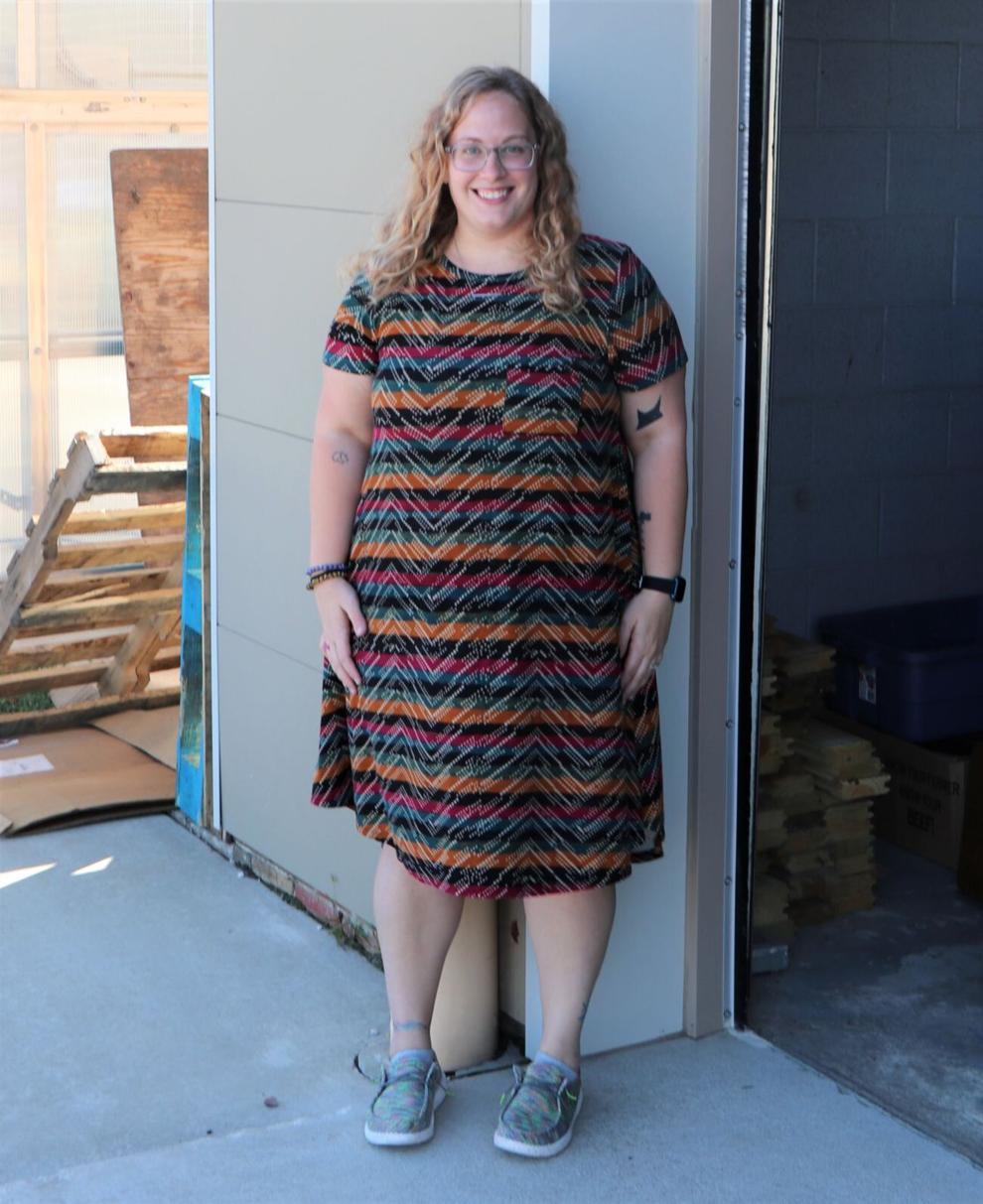 Eventually, the school will find a permanent location, and Bruder will leave the wooden placard FFA pig behind.
OASIS stands for Osage Alternative School in a School and is described by the district as the alternative education setting of at-risk/non-traditional learners.
When Osage was looking at Bruder as a potential hire, retired OASIS director Ken Burrington took her to the old OASIS location in the plaza on the east side of town. He told her, "This job is different from other teaching jobs."
Before taking the position at OASIS, Bruder had taught English at South Central Calhoun for seven years. Husband Eric got hired in Charles City, so change was inevitable, but in her heart she was already searching for something new.
"I was at a spot where I didn't know if I was making a difference or helping anymore," Bruder said. "And so when I started looking for a new job, I wanted something where I could reach people."
When the OASIS position came open, one of Bruder's old school teacher's told her it might be a good fit.
"I came and interviewed and fell in love with the school and the town," Bruder said. "This has been a transition for me, but it's gone smoothly. I've had a lot of people help me learn the program."
Bruder graduated from Iowa State University with a bachelor's degree in English with an education endorsement.
While her expertise is English, for OASIS she must also master such disciplines as math.
"It helps having an English background because there's reading and writing in everything," Bruder said. "Even when my students are working on an online social studies class, there is going to be a reading and writing aspect to that. And then I can actually help, and it's an area a lot of people struggle in.
"I've always been drawn to the nontraditional student. Back at my old high school, I'd have kids come up to me that weren't in my class that would just want to talk. They wanted an adult that wasn't a parent. That's the demographic I've been drawn towards and I work well with."
Some students were having trouble with other teachers, and it was preventing them from learning. They would ask for her direct help with the subject. Sometimes she directed them to a math teacher, a science teacher or someone else.
"They'd come to me and say, 'Can you help me advocate for myself?'"
Bruder describes her background as nontraditional and open minded, and she believes that is one reason why all these students flocked to her.
"I could relate to students who couldn't pay for college, or struggled with only having one parent, or had a ton of extra siblings," she said. "In their minds, I became the teacher who knew that."
Bruder said that in previous years' settings, she would teach 120 students. At Osage, that number is 17.
"I knew everyone's names right away," she said. "I knew one kid is into construction, another is into robotics. I could sit and say, 'I'm Mrs. Bruder, what are you all about?'"
Some students simply want verification, while others need guidance. OASIS allows her to concentrate on this discourse.
To a certain extent she is like a one room school teacher. However, when pressed, she can leave OASIS to go next door to the math or science teacher or search Odysseyware for cutting edge instruction.
"If I don't know the subject, I have access to the materials, and I can learn it with them," she said.
Paraeducator Beth Olson is helping Bruder with the transition. Superintendent Barb Schwamman feels Bruder's teaching experience and background with English and speech meshes well with her new duties.
"Her people skills and personality make her a great fit for our OASIS students," Schwamman said.
Some students need credit recovery classes. Some do not fit well in a traditional classroom setting. Some do not work well in large groups. Some students have sensory issues such as not being able to tolerate loud noises. Some just want to be left alone so they can work without distractions.
"For whatever reason, the traditional classroom isn't the best fit for them," Bruder said. "OASIS is a place they can come to get that specialized learning.
"Some students want to work at their own pace. They don't want to be stuck or drug along, whichever one it is. These kids want to work. They want to graduate."
Jason W. Selby is the community editor for the Mitchell Country Press News. He can be reached at 515-971-6217, or by email at jason.selby@globegazette.com.