Amanda Baer did not move to northern Iowa for the weather.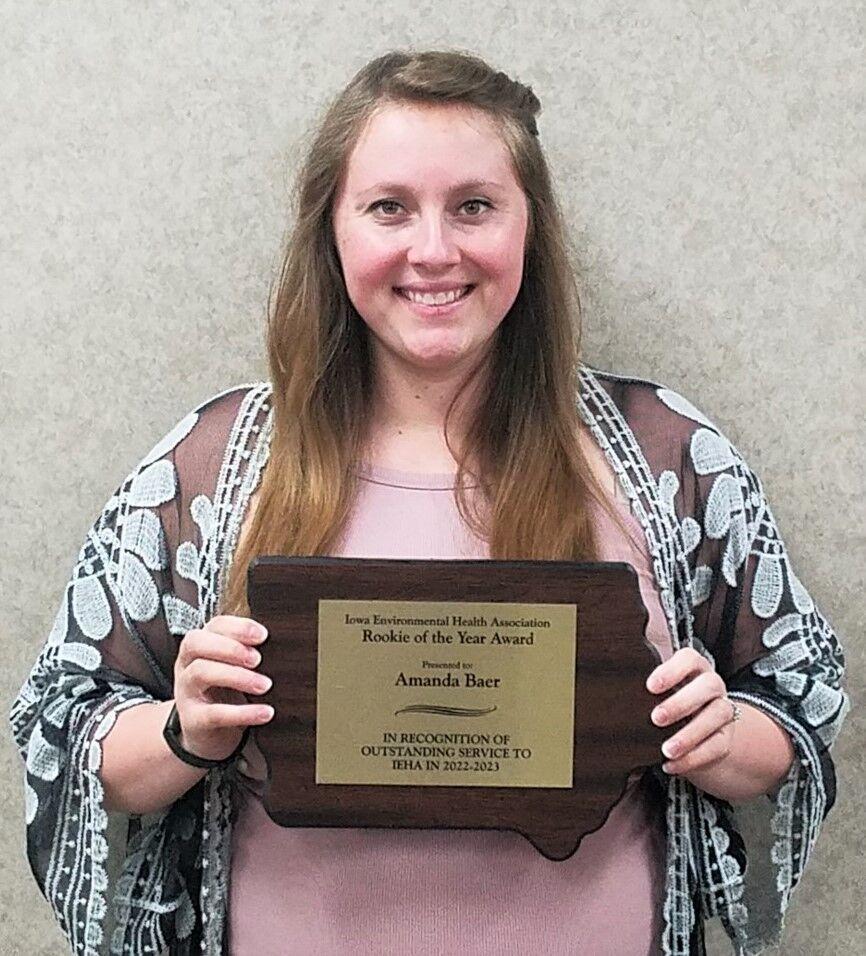 However, growing up in Anaheim, California, despite the size of the city she lived in, she was a country girl at heart – the Midwest called to her. She was a member of the local FFA chapter with a passion for agriculture. Still, Anaheim had its benefits. It was difficult to leave.
"Disneyland was my playground," Baer said.
Now, Baer is Mitchell County Environmental Health Specialist and Zoning Administrator.
Captain
Baer graduated from Buena Park High School in 2014. There were around 600 students in her class.
For over 30 years, Baer's father was an Orange County deputy sheriff. When he got home, he often had a funny story to tell. At the same time, he tried to keep his work separate from his family. Just south of Los Angeles, there was plenty of action. There could be trauma.
"He dealt with a lot more than you'd find here," Baer said. "He tried to keep it private."
There have been murders in Mitchell County that would make headlines if they happened in Orange County, but there would be another headline the following week, according to Baer.
When asked what values her parents instilled in her, she said, "All the good ones. I was told if you want it, you can do it. Just put your mind to it and you'll get there. I was always told to never give up – persevere, be strong willed. Don't let people push you around, but also be open-minded."
Baer was captain of her high school volleyball team. Unlike small town Iowa, players must make the cut, and specialization starts early. There are few four-sport athletes in Anaheim, if there are any.
Baer was also involved in the agricultural program at her high school, and that prevented her from trying out for more sports.
"That took a lot more precedent for me than athletics," Baer said.
While the FFA is not exactly synonymous with Anaheim, there are students passionate about rural settings and life in agricultural communities. For them, small towns are exotic. Snowfall is a natural wonder.
Baer said the FFA there was not like in Iowa, where students show at the county fair before moving on to the state fair. In Anaheim, the county fair is big enough for one student.
In high school, Baer first wanted to be a large livestock veterinarian. Then she wanted to become an FFA teacher.
Eventually her journey brought her to Iowa.
"It was a big lifestyle change when I came out here," Baer said. "I think I adjusted fine."
Magic kingdom
When she was young, Baer saw snowfall on trips to Nevada with her family. But nothing stuck. There were no sleds, ice skating or snowmobiles. While the weather in northern Iowa was a shock, snow was welcome, a luxurious spectacle as it gathered in drifts.
"The first snowfall was magical," Baer said.
Eventually, however, she got tired of snow by January, but for the most part she does not mind. It reminds her of her journey and why she took it. Still, a few 70-degree days in the middle of winter, along with a trip to Disneyland, would be welcomed.
Baer attended NIACC on a volleyball scholarship. However, NIACC did not recruit her. Once she found a school offering the specialty she was looking for, she decided she might as well play volleyball.
"I recruited myself," Baer said.
According to Baer, NIACC was attractive because it offered an animal science program. There were schools like it in California, but they were more expensive.
"I didn't want to go into debt when I was going to college," Baer said.
In the beginning, her goal was to own her own livestock, but her goals morphed the more classes she took. But first she played libero on the volleyball court.
Baer was mostly a backup, but for one tournament she experienced what it was like to start. Her career was cut short by a knee injury.
Baer took a non-traditional route through school, her studies interspersed with work experience, and therefore she did not graduate until 2018. She was a student ambassador, escorting potential students across campus. She worked in the service industry.
After NIACC, she entered the workforce. For a while, she was employed at a hog site. She was manager of a golf course. It was fairly humble beginnings.
Baer then started her own home décor business. She hand crafted signs and refurbished furniture.
Unfortunately COVID-19 happened. Her business, Coast to Country Home Décor, a nod to her journey from Anaheim to Osage, became untenable. With the rising cost of materials, along with customers worried about their finances in desperate times, it was clear she could not continue.
"It was the right decision for me," Baer said.
Wells
After the pandemic ended her business, Baer saw the opening for the environmental health specialist and zoning administrator. During COVID-19, the only way to search for employment was online. It worked out.
There was some crossover between what she learned in college and her duties with Mitchell County.
"In the general curriculum, in animal science classes you're required to take soil classes," Baer said. "That plays into my duties pretty heavily. I've got the agriculture background. I learn something new every day."
Baer and her husband Zach now live on an acreage in Orchard. They are expecting their first child.
In her duties for environmental health, she takes water tests every week. Individuals with private wells must make sure their water is safe. Sometimes she is onsite working with contractors on septic systems, or with well drillers.
Occasionally there is an animal nuisance call, such as for bats. Radon testing is another important aspect of her job.
Water testing is free to the public. It is too important to charge a fee. If a customer went elsewhere for this service, they would be charged.
They test for E. coli, bacteria and nitrates in well water. Baer can also order tests for arsenic and magnesium upon request. Arsenic can be naturally occurring.
"If any of that shows up, your water is technically considered unsafe to drink," Baer said.
Some factors in bacterial outcomes include how deep or shallow a well is. Shallow wells pick up more of the surface water because the pump is sitting closer to the surface.
When customers come into the office, often it is because of subtle differences in the water they drink. Well water might be cloudy, or there is a sulfuric smell.
Baer recommends testing once a year. Because the tests are free, it encourages more customers to check their well water for safety, even though there might not be evidence something is wrong.
"Most of the time water quality in Mitchell County is relatively good," Baer said. "I've also had wells come back at the highest ratings possible for bacteria. Then we do a well shock, and when we retest, their well water is nearly perfect."
A well shock includes chlorination, cleaning out all of the well's pipes and lines. It is a lengthy process.
In other cases, well shocks do not work, and Baer has seen wells progressively get worse. It could be a steel casing, which could be completely cracked. It might not be the surrounding water quality, but the structure of the well. In those cases, a new well must be dug.
Summer is well digging season.
Milt Owen, former Mitchell County Conservation Board Director and assistant commissioner for the Mitchell Soil and Water Conservation District, has also helped educate Baer.
"We bounce ideas off each other when it comes to what he finds in creeks and watersheds and what I find in private wells," Baer said. "I share my results with him. Milt's a great resource. I reach out if I have any questions."
Her duties as zoning administrator are different.
"If people want to build in our county, whether that's a house or a shop for agricultural use, they must adhere to the zoning ordinance," Baer said.
Buildings must be a certain distance from a right of way. Otherwise it might create unsafe conditions for the homeowners and their children, as well as for traffic. Buildings cannot exceed a certain height. It also depends on if the parcel of ground is zoned as agricultural.
The pandemic has made zoning and stewarding environmental health more difficult. The increased cost of materials has added to her workload.
"It's probably causing more headaches for the people who want to build," Baer said.
Rookie of the year
Baer was recently honored as rookie of the year for environmental health in Iowa. She received the award two weeks ago at the annual environmental health business meeting, but she found out she was receiving it a month before. She described her reaction as utter shock. She had no idea she was even nominated.
"Nobody that currently works in our region has ever received the award," Baer said at a recent Mitchell County Board of Supervisors meeting. "I may be newer, but I'm doing my job and it's being recognized throughout the state."
It has been a long journey for Baer from Orange County to Mitchell County. She has exchanged Disneyland for a winter wonderland. Mickey Mouse is no longer in her backyard. And even though she wishes winter was over by January, she has adjusted and built a life on the prairie.
With the pandemic, her work has become more difficult. Yet she is still winning awards and testing wells.
It can be live saving, worthy of a trip from Anaheim to Osage.
Jason W. Selby is the community editor for the Mitchell Country Press News. He can be reached at 515-971-6217, or by email at jason.selby@globegazette.com.