After 35 years, Osage City Clerk Cathy Penney's tenure is coming to an end. While Penney now has modern accommodations, her desk is still stacked with papers. You never know when you might need a hard copy.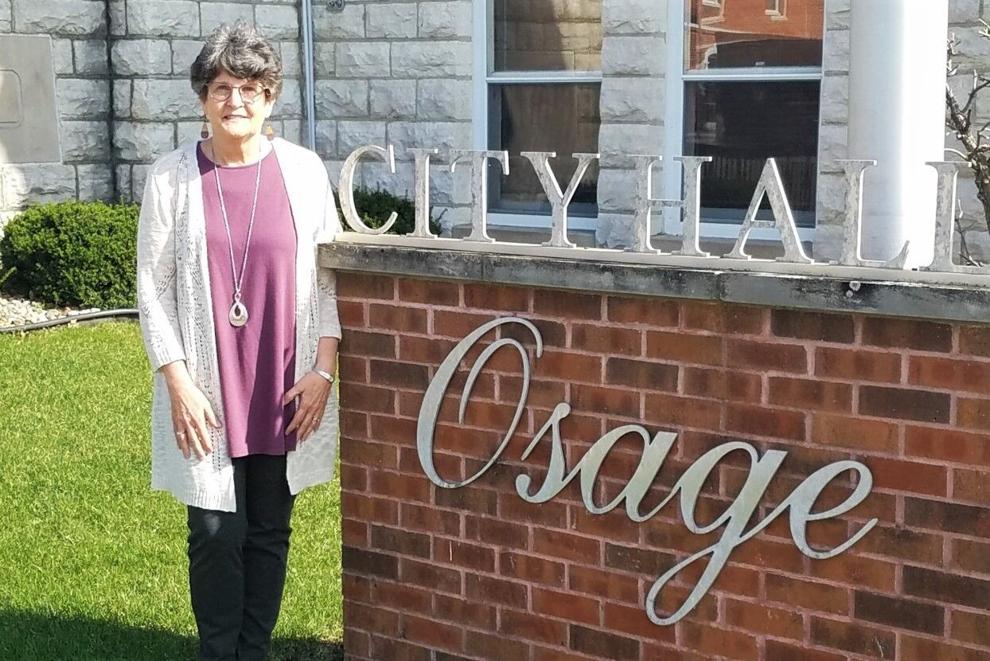 Penney began her duties at Osage City Hall in November of 1987, and by late summer she hopes to be retired. When she was young, she wanted to become a teacher. Penney will finally realize that dream when her replacement Abby Palsic learns on the job from her new mentor.
"I don't have any grand hobbies that I've been waiting 35 years to do – to break out the sewing machine or the knitting needles," Penney said. "I might have to take that up just to keep myself busy."
Field of Dreams
Penney grew up on a farm just outside of Cherokee, Iowa. She was the oldest of five siblings. Whether she liked it or not, she was a role model. She learned to work hard, to be honest and to have faith.
Her family played baseball with a broom handle as a bat. Her father coached Little League. There were two Field of Dreams, one in the front yard and one in the backyard, depending on how the wind was blowing and the sun was shining. The corner of the garage was first base and the clothesline was third base. No one hit the baseball quite far enough to reach the cornfield.
There was also a large grove of elm trees. One of their duties was to pick up sticks. Their reward for hard work was roasting hot dogs and marshmallows over the fire.
"It made it worth it," Penney said.
Penney gathered eggs and yearned to drive a tractor, but there were gender roles, and her younger brother helped in the field where she did not. There was a cattle herd and corn. She did what she could for the family. She walked soybeans for neighbors on humid days.
When Penney visited her grandparents, her grandmother warned her to stay away from the pig pens, a command she gladly followed.
Penney graduated from high school in 1974. It wasn't until 1972 that Cherokee's conference introduced women's basketball, and Penney crunched numbers as a manager.
For a while, Penney thought she would become a teacher.
"When you were growing up, if you wanted to work, women were going to be teachers, nurses or secretaries," Penney said.
While Penney enjoys children, she was not sure she could handle a classroom. In a high school club that mentored younger students, she tried to share her love of math with a middle schooler who was sure he did not need it to drive a truck.
"I always liked school, and it was hard for me to comprehend somebody who didn't," Penney said.
Her high school mentors were spread out on a spectrum of love and fear. Her advanced math teacher fostered her love of numbers. Her English composition teacher taught her to fear failure in college.
Bell bottoms
After high school, after shaking off any desire to teach, she leaned instead on her skill with numbers. She first visited Iowa State University on a field day, and the size of that institution intimidated her. She was used to small towns.
That took her to Luther College in Decorah, where she fell in love with the campus.
She studied accounting. It was the 1970s. The Vietnam era was in the rearview mirror. While there were no protests, there was long hair and bell bottoms mixed with a Norwegian influence. Penney remembers students wearing clog-like shoes and Norwegian sweaters.
"It was different from high school," Penney said. "There were a lot more people trying to figure out who they were and what the world was all about. I can't say we were terribly radical."
The computers were big. This was before the Apple II. Everything was manual. There was one telephone in Penney's dorm room.
Now, like most people in 2023, Penney has a computer in her purse she can use to call home.
After graduating from college in 1978, after working at Luther for a summer, Penney moved back to Cherokee to care for her ailing grandmother. During that time, she received a call from a business in Osage, and Penney moved to take an accounting job with Tri-County Farm Service, where she worked for nine years.
When she relocated to Osage, she didn't know anybody but the person she interviewed with for the job. Then she met her husband Mark and the rest is history.
Shorthand
In 1987, there was an opening at Osage City Hall. She applied for and received the job, which she described as daunting.
Two weeks later, she attended her first city council meeting. Everything was new. There were no computers. City Hall was still at its old location, before it moved to the building that once housed the public library.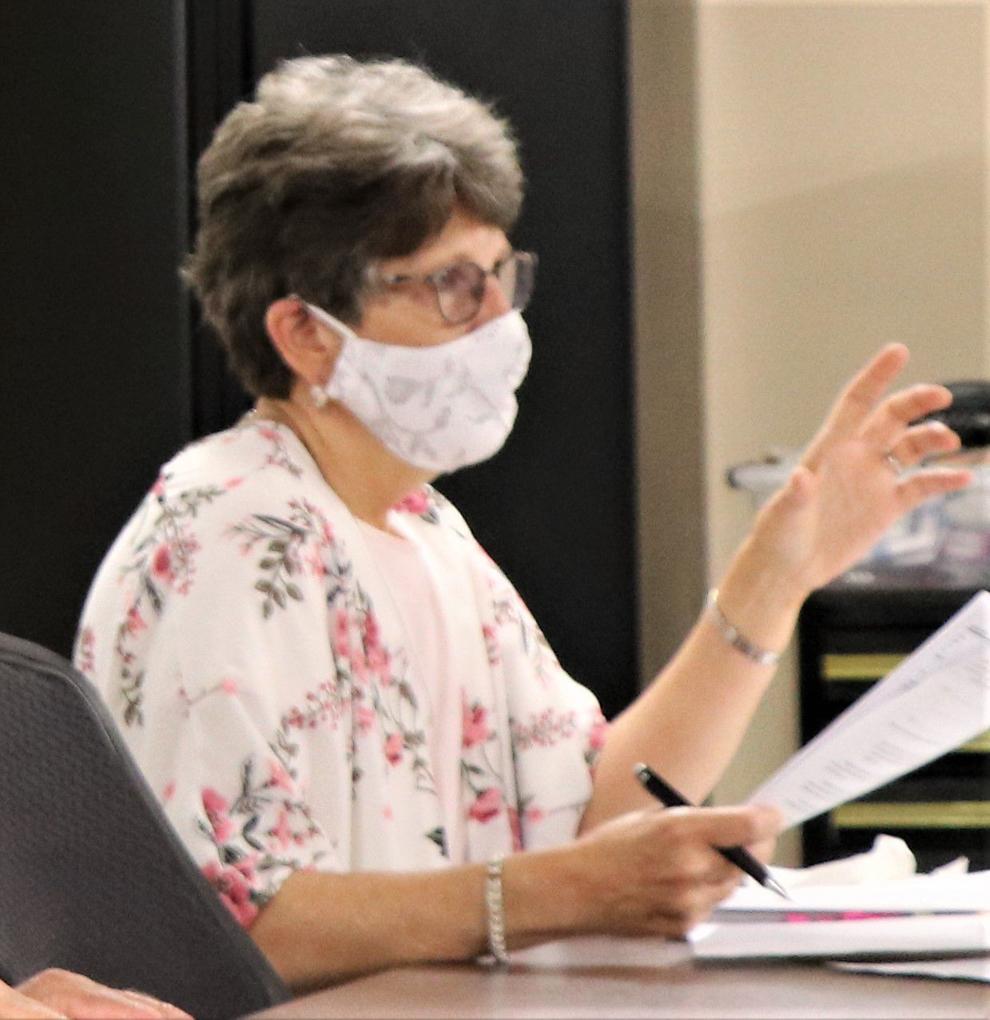 "When I started we certainly weren't spending money on computers, technology and Internet," Penney said. "Now, you couldn't operate without it."
Penney did not know shorthand, and during that first meeting she watched her predecessor Delia Erdmann writing notes. It was impressive. Penney did not know if she could do it.
She decided to be a trailblazer, suggesting they record the city council meetings. However, plopping the tape recorder on the table made some uncomfortable, and that idea was shot down. So shorthand it was.
Penney said that in most part the city councils have been forward thinking when it comes to paving streets and upgrading the water system.
"In regard to infrastructure, we're ahead of communities our size," Penney said. "I've seen tremendous growth in my time here. I have always felt appreciated."
After a while, Penney gained her footing. During her first budget process, Erdmann had a family illness and could not train Penney.
"It was trial by fire," Penney said. "At the time it was agonizing. Looking back, it forced me to learn it and learn it quickly and do it my own way. The tax rate went up a fair amount just because I didn't necessarily know any better in terms of what other revenue we could count on."
By the second budget, it became second nature. For her, it was a puzzle to solve.
It was not until 1997 that City Hall got its first computer. It had a big monitor with a small screen. Now the technology is cutting edge, but Penney is old-fashioned and still has papers stacked on her desk.
Fences
Since 1987, society has changed. Over the years, the cost of everything has gone up, especially post-pandemic. It makes everyone's job at City Hall more difficult.
According to Penney, neighbors do not know their neighbors as well as they did 30 years ago.
"You don't know the kids down the street because they aren't in your backyard playing," Penney said.
Some say good fences make good neighbors.
"During COVID-19, people put up a lot more fences than I'd ever seen put up before," she said. "We don't require building permits for fences, but people have to do a one-call if they're going to dig. You'd see another one-call and there's another fence. I found that strange."
When Penney's oldest son Kent moved to Dallas, Texas for his first job, Penney remembers seeing every house fenced in. She is not sure if it's a sign of success or exclusion, but it's a sign of the times.
"The whole concept of community has changed," Penney said. "We don't know everybody like we used to know everybody. People come and go, and that's a good thing. You have new life in the community. It's harder to get to know newcomers."
As a former newcomer herself, she knows what it's like.
Despite all the changes, since Penney has been city clerk, there have only been two mayors.
Penney and her husband have two sons and nine grandchildren. Kent graduated from ISU with a degree in aerospace engineering, and he now works in Maryland for Northrup Grumman. He once modified aircraft, and now he works with satellites. Youngest son Scott is a chiropractor in Minnesota.
Penney is astounded at the difference between what her grandchildren know about technology compared to seven year olds 35 years ago.
"I'm amazed at Osage kids and all the coding they do in school," Penney said.
Teacher
Penney hopes to be a good mentor to the newest city clerk. Palsic will be eased into the position with Penney's help, and like Penney 35 years ago, Palsic will also go through city clerk training at ISU.
"I hope I'm a good teacher," Penney said.
Penney is also a cancer survivor.
"I was really glad I was not retired at that time," Penney said of her cancer diagnosis. "It gave me something else to focus on. Coming to work, staying in the routine was the best thing that could have happened mentally for me."
As well, Penney could look to her father for inspiration. He is a cancer survivor who is almost 90 years old. While he is still a farmer at heart, he has a real estate license and goes to his office every day.
Deciding to retire was not easy, but it was time.
"People ask why I'm still working," Penney said. "For 96% of the time, I really enjoyed my job. It's great being on this side of the community, to see everything that goes into making it work."
Jason W. Selby is the community editor for the Mitchell Country Press News. He can be reached at 515-971-6217, or by email at jason.selby@globegazette.com.