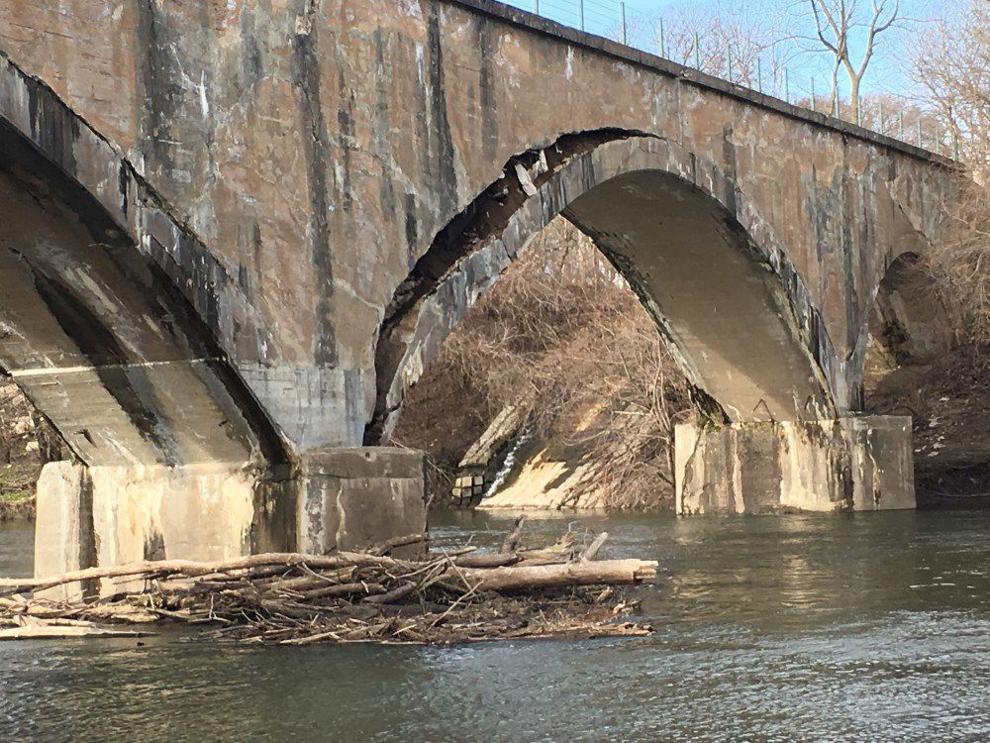 When Charles City's Charley Western Trail Bridge had a partial collapse in April 2017 it presented local officials with a short-term problem but a possible long-term solution. 
The bridge was old, more than 110 years old, and would need to be replaced at some point anyway because time hadn't been kind to the concrete arch structure. It didn't get regular inspection like a roadway bridge would, and that adds up after a while. 
Once local officials were able to get to a place to do demolition and clean up, which happened in Spring 2019, they could pivot to what would replace the bridge.
Before the end of the year, the city intends to have work underway on a new three-span trail structure that could ultimately help develop the city's trails even further.
Costs
"We were originally planning on having that bridge built and open in the same year," Diers said. "Given the fact that we only had one bidder, we're opening up that timeline so that construction would need to be completed by fall 2021."
The city's target cost for the project is about $1.2 million, but when letting happened the lone bid came in at $1.6 million. So the city's restarting the process and is looking for more competitive bids in May, when the Iowa Department of Transportation will be involved.
Diers said expanding that timeline hurts the city's ability to get things done in the same year but provides opportunities. 
"We've had some time to put together some grants and we've been courting some existing funding from the city to put toward that project," Diers said. Though he also acknowledged that the project will still be short on funding (perhaps by about $400,000). And that number could tick upward if the bids that come in are above the $1.2 million figure.  
Other issues
Along with the financial aspect, there are other considerations city officials have had to make including some about woodland critters. 
The Cedar River, which the bridge spans, is a potential habitat for the wood turtle which is listed by the Red List of Threatened Species as an endangered species. In Iowa, according the state's Department of Natural Resources, the reptile's range is the upper reaches of the Cedar and Shell Rock River drainages. So that means workers have to account for the turtle while they're doing work.
"It's called an avoidance plan to keep the wood turtle habit safe and during the construction we'll have to monitor the area from time to time to see if there are any wood turtles," Charles City Engineer John Fallis said. He continued that that's not something that's difficult for officials to do but that the City will incur additional costs because of that extra care. 
What next
After wildlife has been accounted for and the work has been done, Fallis said that opportunities open for spin-off types of projects from the new Charley Western Trail Bridge. One that city officials have discussed is a trailhead for parking and trail access. In that vein, local resident and architect Dennis White and a coalition called "Friends of Save the Depot" have pitched the currently vacant Milwaukee Rail Depot as an option. 
"I feel that the best use for the building is a multi-purpose usage that can be a meeting area and a destination," White said. That would mean the depot would become a crucial stopping point for the area's Charley Western Bike Trail.
According to Diers, the city has also looked at adding lighting along the trail. He said with that and with the possibility of a trailhead, the city would also have options for additional trail head connectivity. That would mean a more contiguous trail for residents as well as travelers coming through town. Which is important to consider because a good deal of traffic the bridge gets is recreational. 
"It's a vital piece of infrastructure," Diers said. "We need to get it back soon."
What a Globe Gazette News+ membership can do for you:
A deeper examination of local issues than you'll find anywhere else.
Two products in one – not everything that's in the print edition of the Globe Gazette is on our website, and not everything on our website is in the print edition.
Access to newspapers.com archives dating back two years.
The ability to carry your local news with you and receive alerts instantly as news unfolds.
Advertising that frequently gets you deals you won't find anywhere else.
The week's most-read stories
Catching up on the news? Here's what readers read most this week:
Reach Reporter Jared McNett at 641-421-0527. Follow him on Twitter and Instagram at @TwoHeadedBoy98.