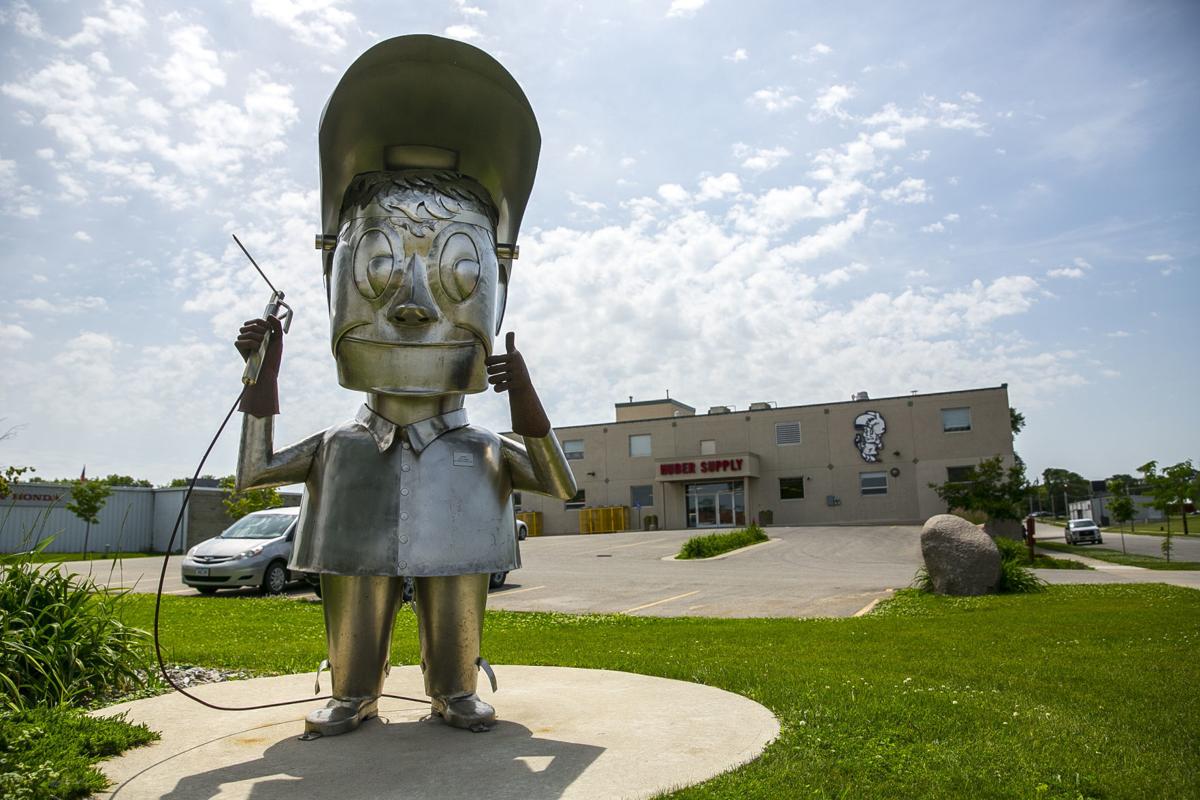 The whole is greater than the sum of its parts. 
That axiom, lifted and slightly mangled from an Aristotle passage, is the foundation of a longstanding argument that teaming up is more beneficial than going it alone.
The five independent gas companies that make up Absolute Air: A-Ox Welding Supply (Sioux Fall, S.D.), Mason City's Huber Supply, Minneapolis Oxygen Company, Mississippi Welders Supply Co. (Winona, Minn.) and Toll Gas & Welding Supply (Plymouth, Minn.) are certainly hoping that that argument holds.
Officials from Huber Supply, which has been a family-owned and operated welding and industrial tool business in Mason City since 1939, hope the partnering allows them to compete with the majors while expanding its customer base.
The consortium is working toward building a mid-sized, $30 million air separation facility in Faribault, Minnesota, that they pitch as the first of its kind.
"A co-op air separation plant has never been done in the United States, to my knowledge," Huber Vice President of Operations Rodney Huber said. 
"That in and of itself is unique. And we're partnering with the plant builders who have experience building in Japan and in Japan the costs are so high that they have to build as efficient as possible."
Efficiency, in particular, is the name of the game for the group in this project that's run for about two years and aims to be operational by 2021.
Absolute Air's aiming to curb energy costs (which purportedly run high for air separation facilities) and intends to have an efficient workforce.
According to Huber, the workforce on-site at the facility will be less than 10 people. 
"It's ran pretty lean. A lot of the things can be run remotely so it's about a four- or five-person workforce at the plant and the drivers and support staff will add a certain amount of employees."
Part of the rationale for the cooperative effort is that its become increasingly important for these companies to make the products they also sell. Especially as mergers become more commonplace.
Such deals send chills up the spines of the more indie-leaning businesses.
Teaming up adds some fire to the fight.
"We've always kind of dealt with each toward the common goal of beating our larger competitors," Huber regional salesman Corey Smith said.
According to him, organizing for the five companies was a bit easy because they're all local, Midwestern enterprises.
"A lot of our national competitors are consolidating and combining and buying each other up and it's making it harder for the little guys. We have to buy from them for bulk supplies so the only solution, to get around them, was to have our own facilities."
At that air separation facility, Absolute Air will produce argon, nitrogen and oxygen-based products.
Basically the way it works is that elements of outside air are captured, super chilled, turned into a liquid and then separated into the necessary parts.
Absolute Air President Ned Pontious, who spent 20 years with Norco (the country's largest private manufacturer and distributor of gas supplies), said the separate parts can find application in almost any industry.
Argon is commonly used in welding processes because it helps to stave off contamination. It also has a home in window manufacturing because the noble gas helps increase thermal efficiency in window panes.
For nitrogen, the shorter list is what it can't be used for. Industrial fertilizers rely on nitrate. Many cleaning supplies use ammonia (hydrogen and nitrogen). A lot of electronics need nitrogen to keep from overheating (it's also used in fire extinguishers). And whole swathes of the medical field make use of nitrogen.
As United States Cylinder Gas points out: Nitrogen gasses can also be used to preserve sperm, egg, nerves, blood, stem cells, and various other biological specimens. That scene in Terminator 2: Judgement Day where the evil android is frozen and smashed to bits? Liquid nitrogen helped with that. 
The products made at the Faribault location will be distributed in about a 300-mile radius. 
But, as much as anything, Pontious is even more focused on construction than the distribution element. 
He was semi-retired before being brought on to work on building the plant.
"My job is oversee the engineering and construction of this air separation plant and I built two of those, one in Boise and one in Moses Lake, Washington. So I'm kind of a unique skill set in this industry."
Whether or not the gambit pays off is on ice for now.
Absolute Air is currently in the engineering phase and will be placing foundations shortly. 
Smith hammers home the point that building the plant will give greater independence to the five companies. "Since we're producing our own bulk gas, we'll have a consistent supply and consistent pricing is what we're going to be able to offer."
But there might be intangible benefits too.
The ideal scenario for Huber would be a ripple effect.
"We hope this will be an inspiration for other independents to follow suit."
The business news you need
With a weekly newsletter looking back at local history.