Fourth-graders at Lincoln Elementary in Osage huddled in pairs and groups of three around laptops on a recent school day to learn about coding by creating commercials for local businesses.
The students checked to see if the images on screen were doing what they programmed them to do.
"I totally love it," said fourth-grader Pierre Miller.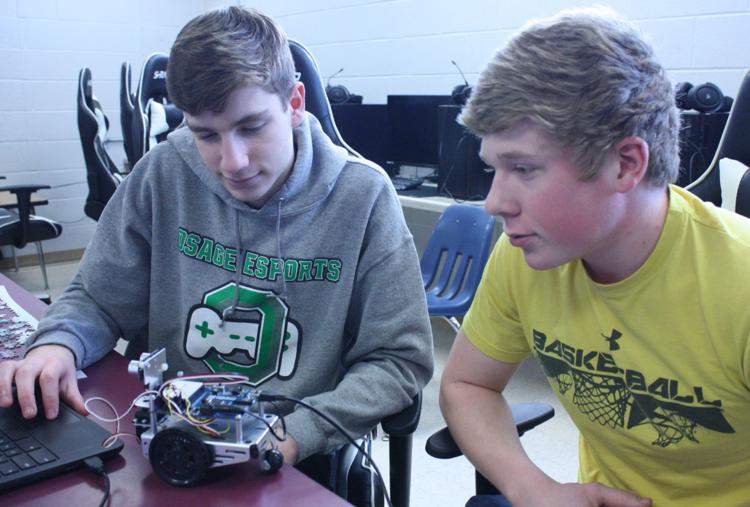 Science, Technology, Engineering and Math (STEM) skills are integrated throughout the curriculum at all grade levels at Osage Community Schools, beginning in kindergarten.
Gov. Kim Reynolds recognized the school district's commitment to STEM in her Condition of the State address on Jan. 14 in Des Moines. Around 25 Osage students and staff members were on hand for the speech at the Iowa Capitol Building.
"We try to make it (STEM) part of everything we do," said Greg Adams, Lincoln Elementary principal.
For example, when students do science activities, they share their results with others. Adams said this improves their communication skills.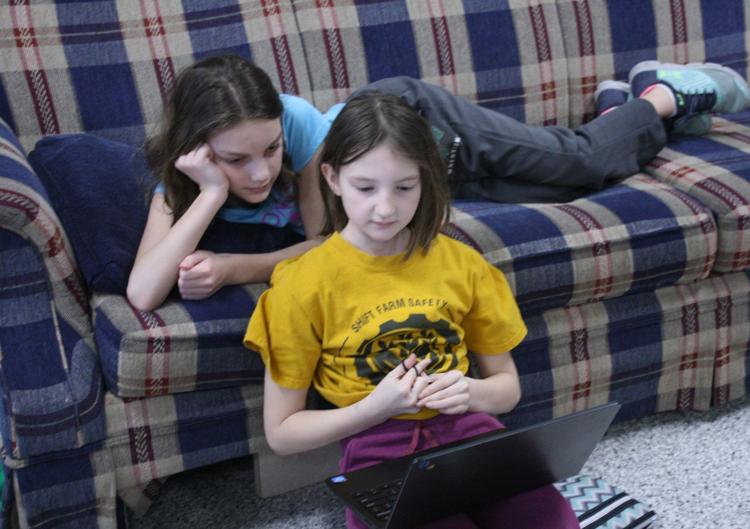 Elementary students at Osage learn math in a visual way, according to Adams. Shapes represent numbers at first, and teachers slowly begin incorporating the numbers. Adams said this makes math seem less abstract.
Children today begin using devices such as tablets at an early age, so they are already comfortable with technology when they start school, according to Adams.
When it comes to coding, teachers ask the kids "what can we make this little machine do?" he said.
Osage was the first school district in Iowa to require high-schoolers to take a computer science course.
Robotics is one of those course options at OHS.
One of the robots this year's students programmed will back up and turn away when it hits something, according to senior Chase Halbach, who plans to major in computer science at Upper Iowa University.
"It's kind of like one of those Roomba vacuums," he said.
In January 2019, a computer gaming club was started at OHS. Within a few months, the group was competing in eSports.
The students made it to the state championships in one event in the fall of 2019, and won their first match of the spring 2020 semester.
"It's getting bigger and bigger as we go," said Chris Khyl, who teaches computer science at OHS.
Membership in the club has grown to 30 students. Three of the seniors in the club have been awarded college scholarships in eSports.
The Osage and St. Ansgar eSports clubs will co-host a conference tournament on March 28. Khyl said some of the matches will be livestreamed on the KISS Country website.
But first the Green Devils and the Saints will compete in a match on March 19 during the second annual Science, Technology, Engineering, Art and Math (STEAM) Festival at Osage High School.
This year's festival, to be held from 5:30 to 8 p.m., is being expanded, according to Kelley Molitor, media specialist for the school district.
Brian Aspinall, an educator, three-time TEDx speaker, coder and global consultant, will talk about the importance of computational thinking and why STEM activities in the classroom are important.
"He is a super-energetic, fun guy," Molitor said.
Representatives from the Grout Museum in Waterloo are bringing a Burmese python. Science Center of Iowa Outreach also will be there, as well as representatives from the FBI and Collins Aerospace.
The festival will include a careers section that will be of interests to adults as well as youth, according to Molitor. She said representatives from North Iowa Area Community College will be there with information on their STEM offerings.
Joann Wells from Create and the school district's art teachers will lead art activities.
First Citizens will provide a free light supper.
Around 600 people attended last year's STEAM festival. Molitor is hoping for a crowd of 1,000 this year.
With careers changing so quickly due to technology, it's important for the public to learn about STEM and why it is critical for kids to be exposed to it in school, according to Molitor.
"We can let people see what's out there," she said.
The business news you need
With a weekly newsletter looking back at local history.