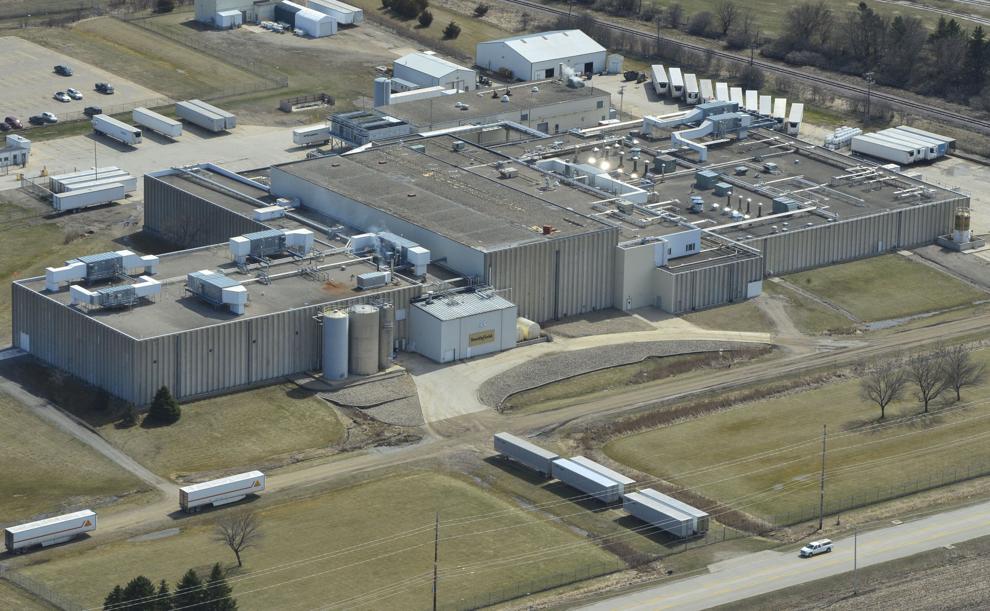 Throughout the course of the COVID-19 pandemic in Iowa, all kinds of businesses have had to adapt to the uncertain times. Restaurants have taken out tables. Retail stores put up barriers at checkouts. Grocers shifted hours to accommodate more at-risk people. 
For the Smithfield Foods location in Mason City, adapting is coming with a significant price tag.
According to Smithfield Foods Operations Manager Shane Whitenack, the meat processing facility is undergoing nearly $1 million in renovations to allow for additional social distancing.
"Our Mason City facility expansion is centered around renovating common spaces such as locker, screening and office areas," Whitenack said in a statement. He then added that those updates are scheduled to be completed in mid-October.
Earlier on in the pandemic, one concern for health officials was the volume of positive test cases coming from meat processing and packing plants. 
In Sioux Falls, South Dakota more than 200 employees tested positive for COVID-19 at a Smithfield Foods pork processing plant which forced the facility to close for a two-week period. Because of those events, the Associated Press reported this week that the Occupational Safety and Health Administration (OHSA) had cited and fined Smithfield $13,494 for having employees working closely together and exposed to the coronavirus. The story also said that the OSHA report found that Smithfield did not do enough to space employees out or "provide other safety measures like face coverings or physical barriers."
Marc Perrone, the president of United Food and Commercial Workers, argued to the AP that the fine did not go far enough to punish a company that makes billions of dollars in a year.
"This so-called 'fine' is a slap on the wrist for Smithfield, and a slap in the face of the thousands of American meatpacking workers who have been putting their lives on the line to help feed America since the beginning of this pandemic," he said. For the company's part, spokeswoman Keira Lombardo said that the citation was "wholly without merit."
During the time that the Sioux Falls facility was having its greatest trouble, the Mason City location stayed open because spokespeople for the plant said at the time that it had not been impacted by the South Dakota closure. 
Smithfield wasn't alone in having such concerns. Tyson Foods plants in Waterloo and Columbus Junction had potential outbreak concerns as did a National Beef Packing Co. plant in Tama and a Prestage plant in Eagle Grove.  All of those serious health concerns had to be balanced with worries about disruptions to the food chain. By just one estimate from Smithfield President and CEO Kenneth Sullivan, the Smithfield plant in represents about four-to-five percent of U.S. pork production. 
The Mason City Smithfield plant has been in operation for 42 years and employs about 300 people. 
Smithfield, which was owned by ConAgra Foods until 2006, produces lunch meat, smoked hams, cook-in-water deli hams and turkey. It's one of eight company facilities in Iowa.
ConAgra Foods acquired the plant – then known as Armour – in 1983 from Greyhound Corp.
Greyhound Corp. reopened Armour Food Co. on South Eisenhower Avenue in Mason City in 1978 — about three years after the Armour plant on the North End closed.
What a Globe Gazette News+ membership can do for you:
A deeper examination of local issues than you'll find anywhere else.
Two products in one – not everything that's in the print edition of the Globe Gazette is on our website, and not everything on our website is in the print edition.
Access to newspapers.com archives dating back two years.
The ability to carry your local news with you and receive alerts instantly as news unfolds.
Advertising that frequently gets you deals you won't find anywhere else.
Jared McNett covers local government for the Globe Gazette. You can reach him at Jared.McNett@globegazette.com or by phone at 641-421-0527. Follow Jared on Twitter at @TwoHeadedBoy98.