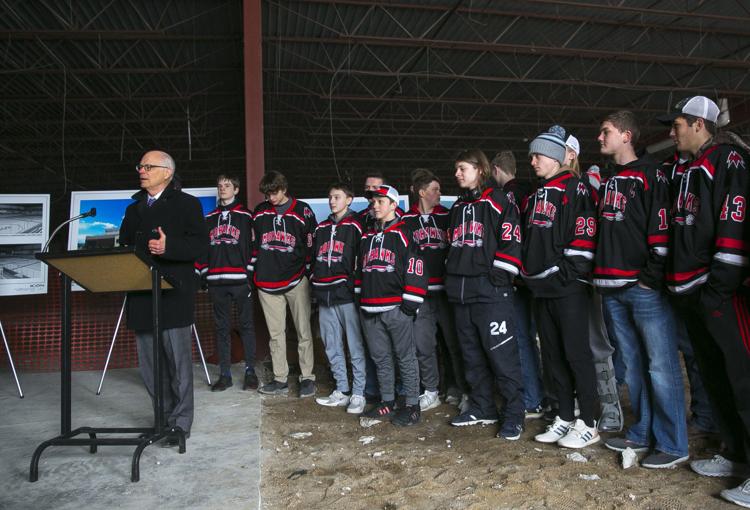 On Friday, December 13, after nearly a full year of construction work, Mason City's long-promised multipurpose arena will have its ribbon-cutting ceremony. 
The event's scheduled for 10 a.m. at the arena's south entrance that leads up to the recently christened "MercyOne Lobby," according to the official River City Renaissance Facebook page. 
Mason City broke ground on the arena back in February and crews have been working on it ever since. 
But that work hasn't been without a few minor hiccups. 
You have free articles remaining.
In total, there was more than a million dollars worth of change orders to address items such as uneven terrain for the floor and electrical issues. Such changes on works projects are not uncommon though. Over 35 percent of all construction projects will have a major change order at some point during the process.
While that work has neared completion, the arena's main tenant is still working on its portion of capital investment. 
About two months after its capital campaign kickoff, the Mason City Youth Hockey Association still needs to raise about $1.7 million in multi-year financial sponsorships. 
They were able to find a sponsor for mezzanine deck, one of the $100,000 per year items, but funding for the arena name ($1,000,000), the ice naming rights ($500,000), the training and shooting room ($100,000) and the Zamboni ($100,000) is still outstanding.
What a Globe Gazette News+ membership can do for you:
A deeper examination of local issues than you'll find anywhere else.
Two products in one – not everything that's in the print edition of the Globe Gazette is on our website, and not everything on our website is in the print edition.
Access to newspapers.com archives dating back two years.
The ability to carry your local news with you and receive alerts instantly as news unfolds.
Advertising that frequently gets you deals you won't find anywhere else.
Reach Reporter Jared McNett at 641-421-0527. Follow him on Twitter and Instagram at @TwoHeadedBoy98.