Just after noon on Monday, Mason City residents got their first of two chances to give voice to what's best about living in town and what could still be improved upon.
In the event center on the third floor of the North Iowa Regional Commerce Center in downtown Mason City, at least a dozen people went through six stations set up by the City and the McClure Engineering firm which include: maps to mark wants and needs, charts asking the above questions and a chance for input on the look and style of housing units that would work best for the area. If something development-wise should be encouraged, attendees put up green dots. Discouraged? Red dot. 
"I put some stickers on the ones where multiple families could be living," said Rachel Olson, who works as a housing and economic justice coordinator for Crisis Intervention Service. According to her, the agency is always interested in finding safe, affordable housing for the individuals that it serves.
Olson also said that Mason City, and any number of other communities, could always do better to meet the housing needs of those who have been materially disadvantaged in some way. She then added that she believes such sessions can help to move toward meeting those goals.
"The more we collaborate and listen to each other and help each other understand what our needs are, the better," Olson said.
Jenna Heiar, a "healthy homes program coordinator" for CG Public Health, said what brought her out to the forum was a need to advocate for the people she works with in Mason City and was clear about what their needs are.
"I would like to see, ideally, more affordable rental opportunities in Mason City. Affordable housing in general but (with) an emphasis on affordable rental housing that's safe," Heiar said. 
She then expressed concern that financial struggles triggered by the COVID-19 pandemic had peaked in the area and that with such a peak it's important to improve housing for people living on lower incomes.
"It's a constant to me that we have to keep at the forefront when we're thinking about needs and developing," she said.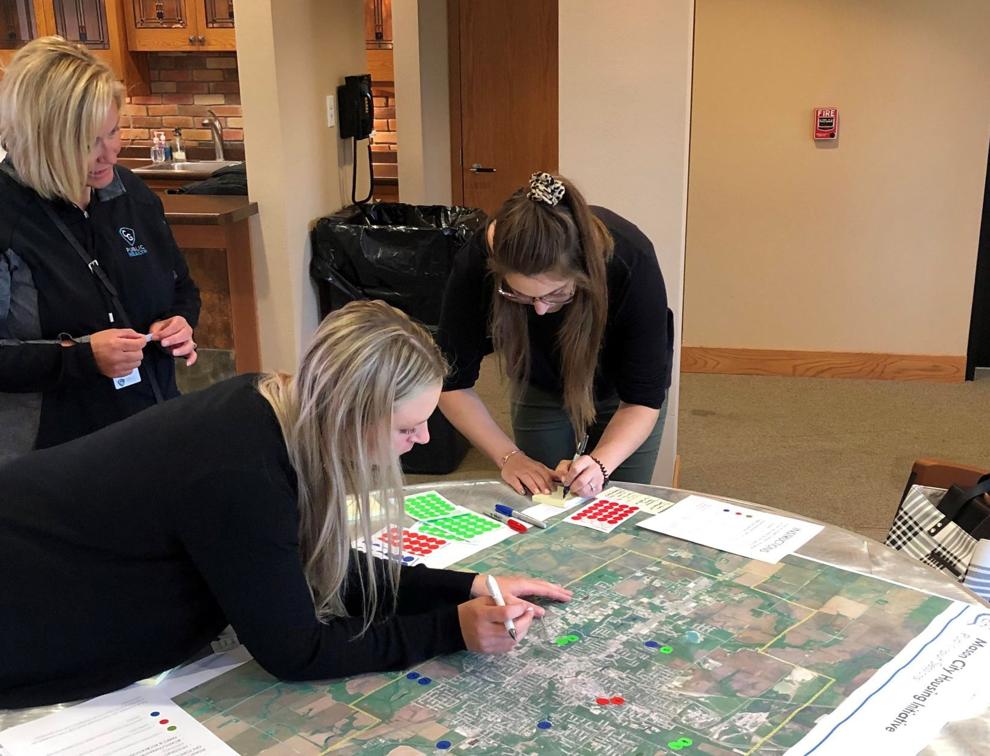 At similar events in the past, McClure Economic Development Strategist Clint Sloss said that he's heard people express a need for variety. 
"There are so few houses available right now. There are so few options available," he said.
The big questions he hoped the Mason City event could answer then were: How do we encourage builders to build more? Are there incentives we can provide? And, are there barriers with infrastructure or land availability? "We're looking from the buyer's end and the builder's end," Sloss summarized. 
"It's important to try to reach out to as many people as possible," he said.
One self-described "professional housing provider" in attendance, Russ Hardy, said that he showed up because he was interested in: improving opportunities for housing in Mason City.
He then shared that there were several topics that the City could revisit to help with housing.
"I would like to have the city revisit zoning requirements and sprinkler system requirements and be able to have a pool of money that can help landlords with rehabbing existing properties," Hardy said.
According to him, some of the existing city policies have the effect of deterring investment from property owners.
Following the noon and 6 p.m. housing needs discussions, the data collected will go into a summary report that is used to create a "housing development initiative" that is threefold and features: an overview of the development strategy and what financial incentives are needed to spur it, what eligibility would be for such incentives and how the process of attaining such incentives can be consistent and equitable for all developers. Those who are unable to attend can visit: Surveymonkey.com/r/Mason_City_Workforce_Housing and provide info there.
Per Van Steenhuyse, the project is expected to be completed by late fall 2021.
Jared McNett covers local government for the Globe Gazette. You can reach him at Jared.McNett@globegazette.com or by phone at 641-421-0527. Follow Jared on Twitter at @TwoHeadedBoy98.