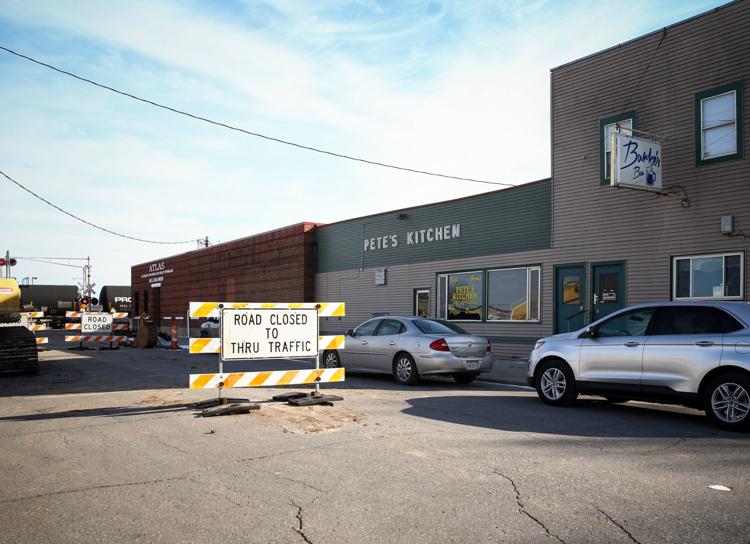 In late October, the city announced that it would be closing a portion of Sixth Street Southwest for almost a month in total.
But now that the segment stretching from South Jackson Avenue to South Monroe Avenue is shut down, it has complicated things for a Mason City establishment business. 
On Monday afternoon, Pete's Kitchen owners Arlene and Pete Kiroff posted on Facebook to ask patrons for increased support and to take the city to task for its roll out of the project.
"I have almost been shut down by city employees not coordinating repair projects in the past several times. Currently they're doing it again," the post stated. "I'm not a person to ask for assistance. Too proud. I am usually giving help. I am asking my customers to come to Pete's Kitchen and keep this Ma & Pa Shop in business."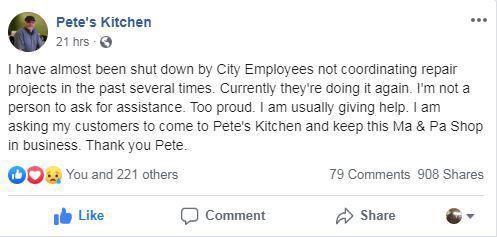 Since Pete's Kitchen made the post, it's been shared more than 900 times on Facebook by loyal customers, fellow businesses such as the Suzie-Q Cafe and by the Mason City Police Scanner page, which offered an alternate route to the business.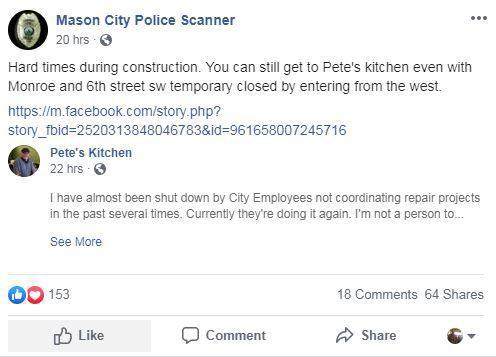 You have free articles remaining.
And according to Pete, that wide online support has materialized into a renewed physical presence.
At around 1:30 pm., he said that he had customers standing "six deep" in line to procure a homemade gyro or eclair from the Sixth Street staple. 
"I didn't expect it like what it's been last night and this morning," Pete said. " "It makes me feel awesome. The support that I'm getting, I can't say how much it means to me."
Which will be important going forward because past closures have cost Pete's Kitchen as much as $150-200 a day. This time, Pete said that he's been in contact with the city and that he was told things could open back up in a few weeks if not in a month.
In the initial press release from City Administrator Aaron Burnett, he said that the work was "necessary to replace a segment of water main beneath the Union Pacific Railroad Crossing." City Engineer Mark Rahm said that, as of last week, the task of preparing the site was ahead of expectation and that the contractor performing the boring began as they were scheduled to on Monday, November 11.
That sort of temporary disruption to local business isn't unheard of. 
During the full swing of Highway 122 work this summer, local business owners and managers in close proximity felt an increased burden. Bruce Kittleson, who owns and operates the Hardee's at 515 S. Delaware Ave. in Mason City, took to closing his storefront up earlier than normal because of how construction altered traffic around the establishment. Tom Abbas of Floyd and Leonard said that repairs had caused a 20% decrease in business for the 82-year-old store. 
And, just like the Sixth Street construction, the 122 work is ongoing.
What a Globe Gazette News+ membership can do for you:
A deeper examination of local issues than you'll find anywhere else.
Two products in one – not everything that's in the print edition of the Globe Gazette is on our website, and not everything on our website is in the print edition.
Access to newspapers.com archives dating back two years.
The ability to carry your local news with you and receive alerts instantly as news unfolds.
Advertising that frequently gets you deals you won't find anywhere else.