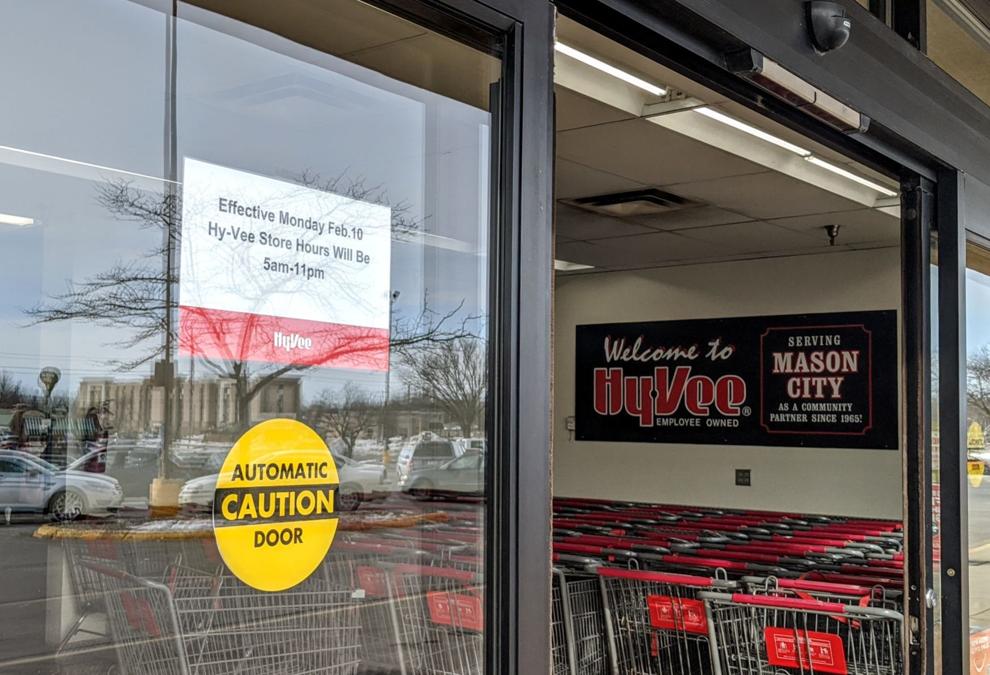 Hy-Vee customers in North Iowa will soon have to adjust to some new store hours.
Starting Monday, February 10, Hy-Vee locations across the area will shift hours to 5 a.m.-11 p.m. for every day of the week.
That means that in Mason City both main Hy-Vee stores will no longer be a 24-hour option for residents. In a less dramatic shift, hours for the Hy-Vee in Garner will go from 6 a.m.-10 p.m. to 7 a.m.-10 p.m. For locations in Charles City and Forest City, there have been no postings of updated hours. 
The Iowa-based grocery chain confirmed the change on Tuesday.
Hy-Vee does not plan to cut any jobs, and people will continue to work overnight to stock shelves which Mason City Hy-Vee East Manager Serena Panhoff confirmed.
As the Journal Star noted in its report, the company is adjusting hours at most of its 24-hour stores across its eight-state region and Gayman said new store hours may vary by location. That's part of a trend for retailers. Walmart scaled back hours at over 100 locations last year.
The announcement comes just a week after Hy-Vee, Inc. announced that it would acquire six former Shopko locations in Hampton, Cresco, Oelwein, Waukon, Dyersville and Vinton and re-open them under its Dollar Fresh brand by late summer.
Dollar Fresh locations are "designed to offer customers in smaller communities a fresh, new product selection at low prices. Customers will find a full selection of grocery items, a bakery section with a full range of fresh-baked items, a dollar sections, a Wall of Value, ready-to-eat meal offerings and other services," Hy-Vee said in its press release.
The first Dollar Fresh opened in Osceola, Iowa, in fall 2018. At present, Hy-Vee operates Dollar Fresh stores in Centerville, Creston, Emmetsburg, Ocseola and Toledo, Iowa. There is also a Dollar Fresh store in West Point, Nebraska.
What a Globe Gazette News+ membership can do for you:
A deeper examination of local issues than you'll find anywhere else.
Two products in one – not everything that's in the print edition of the Globe Gazette is on our website, and not everything on our website is in the print edition.
Access to newspapers.com archives dating back two years.
The ability to carry your local news with you and receive alerts instantly as news unfolds.
Advertising that frequently gets you deals you won't find anywhere else.
The most-read stories this week
Hy-Vee acquires former Shopkos, the Chanhassen Music Man cast visits Mason City, and more:
Reach Reporter Jared McNett at 641-421-0527. Follow him on Twitter and Instagram at @TwoHeadedBoy98.