This summer children experiencing food insecurity in the Minneapolis-St. Paul region could access a meal from a new food truck built in Winnebago County and supported by The Minnesota Vikings Foundation in partnership with Xcel Energy.
Built by the Specialty Vehicles Division of Winnebago Industries in collaboration with local food truck operators Tony and Haley Fritz, the new community outreach vehicle is dubbed "Vikings Table." Its aim is to help tackle hunger, while engaging children and families with the Vikings NFL sports team up close and around home nutrition education. This is the first commercial kitchen produced using the Winnebago commercial shell vehicle platform.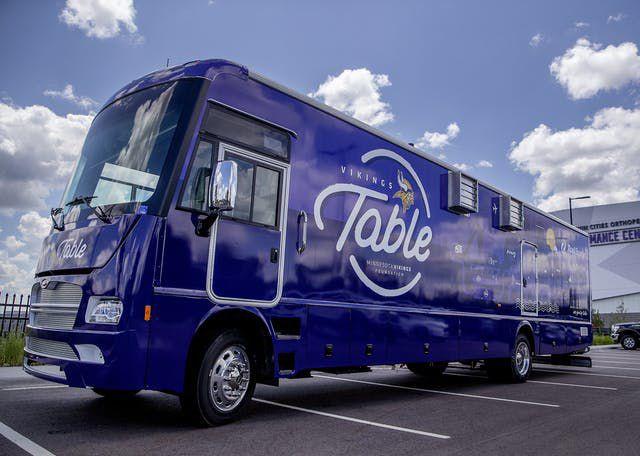 Built on a Winnebago Commercial Vehicle Platform, the 38-foot Vikings food truck features a Freightliner MC chassis, which weighs less than 26,000 pounds and can be driven without a commercial driver's license. The commercial kitchen is designed to hold as many as 10 food preparation professionals when parked. The kitchen features all NSF-certified appliances and work surfaces, as well as meets all Minnesota state and Minneapolis municipal codes for a commercial kitchen.
Winnebago Industries Inc., is a U.S. manufacturer of outdoor lifestyle products under the Winnebago, Grand Design and Chris-Craft brands, which are used primarily in leisure travel and outdoor recreation activities. The Company's common stock is listed on the New York Stock Exchange and traded under the symbol WGO. For more information, visit http://investor.wgo.net.