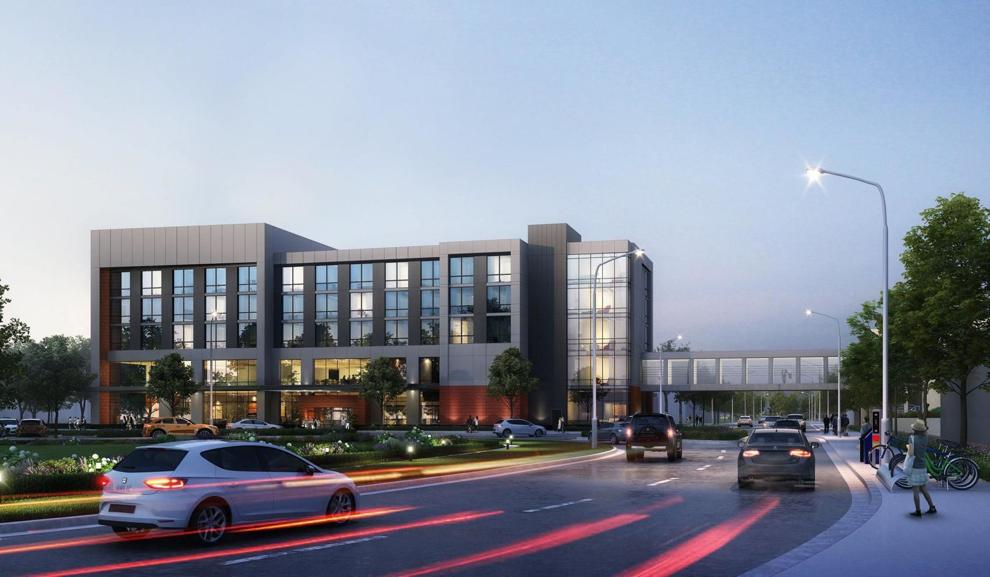 When the Mason City Council had its annual agenda-setting meeting in mid-October, two particular issues rose to the top of the list of priorities: blight and infrastructure.
For blight, the council members didn't want to just see code enforcement but also attempts by the city to get compliance from property owners. 
As far as infrastructure goes, the council members had a more specific construction goal in mind.
"We all agree that River City Renaissance has to be on there. It is the priority," First Ward Councilmember John Lee said at the meeting. A major part of that is the downtown hotel project, which still needs financing to be finalized before construction can begin.
"The council understood the importance of the River City Renaissance to the community and seeing that vision come to fruition," City Administrator Aaron Burnett said. According to him, what's obscured that vision quite a bit this year is the ongoing COVID-19 pandemic. 
When the Mason City Council approved a $24 million public-private partnership in July 2019 with Gatehouse Capital to build a downtown hotel, there were a number of deadlines listed throughout the 40-plus page contract. There was an initial financing commitment deadline of Sept. 30, 2019, as well as a construction start "on or before July 1, 2020." Improvements would need to be finished no later than December 2023.
That financing commitment got pushed back to a tentative date of February 2020. 
Then March came along and brought COVID, which Burnett said made the financing portion more difficult and is the type of "unavoidable delay" that the "Purchase, Sale and Development Agreement" with Gatehouse mentions.
"The surge has been a continual negative impact on all projects across the state and I think the hotel is no different," Burnett said. "The hospitality sector has been particularly impacted ... It's a difficult environment and sector to lend to."
On the infrastructure side, the National League of Cities found in a survey that 65% of cities are "being forced to delay or completely cancel capital expenditures and infrastructure projects." That was in June when the numbers weren't quite what they are now.
But in Clear Lake, construction is underway on a hotel that that city first started planning for in 2019. That particular project doesn't have quite as high of a overall cost as the Mason City project and the finished hotel also won't have the same number of rooms or a skywalk going over a major road.
Despite the delays and then disruptions from the pandemic, Burnett said that he thinks that the financing is close to finishing and that it's not out of the question for actual work to start soon.
"Obviously COVID has made it difficult to set timelines for anything, but I think we can definitely see construction and work start in early 2021," he said.
For now, it all comes down to financing.
The design work for crucial elements such as the skywalk, which will connect The Music Man Square to the hotel, is finished. The development is private so there isn't construction work that needs to go out for bidding. The "Purchase, Sale and Development Agreement" does need to be modified, but that can't happen until financing is locked in. As Burnett explained, "We're getting the financing outlined clearly so we can make proper modifications to the amendment."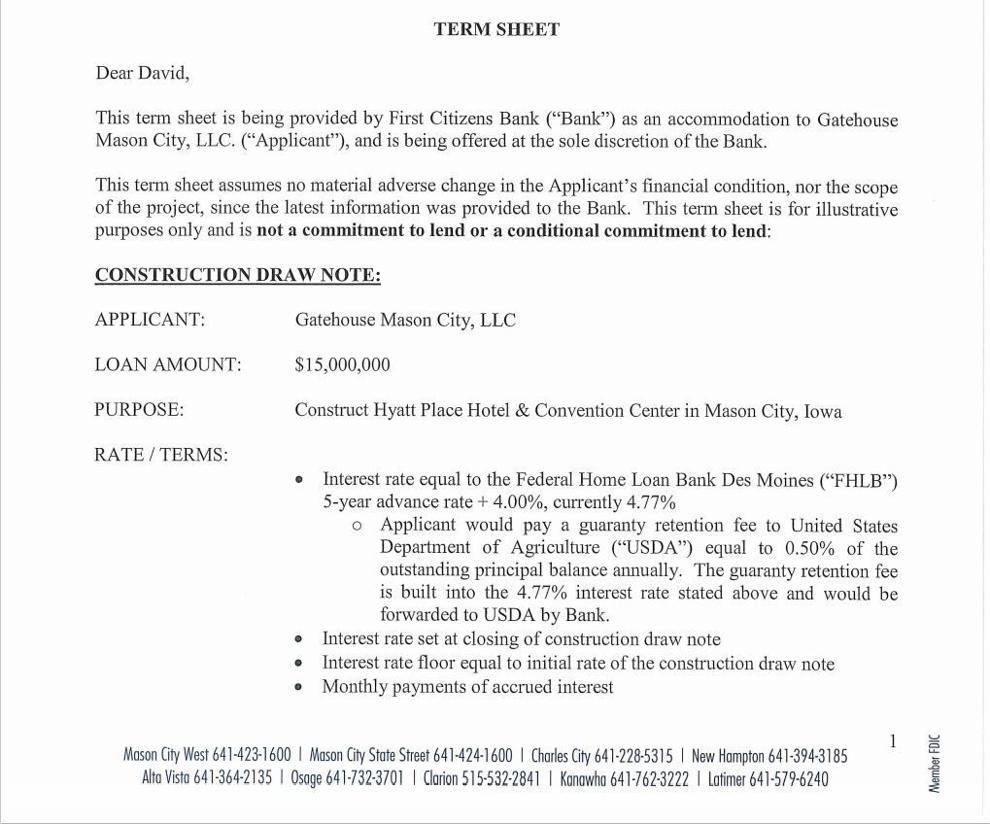 At the beginning of the week of Nov. 30 and at the request of the Globe Gazette, Burnett provided copies of emails between the city and Gatehouse regarding the project. 
One of those attachments had a PDF of a term sheet from First Citizens Bank to Gatehouse Mason City LLC, that was dated Oct. 30, 2020.
Though not a commitment to lend, the "construction draw note" on the term sheet shows that the loan amount would be for $15 million, with an interest rate currently at 4.77%, for the purpose of constructing a Hyatt Place Hotel & Convention Center. The applicant, Gatehouse Mason City, would pay $150,000 as a fee to the bank for construction/origination. 
Some of the application conditions include: a Hyatt Place franchise flag, updated market feasibility studies and bank approval for change order costs above $100,000 in aggregate.
In another email, sent on July 10, Burnett asked Gatehouse representative David Rachie for an estimated timeline of the groundbreaking, construction and completion based on financing scenarios provided by Rachie.
"I need to communicate with the IEDA and the public on expectations for this project and manage its relationship to the pavilion and skywalk," Burnett wrote. Two weeks later, Rachie eventually responded by proposing to chat and give an update.

How long construction does take once it gets going will come down to when it starts. If work has to go through long stretches of uncooperative weather, such as a brutal winter, it could take longer for the hotel to be completed. 
At last count, the hotel would feature 111 rooms as well as a conference center and sit on about three acres of land. The minimum number of full-time equivalent jobs the development would create in Mason City is at least 20.
What a Globe Gazette News+ membership can do for you:
A deeper examination of local issues than you'll find anywhere else.
Two products in one – not everything that's in the print edition of the Globe Gazette is on our website, and not everything on our website is in the print edition.
Access to newspapers.com archives dating back two years.
The ability to carry your local news with you and receive alerts instantly as news unfolds.
Advertising that frequently gets you deals you won't find anywhere else.
Jared McNett covers local government for the Globe Gazette. You can reach him at Jared.McNett@globegazette.com or by phone at 641-421-0527. Follow Jared on Twitter at @TwoHeadedBoy98.