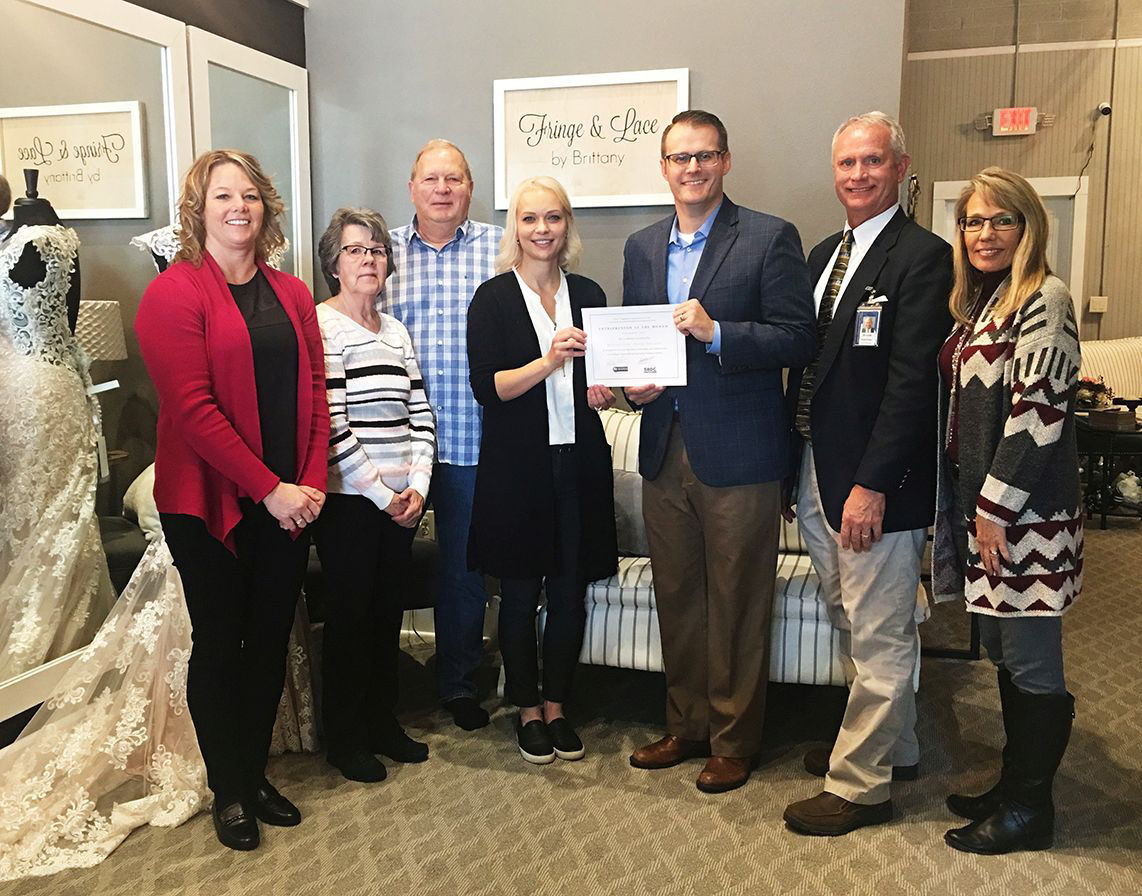 Brittany Low, of Fringe & Lace by Brittany, was named as the NIACC John Pappajohn Entrepreneurial Center and the North Iowa Area SBDC November Entrepreneur of the Month.
According to a release from NIACC, Fringe and Lace by Brittany is bringing boutique retail back to Northwood.
Low has always loved to sew. In high school, she used her talent while working in a bridal shop, making alterations. When she married Tom Low, a life-long resident of Northwood, she began a side business doing alterations for friends and family out of her home.
As her friends and family increasingly referred their friends, Brittany realized that she could take this side business to full time.
"I was so busy just from word-of-mouth and personal recommendations," Low said in the release. "Digital marketing has worked well for our demographic, but referrals and word-of-mouth are the best kind of marketing a business can have."
As Low considered taking her alterations full time, she also noticed something going on in her community: every spring, local girls were preparing for prom by re-selling and buying their formal dresses on social media.
You have free articles remaining.
After hearing about girls meeting up at gas stations and trying on dresses in bathrooms, Low saw that these girls needed a safe and clean location to sell their previously-loved dresses. In early 2017, she founded Fringe Lace by Brittany, an alterations and consignment dress shop, specializing in prom dresses and tuxedos.
After a year, Low worked with the NIACC Pappajohn Center and North Iowa Area SBDC to find the best way for her business to grow.
"They helped me put all the pieces together," she said. "Before I made any moves, we made sure it was a good decision to add the bridal line, add the bridesmaid dresses, and expand into a bigger location."
In February 2018, Fringe and Lace by Brittany opened in its new location on Central Avenue in downtown Northwood.
Low said it was important to found her business in Northwood. Brick-and-mortar clothing retail is increasingly concentrated in larger metro areas as online sales continue to drive change in industry. She looked at her business as an opportunity to bring some retail back to town and keep it there.  
"My mindset is that I don't have to be the biggest, but I want to be the best. Everything we do is focused to provide that small town service, the top trends, the best variety, and the best quality at a price point that's realistic for our area."
Lt. Gov. Adam Gregg presented Low with the Entrepreneur of the Month award at Fringe & Lace by Brittany in Northwood on Nov. 19.