The whole notion of sustainability in the modern age hinges on achieving a balance. No one part can overwhelm another and each constituent group needs to be capable of working with the others in service of a greater good. If those things don't happen, the idea of sustainability is but a pipe dream.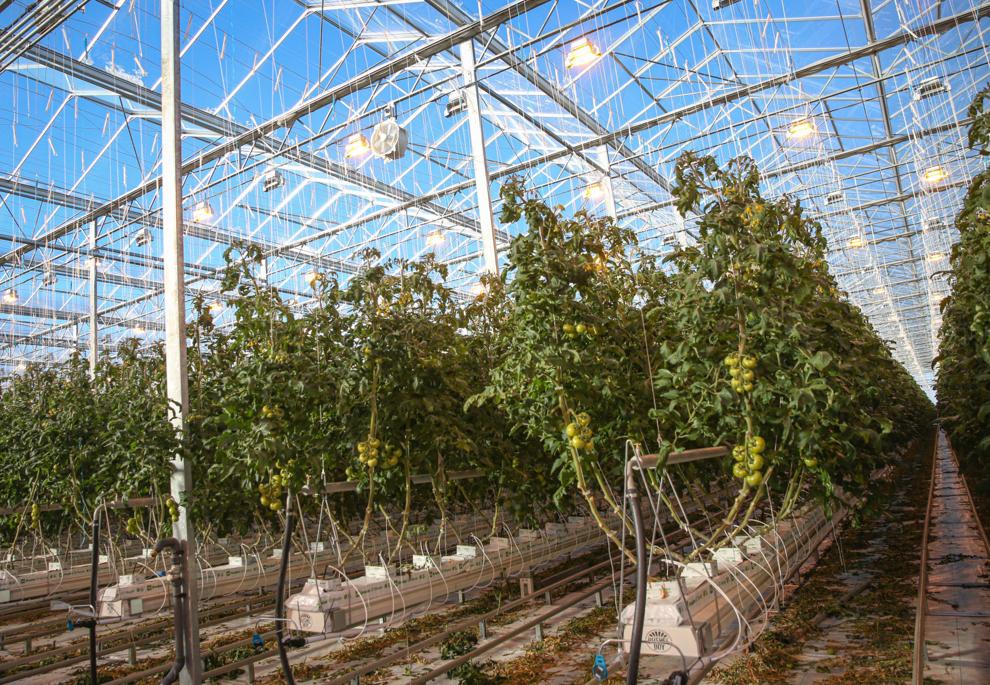 At the new $35 million, 50-acre Bushel Boy greenhouse facility off of 240th Street in Mason City, the employees are striving for a sustainability of their own.
Lights, water, action
It starts with head grower Will Ruigrok, who familiarized himself with growing tomatoes in greenhouses as a child in De Lier, Holland. Ruigrok can calmly but authoritatively rattle off the number of rows of tomatoes growing at the Bushel Boy site, 320, how many weeks until harvest, four to five, and what the temperature inside the greenhouse is kept at, between 62 and 73 degrees Fahrenheit.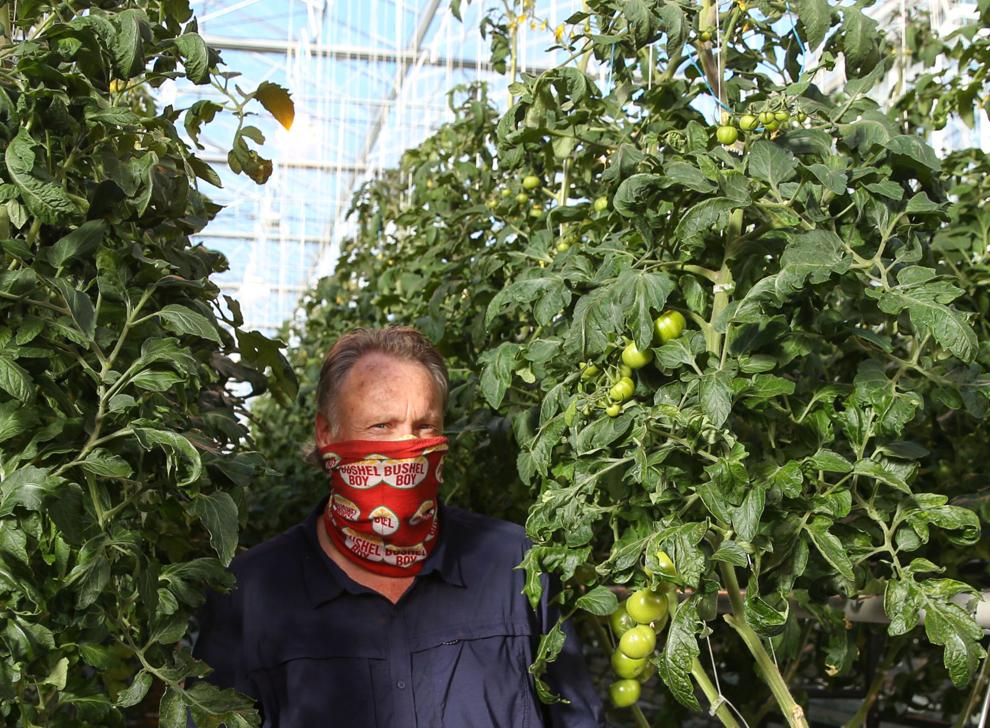 "This climate is so perfect for the tomato plant that fungi doesn't have a chance," Ruigrok said.
Of course it takes more than just the ideal temperature to grow tomatoes-on-the-vine and beefsteak tomatoes. Irrigating, lighting and carbon dioxide play a significant role as well. (Soil isn't needed because Bushel Boy hydroponically grows its tomato varieties on their sides.)
To get water to the plants, which grow about 12 inches a week, there are thin tubes running along the rows. They carry rainwater that is disinfected, stored in a tank and heated.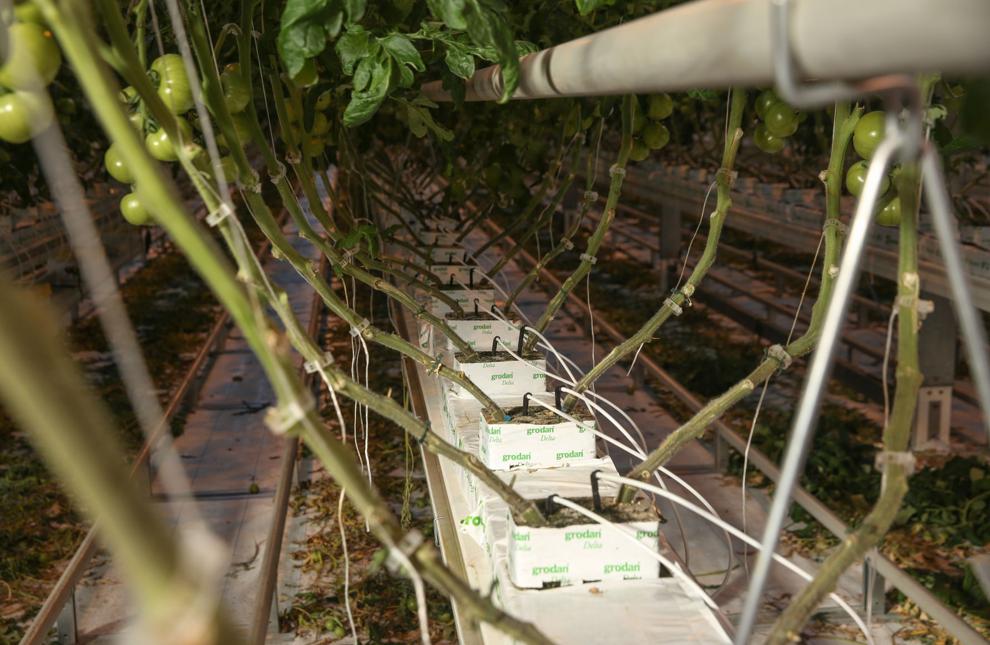 "(We) don't have runoff storm water because we collect ourselves and use it," Ruigrok said. 
Bushel Boy takes a similar approach with the carbon dioxide it supplies to its plants for increased growth. Along with the tubes carrying rainwater, there are also tubes transporting CO2 down every row. According to Mike York, the vice president of engineering and maintenance for Rahr Malting, the parent company of Bushel Boy, that CO2 is actually recovered off of the boilers that are at the facility.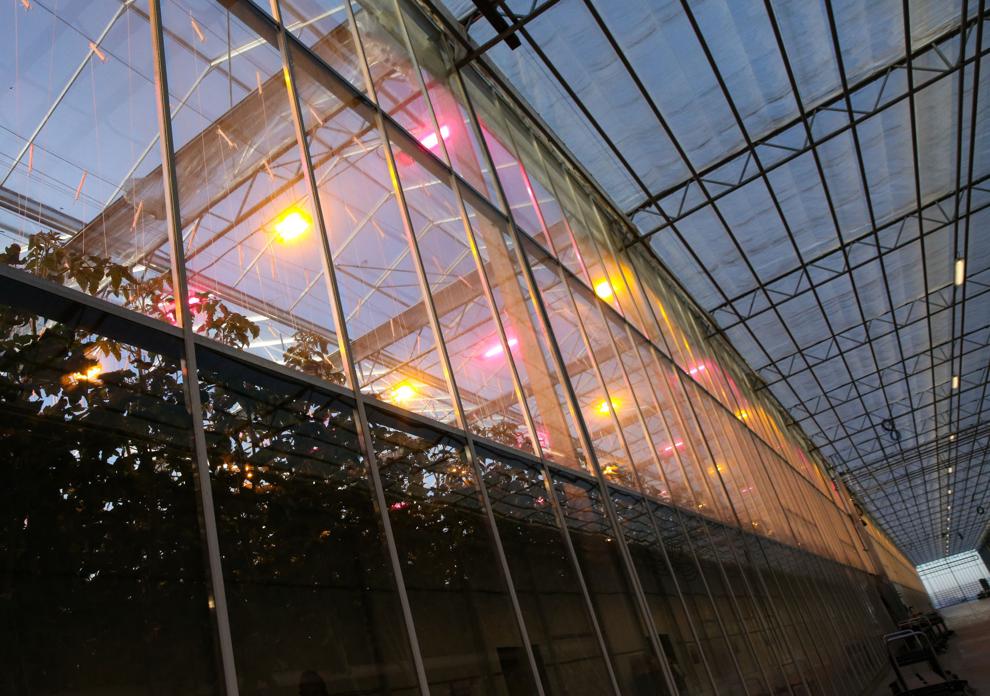 As for lighting, the Bushel Boy facility features a mix of high-pressure sodium lights and LED lights. Between the two, the tomatoes get a spectrum not unlike what they'd receive from direct sunlight. That ensures that there isn't an off-season for Bushel Boy.
"With artificial light we can produce year round. We don't have that seasonal effect," Ruigrok said. Were those artificial lights to burn too bright, they'd risk burning the plants.
Tomato vs. predator
Even in such a maintained ecosystem, there's still a possibility of predation. 
According to Ruigrok, two of the big fears are whiteflies and aphids, which can ruin the tomatoes by feasting on the plant tissue that transports nutrients. 
Rather than turn to chemical solutions, Ruigrok said that Bushel Boy will scout for natural predators of those insects to introduce to the environment and alleviate the problem. One such predator is the lacewing, which can be sold to growers in egg-form and then hatch in the field.
Even when there aren't any predators around, there are still bugs to be found on the Bushel Boy grounds. Per Ruigrok, Bushel Boy keeps about 120 boxes of bees throughout the rows in the greenhouse to help with pollination efforts.
Backers of a bill to bequeath the status of Iowa's state insect to the honeybee are hoping their resolution can make a bee-line to Gov. Kim Reynolds' desk.
The harvest is nigh
The first crop of tomatoes at the Bushel Boy facility was planted over a four-day period in December. Since then, workers have pruned back the plants every week and installed new clips on the vines to keep them growing straight.
March should bring the first harvest in Mason City. And with that, other sectors in the building start to matter more. 
"(We use the) pack house to do packaging and palletizing," Bushel Boy Farms President Chuck Tryon said.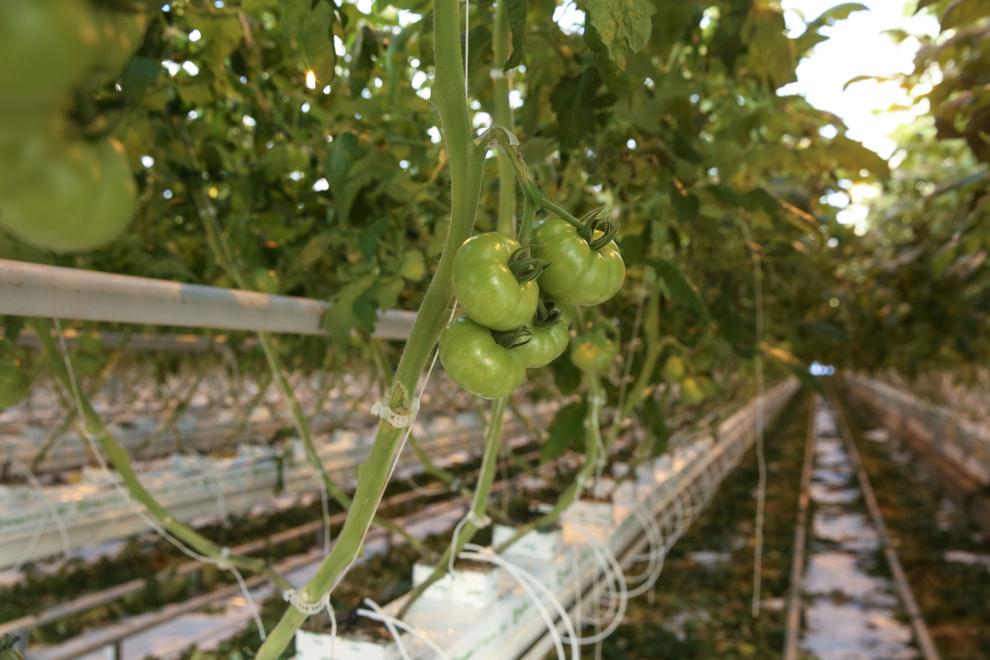 From there, the tomatoes are stored and cooled overnight at 50 degrees Fahrenheit. Then the product is packed and shipped out the following day sometimes as early as 4:30 a.m. 
Tryon said that with the new building Bushel Boy can reach markets as far south as Kansas City, Missouri. The company already works with the Hy-Vee grocery chain which hits not just Iowa and Missouri but Illinois, Kansas, Nebraska, Minnesota, South Dakota and Wisconsin as well. 
Once everything's been harvested in the first round, Bushel Boy will start anew with a propagator in Canada. 
Glimpse at the future
Bushel Boy has plans for the facility that extend beyond tomatoes. 
Tryon said that peppers, strawberries and maybe even eggplants are possibilities in the future. If those were introduced, the Mason City site might have four different zones to grow different crops at the same time.
Outside of food entirely, Tryon said he wants to get people in the community more interested in what it is that Bushel Boy does and how it does it. He suggested schools could eventually tour parts of the facility and see agriculture up close. They could see how men, women and machines work to keep the balance.
Such a move would make sense for Bushel Boy because the focus isn't solely on the present. They have a wider lens than that.
"This isn't the only future to farming but it's one of the futures to farming," Tryon said.
What a Globe Gazette News+ membership can do for you:
A deeper examination of local issues than you'll find anywhere else.
Two products in one – not everything that's in the print edition of the Globe Gazette is on our website, and not everything on our website is in the print edition.
Access to newspapers.com archives dating back two years.
The ability to carry your local news with you and receive alerts instantly as news unfolds.
Advertising that frequently gets you deals you won't find anywhere else.
Jared McNett covers local government for the Globe Gazette. You can reach him at Jared.McNett@globegazette.com or by phone at 641-421-0527. Follow Jared on Twitter at @TwoHeadedBoy98.