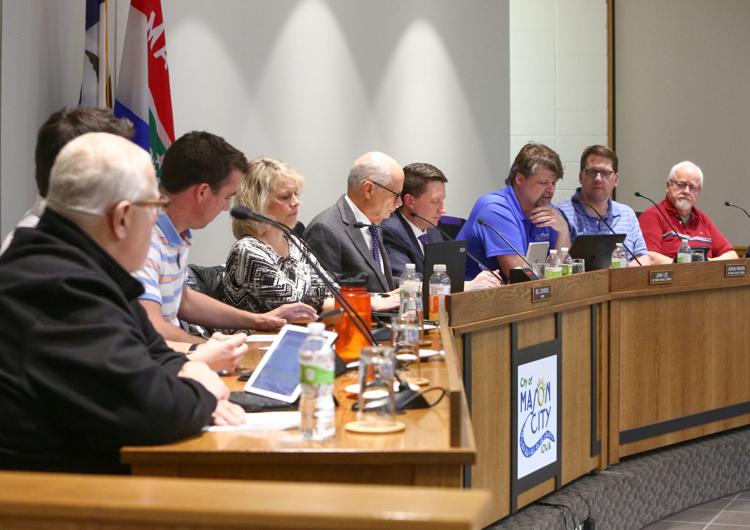 While the Mason City Council's work session on Thursday night was singular in focus it was more expansive in what was covered. 
Officials met at city hall to review the newest Capital Improvement Budget which serves both forecast and guide for what Mason City hopes to get done.
What's coming up
From 2020 through 2024, city officials estimate that, were all listed projects to go through on or around budget, they would spend nearly $119 million on various department programs. A chunk of that money would come from specific utilities revenues, such as water and sewer, but there would also be money coming in from grants and the city's reserve of General Obligation Bonds. 
"We try to be as conservative as possible while still managing to take care of projects that are needs in the communities," City Administrator Aaron Burnett near the beginning of the meeting. So that would mean for Fiscal Year 2021, there would be about $24.5 million in needed expenditures. 
One forecasted driver of that estimate is work on a taxiway at the Mason City Airport that's listed at $4.5 million. At least part of that will be offset by about $3 million in federal funding that the airport received in November through the Airport Improvement program.
Street work
Coming in at about $1.75 million is the projected cost for paving on Monroe Avenue that will be funded through road use tax funds, grants and sewer/water revenues. 
According to City Finance Director Kevin Jacobson, most projects using some amount of road use tax funds are annual ones that are done to maintain streets and those areas of the city.
"Those have significant funding from grants and federal dollars," he said.
Other public works in that realm included: street lighting on South Federal for about $750,000, $450,000 for crossing repairs and $125,000 for traffic signal upgrades. 
You have free articles remaining.
Sewer work
Forthcoming work on Mason City's sewer system totaled about $1.8 million in projected expenditures with about $1 million accounted for by fund revenues alone. A necessary nutrient reduction program, for run-off, ate up about $500,000 of that $1.8 million and would mostly involve replacing equipment at treatment plant that has outlived its effectiveness. 
The average sewer bill in Mason City runs about $17.17 a month, though there would be a projected 2.83% increase to continue the revenue generation for such work. 
Burnett said that the sewer system is one particular area where spending, if possible, could just be perpetual.
"You can spend as much money as you can raise," he said. "The infrastructure that exists in most cities is aged and, frankly, inadequate for the amount of rainfall we get in this age ... So there's a strong competition between the rate that projects need to be completed and the amount that needs to be raised."
To which Jacobson later added, "We know the rate increase we need and we don't want to increase that and burden the citizens."
Recreational work
When discussing the expenditures needed for ongoing and upcoming work for Mason City's Parks and Rec programs, Jacobson was quick to point out that at least $400,000 of arena project debt would be carried over from the year prior. 
The biggest ticket item still is awaiting completion is the $200,000 for the High Line Trail. Part of the overall work on the new path was partially bonded but in July it was announced that additional private funding would be required to finish the work.
Before riders biking through Mason City can enjoy the miles long High Line Trail, there are …
Throughout the presentation, it was repeatedly emphasized by Burnett and Jacobson that such forecasting is conservative for a reason. 
"It's important that we continue to put the city in the best position as far as reserves and the revenues that we can count on," Burnett said. 
For his part, Jacobson was briefer still: "This is a fluid process. These are estimates."
What a Globe Gazette News+ membership can do for you:
A deeper examination of local issues than you'll find anywhere else.
Two products in one – not everything that's in the print edition of the Globe Gazette is on our website, and not everything on our website is in the print edition.
Access to newspapers.com archives dating back two years.
The ability to carry your local news with you and receive alerts instantly as news unfolds.
Advertising that frequently gets you deals you won't find anywhere else.
Looking forward in 2020
From sports to entertainment to government and more, here's what you can expect so far in the new decade.
Reach Reporter Jared McNett at 641-421-0527. Follow him on Twitter and Instagram at @TwoHeadedBoy98.