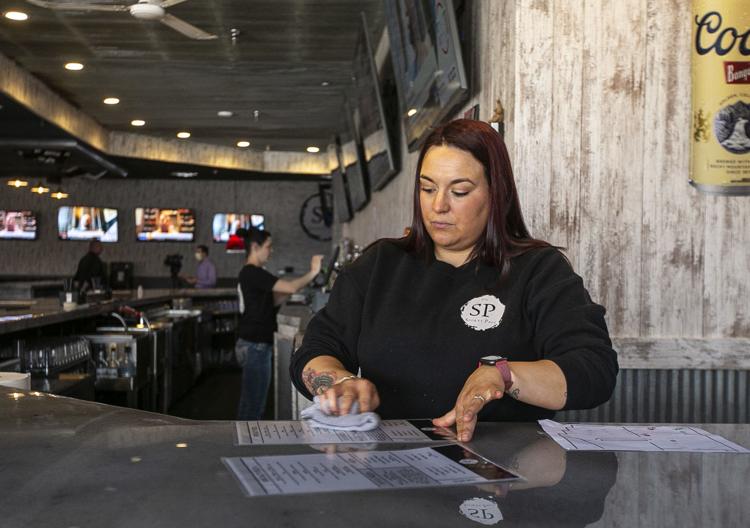 Friday morning, the Sports Page of Mason City posted to its Facebook page that it was closed "effective immediately" for a deep cleaning and disinfecting. It reopened Monday, Aug. 31 at 11 a.m.
According to the Sports Page's Marc Shannon, the move was one of precaution rather than just reaction and was done to protect staff because of possible COVID-19 concerns. The onus for what exactly to do was on the new business.
Since restaurants in Mason City were allowed to re-open in early May, much of this decision-making around the virus has been more in the hands individual businesses than public health officials.
That's because if an individual who works for a business does test positive, or is even concerned about testing positive, CG Public Health can't contact that person's employer. Health officials can only make the suggestion that an individual contact their place of work.
If there are businesses not following COVID guidelines that concern occupancy, mask usage or social distancing, members of the community can contact a department like Willemsen's to lodge a complaint but she said that public health has received few such complaints in the past months.
"It's been pretty minimal actually as far as I know. Not like we thought," she said. In two cases, the issue at hand was mask usage. 
Further adding to the difficulty, CG Public Health officials can't just go off of what they've heard about a business with COVID concerns. Unsourced tips aren't enough. They need as much information as possible. As Willemsen put it, "If photos or video available, we certainly welcome those from the public."
But, again, if no member of the public raises a concern and it's left up to a business to react there can be a more limited range of options. 
The Sports Page's move on Friday is one they decided to make about a month ago as well. 
On July 20, the bar and grill in Southbridge Mall closed for the safety of staff and customers after a patron tested positive for the virus.
"We will continue to monitor our staff and advise them to be tested if in question at all," the Facebook post announcing the move stated. 
Until further developments with the virus, such monitoring may well be the main strategy that other businesses in a similar situation use. 
What a Globe Gazette News+ membership can do for you:
A deeper examination of local issues than you'll find anywhere else.
Two products in one – not everything that's in the print edition of the Globe Gazette is on our website, and not everything on our website is in the print edition.
Access to newspapers.com archives dating back two years.
The ability to carry your local news with you and receive alerts instantly as news unfolds.
Advertising that frequently gets you deals you won't find anywhere else.
Jared McNett covers local government for the Globe Gazette. You can reach him at Jared.McNett@globegazette.com or by phone at 641-421-0527. Follow Jared on Twitter at @TwoHeadedBoy98.
The business news you need
With a weekly newsletter looking back at local history.