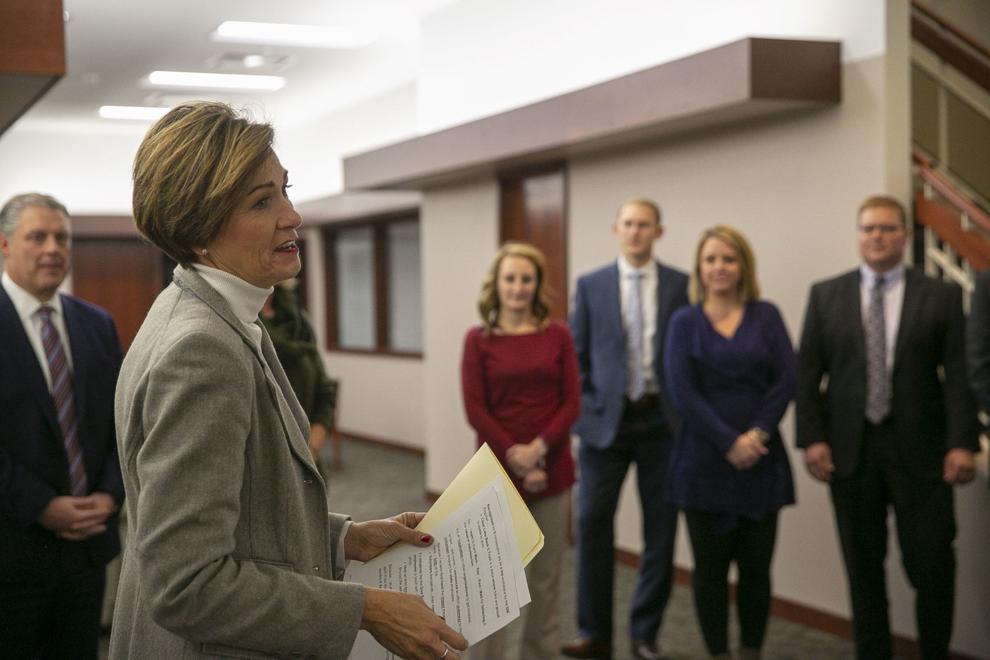 Thursday in Mason City is set to be a prominent discussion day. 
The stop is part of a two-day swing Reynolds and Gregg are making through seven different Iowa towns to talk about community concerns such as education and workforce initiatives. 
In recent days, the governor has pushed for spending increases while also announcing the formation of a new state bureau. 
Last week, legislators gave tacit support to to Reynolds' $8 billion budget recommendation which calls for a 4.4 percent boost, or nearly $343 million more, than the $7.75 billion that will be spent this year. Within that budget, that would be $100 million in increased aid to K-12 schools as well as a $167 million funding increase for Medicaid. 
Reynolds has also been big recently on forming a state-level bureau that would focus on helping schools protect students and staff from threats like school shootings.
Her idea is to provide $2 million to add special agents who can work with local law enforcement, school administrators and others to effectively communicate and coordinate on preventive measures such as training, reporting and investigation. 
The push comes about two years after Reynolds signed a law requiring each of Iowa's 327 school districts to submit safety plans and undergo training drills, a law that was passed in the wake of the Parkland, Fla. shooting where a gunman killed 17 people at the Marjory Stoneman Douglas High School before being apprehended by authorities. 
"News headlines about school shootings and threats at unsuspecting communities across America are becoming all too common," she remarked.
The Mason City event is the last of the week for Reynolds and Gregg. 
What a Globe Gazette News+ membership can do for you:
A deeper examination of local issues than you'll find anywhere else.
Two products in one – not everything that's in the print edition of the Globe Gazette is on our website, and not everything on our website is in the print edition.
Access to newspapers.com archives dating back two years.
The ability to carry your local news with you and receive alerts instantly as news unfolds.
Advertising that frequently gets you deals you won't find anywhere else.
Reach Reporter Jared McNett at 641-421-0527. Follow him on Twitter and Instagram at @TwoHeadedBoy98.