A key piece of what has been more than half a decade of planning comes into sharper relief at the Mason City Council meeting on Tuesday night.
On Tuesday, the six-member council will vote on whether or not to finalize a development deal with the Dallas-based Gatehouse Capital that would put a multi-million dollar hotel in downtown Mason City as a part of the River City Renaissance project.
The hotel is crucial to the project because $10 million in private funding is a prerequisite for the city to qualify for a state Downtown Reinvestment District, which comes with a financial assistance package.
Since at least 2013, there's been an ambition to put a hotel in the downtown of Cerro Gordo's county seat. 
At that time, it was G8 Development and Philip Chodur proposing to build a 96-room Hilton hotel on land west of City Hall.
Then Gatehouse, a company that's been around for 20-plus years and has helped deliver hotels to Dallas and Hollywood and San Diego, arrived on the scene with a proposal to build a hotel in the south parking lot of Southbridge Mall and connect it with a skywalk to The Music Man Square.
After stalling out from the city council, venting about the delays, multiple votes and the threat of a lawsuit, G8 re-emerged and then didn't deliver on anything. 
So Gatehouse came back again, acting on G8's inaction.
And since November 2018, the Gatehouse proposal for a 95-plus room hotel with $24 million in total projected costs (financed through a public-private partnership) has been the only game in town. 
But as much time and effort as Gatehouse has expended in Mason City, the town's been far from their only focus in recent years. 
They've tried to work deals in Minnesota, Texas, Louisiana, Florida and Wisconsin. Some broke down over financing disagreements. Others stalled out due to concerns over future projections. Like the River City Renaissance itself, there have been notable wins and losses.
Forest Lake, Minnesota
In Forest Lake, Minnesota, a town of 18,000 about two-and-a-half hours north of Mason City, a possible development deal to repurpose the site of a 100-year-old, 3.2-acre feed mill came into focus and then became muddled in negotiations. 
An article from the Forest Lake Times recounts that on Jan. 3 Gary Houle, the owner of Houle's Feed Mill, said the business was anticipating discussion of the project at the Forest Lake Economic Development Authority's Jan. 14 meeting but city officials said placing a date on when the project would be discussed would be premature until the city received more information from the developer.
According to that same article, the owners of Houle's Feed Mill entered into a purchase agreement with Gatehouse Capital several months prior in part because Gatehouse Capital had an offer that was not housing-based.
Gatehouse Capital, in a proposal letter for the council meeting agenda for Jan. 28, anticipated a plan that would deliver a "hotel conference center with a grand ballroom that can host a 650-seat dinner with a 1,500-square-foot commercial kitchen, 2,300 square feet of break-out space and a rooftop restaurant with a sweeping lake view." The hotel itself would have about 100 rooms and Dean Snyder would be the general contractor.
At the actual meeting on the Jan. 28, Gatehouse Development representative David-Elias Rachie described to the council what the nature of a public-private partnership for the city and Gatehouse Capital would look like.
In the meeting minutes, Rachie is noted as saying cities use the public-private partnership approach to "do projects the wouldn't be able to do otherwise and the pre-development initial engagement stage takes about 3-4 months which includes a feasibility study."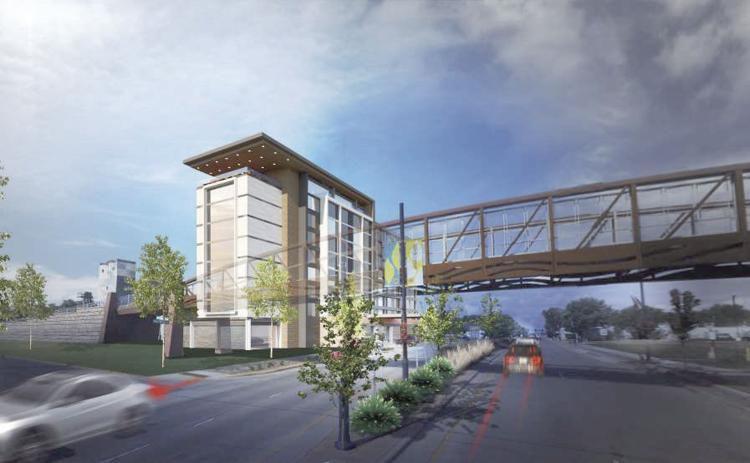 With Forest Lake, Rachie said it would cost about $150,000 to see if a project would be successful in the area. According to him, all of that (except for $20-25,000 for the feasibility study, which the city would own) would be refundable.
Further into the discussion, Economic Development Authority Commissioner Sam Husnik stated "he'd love to see the Houle's develop their property but want to make sure tax payers would be protected properly."
"Basically, the way Gatehouse Capital wants to do business up here is to have the city pay some upfront cost to fund a feasibility study rather than the company doing that itself, and the city council here isn't interested," Howard said.
City Administrator Patrick Carney did not return a call for comment.
Wichita Falls, Texas
The issue of financing held up negotiations for Gatehouse Capital in Wichita Falls, Texas, as well.
In that north Texas city, Gatehouse Capital was looking to bring a Doubletree hotel with about 12,000 square feet of conference space. A conceptual plan that came out of market studies for the hotel called for Gatehouse to borrow approximately $19.5 million from a private lending institution and also borrow $9.5 million from the 4B Sales Tax Corporation. According to Claire Kowalick, a reporter from the Wichita Falls Times Record News who covered the deal-making process, the conference center would be owned only by the city and connected to the hotel.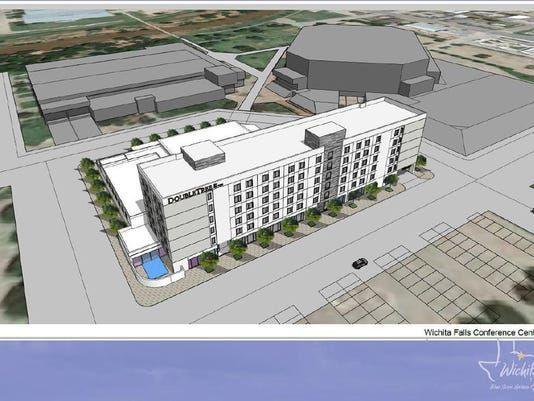 That didn't come to pass. 
Wichita Falls City Manager Daron Leiker said talks broke down because the city and Gatehouse Capital just could not come to terms. 
You have free articles remaining.
"The financial terms, the bank loans and interest rates were not attractive in our mind. We kind of had a philosophical change of mind, too, and elected officials wanted to back out," Leiker said.
While the plan didn't materialize and the city spent at least a half-million dollars on preliminary work (according to Leiker), Leiker characterized the working relationship with Gatehouse Capital as largely positive. 
"We had a good working relationship. Never really knocked heads with them so to speak. It was just a matter of changing course."
Kowalick framed the stories about Gatehouse Capital and Wichita Falls officials as "delay, delay, delay."
"The whole thing ... I don't think it was handled well. It's a tough sell anyone but to have all these delays is not a good situation for the city and didn't make them look very good that they chose this group and it just never materialized," Kowalick said.
Now the city is in the early stages of development with another company. 
Marshall, Minnesota
What put the kibosh on a potential deal in Marshall, Minnesota, wasn't so much about financing but skepticism around future projections. 
In September 2016, after the city of Marshall had made several hotel recruiting attempts, Gatehouse Capital stepped forward to do a market study for hotels in the Marshall area for $20,000. Based on reporting from the Marshall Independent, the project could then move to pre-development or development for a new hotel project.
When the results of the study were brought before council in December 2016, there were also suggestions for a possible hotel and convention center near the Red Baron Arena and Expo in Marshall. Specifically, in the presentation by Rachie and Vice President of Gatehouse Capital Colin McDonald, the hotel would be a 104-room Marriott hotel. Total cost would be $20 million and include a loan from the city.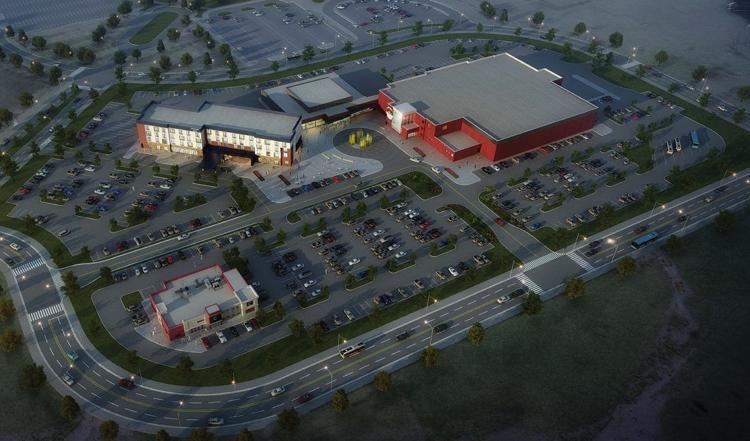 As noted by the Marshall Independent, the city put out a release that listed three distinct reasons why the deal wouldn't work. The cost analysis for the city debt on the project would have had a bigger-than-anticipated impact on the tax rate and taxpayers, the type of debt the city would need for the project would not give the needed financial flexibility to ensure taxpayer confidence, and a provision in law conflicted with the proposed financial structure for the project.
Reporter Deb Gau said one of the concerns she heard from other hotel and motel owners in the area (who did have an interest in opposing the deal) was that "hotel/convention center deals in other, larger cities hadn't attracted people or turned into new business like Gatehouse was saying."
To hear Gau tell it, the take downs weren't of Gatehouse Capital but of the specific proposal and business model.
When the plan came together
Gatehouse has had success in the not-so-recent-past, too.
Before summer ends, there will be a hotel and convention center with more than 200 rooms and about 150,000 square feet coming to Odessa, Texas, that Gatehouse was working on all the way back in September 2014. 
The city expects to spend about $31 million in total on it and officials have postulated its arrival will help keep a historic theater there alive. Odessa Mayor David Turner went so far as to say it would be the "gem of West Texas."
In October 2015, there came news Gatehouse had paired with Baylor Scott & White Health to operate a new hotel in East Dallas. Almost exactly two years later, Gatehouse had the grand opening for the 132-suite, $21 million hotel on the campus of Baylor University Medical Center.
On its website, Gatehouse also points to a Fairfield Inn & Suites, located next door to an existing 25,000 square foot city-owned conference center in Decatur, Texas, that it opened in May 2018. There's also a Courtyard by Marriott in Midlothian, Texas, that was opened in January 2016 adjacent to an existing 40,000 square foot city-owned conference center.
City Administrator Aaron Burnett takes all of those wins and losses together in his ultimate belief in the Gatehouse project for Mason City. 
"There are lot of reasons things go well and don't go well," Burnett said.
He added, to get to the final point, Mason City will be fortunate to be listed among some of those other cities. 
In addition, while there's been public animus toward the plan, Burnett said the city doesn't really get phone calls opposing it. 
"I have had zero personally," he said.
As for the public-private financing aspect, a sticking point that sent a city or two packing, Burnett said in the case of Mason City, "If development was naturally occurring, there would be no need for a public aspect."
Flashing forward
So that's where it stands. 
If the Mason City Council approves the deal on Tuesday and Gatehouse adheres to all of the guidelines of the contract and hits its targets, there will be a new hotel in downtown Mason City. 
If the deal's approved and Gatehouse can't live up to its end of the bargain, Burnett has said the city would (at the absolute worst) be out $1 million.
But more importantly, if Gatehouse falters or the council flat out says no then there's a substantive hole in the River City Renaissance. A largely vacant parking lot in the shadow of Southbridge Mall would stay vacant.
Gatehouse Capital was contacted for this story several times via phone and email over the week and did not respond. 
What a Globe Gazette News+ membership can do for you:
A deeper examination of local issues than you'll find anywhere else.
Two products in one – not everything that's in the print edition of the Globe Gazette is on our website, and not everything on our website is in the print edition.
Access to newspapers.com archives dating back two years.
The ability to carry your local news with you and receive alerts instantly as news unfolds.
Advertising that frequently gets you deals you won't find anywhere else.