Last Wednesday, at 6 in the morning, the Winnebago County Sheriff's Department responded to an accident call at the scene of Rembrandt Enterprises.
But before authorities could even make it to the Thompson-based business, the employee died from injuries.
According to Winnebago County Sheriff Dave Peterson, a young woman was run over by a skid-loader and passed away at the scene. 
Peterson was able to confirm that the woman was an employee but was unable to provide her name or her specific age. He went on to add that the sheriff's department is still looking further at the incident. 
You have free articles remaining.
A coworker of the victim, who wishes to remain anonymous, said the woman's name is Eunice Gutierrez, and she was 19 years old.
Rembrandt was reached for the story but did not have a comment at time of publication.  
At the same time, the Iowa branch of the Occupation Safety and Health Administration has an open case related to the matter. The scope is partial and "focused on temp workers." OSHA has up to to six months from the time of the incident to issue citations.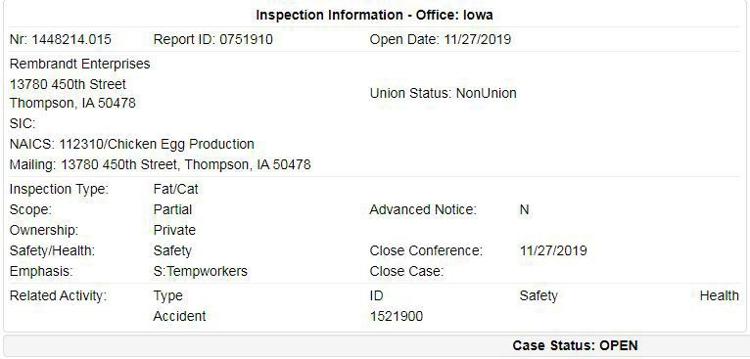 Rembrandt, which is in the chicken egg production business, had a federal lawsuit filed against it in 2014 by a citizen of the Netherlands over injuries he says he received while installing equipment there. 
Eddy van der Goot filed the suit in December in U.S. District Court for the Northern District of Iowa against Rembrandt Enterprises Inc., which is based in Buena Vista County and owns and operates the plant in Thompson. Van der Goot was sent by his employer, Moba BV, a Dutch corporation, to assist with installation of an egg scanner system at the plant on March 22, 2013, according to the lawsuit. The lawsuit was eventually settled in September 2015. 
The only other OSHA case on file related to Rembrandt is a closed 2015 health-related complaint.
Reach Reporter Jared McNett at 641-421-0527. Follow him on Twitter and Instagram at @TwoHeadedBoy98.