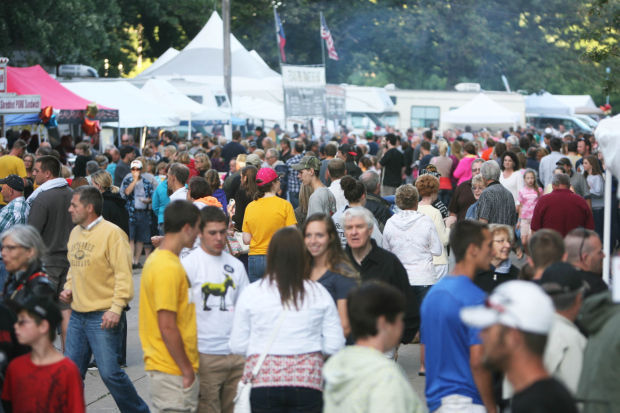 MASON CITY | More than 45 teams from across the U.S. will compete for more than $10,000 in prize money at the 14th annual North Iowa Up in Smoke BBQ Bash this week in Mason City. 
The Kansas City Barbeque Society-sanctioned competition, which includes a food festival and live music, is Friday and Saturday in East Park. 
Sponsored by the Globe Gazette, the Bash is considered one of the top barbecue competitions in the Midwest. 
"We are looking forward to an amazing Up in Smoke BBQ Bash with over 45 teams, great music and the best barbecue you'll ever taste," said Globe Gazette Marketing Manager Ruth Miller. "The best part is admission is free!"
Competing teams will barbecue pork shoulder, ribs, brisket and chicken for the judges. Points are awarded for taste, tenderness and presentation. 
Judges will select overall grand and reserve champions as well as divisional winners. Thousands of dollars in prizes will be awarded to the winners in several categories.
Points earned at the Bash go toward the season-long KCBS contest, which names the barbecue team of the year. 
The roster of teams signed up for this year's Up in Smoke BBQ Bash includes recent winners: Iowa's Smokey D's BBQ, Des Moines; Pig Skin BBQ, Rockwell; Lucky's Q, Waverly; Chickhooven Swine BBQ, Spring Hill, Kansas; Anything But, St. Ansgar; and Grills Gone Wild Iowa, Algona.
At the event, at least four barbecue teams and other vendors will also sell items in the food court. Tickets to purchase food items and refreshments can be purchased at ticket booths in East Park during the Bash. 
A beer sampling area, sponsored by Kabrick Distributing, will feature craft and specialty beers. The tasting begins at 6 p.m. Friday.
The Mason City Jaycee's will also host a bag, or corn hole, tournament at 1 p.m. Saturday.
Entertainment includes Up in Smoke regulars Standing Hampton and Bolder Road, along with family-friendly additions Sheltered Reality, The Spacemen and magician/comedian Mike Prestby.
Be the first to know
Get local news delivered to your inbox!