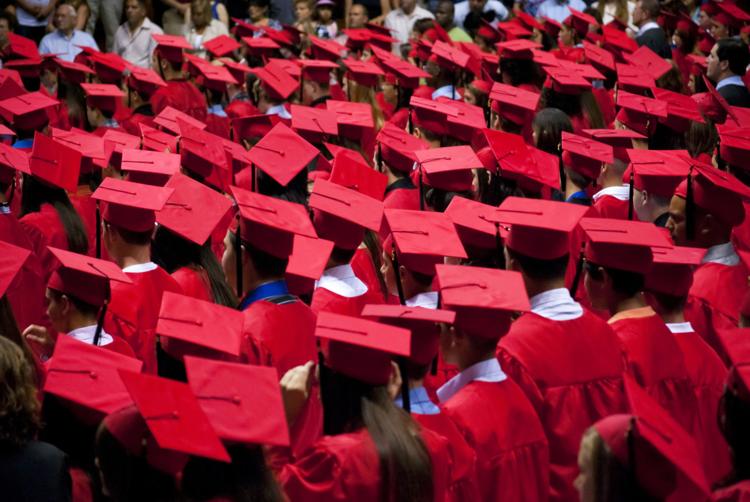 MASON CITY | North Iowa Area Community College recently announced students named to its president's list (3.5 GPA or better) for the fall 2018 semester.
MASON CITY: Ashley Alert, Edna Angle, Krista Barnish, Maura Barrett, Sarah Betz, Cassey Bly, Leah Bormann, Matthew Bormann, Myah Brierly, Abbigail Brosdahl, Scottie Brown, Antonio Cabrera, Cyle Calhoun, Trevor Carr, Michael Cooling, Michelle Crooks, Emma Davison, Megan Dempsey, Savanah Draper, Julia Dunlavey, Austin Eckenrod, Weston Engels, Hannah Faktor, Benjamin Fitzgerald, Seth Alan Foster, Hayley Jo Fransen, Zoe Frascht, Jessalyn Frenz, Grayson Gaubatz, Camre Ginapp, Jaidyn Godfrey, Bianca Griffin, Joseph Hansen, Kristopher Hearn, Mara Heimbuch, Rylee Hickman, Hunter Hill, Timothy Hoffmann, Megan Hollander, Lauren Hugi, Mia Margaret Katter, Lucy Kim, Alicia King, Erika Klus, Abbey Knowlton, Miles Kramer, William Krones, Bryan Larson, Bryan Lathrop, Brennan Laugen, Danielle Lorentzen, Autumn Lumsden, Erika Mariner, Megan Maroo, Matthew McClemons, G. Dillon Meek, Kaitlyn Meleney, Heather Nelsen, Keegan Nobis, Amelia Ouverson, Katelyn Ouverson, Bradley Petersen, Luke Peterson, Mirsada Pivic, Alexis Redeker, Rana Reysack, Brandi Riggan, Michael Ryan, Staci Sberal, Maria Schmidt, Joseph Scholl, Jacob Schutt, Emaan Shaikh, Alexis Skarpness, McGwire Skogen, Mariah Steenhard, Grace Steere, Daniel Stephenson, Amanda Sweet, Zana Teodoro, Kayla Till, Ryan Torkelson, Tyler Trout, Lucas Udelhofen, Sara Valen, Heather VanderPloeg, Adisyn Walker, Morgan Wendel, Sarah Wendel, Cody Whitehurst, Trey Wiegmann, Philip Wilcox, Josiah Wunderlich, Sarah Yacoub, Brandon Yarahmadi, Justin Zeigler. 
CLEAR LAKE: Olivia Amos, Joellen Andrade, Carter Backhaus, Nicholas Barillas, Kelsey Beitel, Elizabeth Brandt, Isaac Branstad, Jennifer Christensen, Madalynn Davis, Jonathan Deike, Grant Dieken, Rowan Fread, Alena Gabrielson, Erica Griffen, Joel Groeneweg, Jackson Hamlin, Patricia Hartwell, Taylor Hill, Travis Kreamer, Elizabeth Lakose, Bailey Larsen, Benjamin Larson, Seth Miller, Kaitlin Mills, Draven Monson, Tyler Monson, Katelyn Moore, Hunter Nielsen, Carter Olk, Corrigan Ouverson, Bella Parker, Carson Parker, Davis Pruisman, Natalie Rolling, Mackenzie Rooney, Caroline Skidmore, Andrew Stevenson, Tucker Tusha, Abigail Wheatcraft, Aimee Wheatcraft, Hannah Whelan, Ryan Whitehurst, Gable Williamson, Reva Winkelman. 
CHARLES CITY: Stacie Baker, Alec Elsbernd, Cinnamon Evans, Emma Heidebrink, Cael Hemesath, Samantha Heyer, Lukas Hillegas, Kellee Hobert, Tangela Jensen, Carter Johanningmeier, Gabrielle Kellogg, Dylan Koresh, Jocelyn Lewis, Nicholas Litterer, Jackson Molstead, Paula Thea Montemayor, Sophia Morton, Destiny Nelson, Isaiah John Ortiola, Madilyn Pellymonter, Payton Reams, Madison Ross, Tayler Schmidt, Makenna Schmiedel, Jodie Sindlinger, Colton Slinger, Ciana Sonberg, Nora Sullivan, Madelyn Tjaden, Jamie Tucker, Alexis Vance, Mackenzie Wilson, Isaac Wink. 
OSAGE: Nathen Adams, Shelby Blake, Brett Bobinet, Josie Buege, Klaire Chisholm, Gregory DeBerry, Nicole DeWalle, Olivia Dodd, Chloe Goodale, Joan Grimm, Katelyn Halbach, Justyce Henaman, Clarissa Huisman, Jenna Joens, Corin Johanns, Emily Krukow, Chloe Levan, Jessica Malecek, Annmari Milbrandt, Rachel Milbrandt, McKenzie Mohl, Hanna Mullenbach, Kyle Mullenbach, Alexis Myers, Hunter Noordhoek, Jared Popp, Zachary Roalfs, Samantha Scharper, George Schorg, Trey Tesch, Coryssa Tucke, Trevor Wagner, Nathan Wihlm, Ellen Witt, William Witt, Dalton Wright. 
GARNER: Mara Anderson, Payton Bamrick, Amanda Bierle, Austin Case, Candie Cueva, Kevin Currier, Emma Frohling, Taylor Gerdes, Christina Greiman, Dalton Hawe, Droste Hennings, Jayden Hughes, Jacque Janes, Hannah Kozisek, Christine LaBounty, Holden Larson, Jace Pringnitz, Lucas Rayhons, Justin Reding, Cherrice Risius, Alaina Scott, Tori Sloan, Reece Smith, Macey Spilman, Nicole Upmeyer, Micah Wacker, Rachel Wacker, Madison Williams, Sidney Wilson. HAMPTON: Olusola Adedokun, Parker Allen, Eric Arenholz, Destiny Benavidez, Jadin Beyer, Sara Buseman, Addie Dean, Miranda DeVries, Madison Drilling, Briana Flack, Mattilyn Flack, Riley Flint, Wyatt Folkerts, Zachary Galindo, Ashlyn Hanson, Alexis Harkema, Danielle Henriquez, Kolton Koenen, Mikyla Marquard, Sydney Meyer, Anika Miller, Noah Noelck, Triston Rew, Kennedy Reynolds, Alison Rice, Eileen Solis, Douglas Steinhoff, Jenna White. 
ST. ANSGAR: Benjamin Boerjan, Gabrielle Finberg, Erik Gerdts, Hannah Groth, Joseph Jacobs, Garrett Koster, Kaleb Krahenbuhl, Justin Okland, Sarah Phelps, Dayton Smith, Sophia Wold, Megan Adams, Elisa Braun, Hayli Hansen-Hutchinson, Chelsey Huisman, Mikaela Jahr, Jared Mayer, John Patterson, Robin Retterath, Colin Salz, Madison Soltau, Daniel Wilbur. BELMOND: Esther Alvarado, Haley Beminio, Chanse Berneman, Leslie Carlos, Daniel Chapman, Mitchell Hill, Pedro Martinez, Madelyn Mason, Shaila McDaniel, Ryann Sander, Easton Smith, Kelsey Smith, Isaac Sorenson, Gustavo Suarez, Alexandra Trager, Tristan Wessels. SHEFFIELD: Jarel Arbegast, Nashaun Bryant, Ryan Dannen, Aaron DeVries, Ty Eberling, Ylani Guerrero, Mitchell Halloran, Rachael Hubka, Caleb Jones, Ian Latham, Hailey McCoy-Munger, Kyle Rooney, Keturah Sauke, Lauren Trewin, Erika Wogen, Lukas Wogen. 
You have free articles remaining.
MANLY: Madison Daily, Cody Downing, Kessa Fingalsen, William Hillson, Dylan Kisner, Allegra Knudson, Gregory Kuehne, Mackenzie Lohmann, Brooke Mueller, Alexis Oppman, Aricka Oppman, Carter Pals, Bethany Shackleton. NORA SPRINGS: Caitlin Sliger, Lucas Garl, JC Houdek, Isabel Johanns, Jessica Kelly, Megan Krahenbuhl, Tammi Kuhlers, Taylor McEachran, Jonathan Opkis, Riley Sellergren, Hannah Wagner, Caleb Wolff-Sonberg, Rachel Wyborny. BRITT: Bryce Baker, Gavin Becker, Bennett Bruns, Evan Escobar, Ryann Hagen, Sydney Hudspeth, Bailee Leerar, Cody Leerar, Natalie Lemmon, Dalton Subject, Alyssa Tegtmeyer. GREENE: Molly Adelmund, Dylan Clipperton, Chase Eiklenborg, Caitlin Hyman, Karter Junker, Kala Rose, Trevor Smith, Cassidy Staudt, Ivee Steere, Alexis Stirling, Nadia Treichel. 
NORTHWOOD: Paige DeArmoun, Josie Einertson, Emily Follmuth, Lindy Harris, Brooke Hoeppner, Naomi LaRue, Erin McCord, Colton Moretz, Katie Pepper, Justin Wunderlich. ROCKWELL: Lucas Diggins, Kylie Laudner, Zachary Laudner, Alex Nicholson, Jayla Obregon, Erika Perkins, McKensie Shupe, Brett Weaver, Collin Witte. DUMONT: Kaci Arjes, Maci Arjes, Mollie Hearn, Lexis Kalkwarf, Madison Klingenborg, Morgan Miller, Christy Norton. FOREST CITY: Dakota Bang, Avery Busta, Carlo Fuentes, Natalie Jefson, Andrew Kuhn, Callie McQuown, Michael Nielsen. GRAFTON: Melanie Bistline, Carissa Blake, Cody Hansen, Ryan Petersen, Gabriel Walk, Devan Wilcox. LAKE MILLS: Cole Bergo, Audrey Casperson, Dylan Cavett, Jocelyn Dahle, Parker Eaton, Hannah Evenson, Ally Larson. ROCKFORD: Ryan Bartling, Kyrstin Brunner, Raven Foell, Kaden Lyman, Elsie Marth, Gracie Smith, Zach Walker. 
ACKLEY: Mandy Willems. ALEXANDER: Jennie Barkema, Elle Westhoff. ALGONA: Luke Arrowood. ALLISON: Addyson Clark, Andrew Morton, Emy Osterbuhr, Sydnie Slocum. ANKENY: Joel Eastin. BRISTOW: Trevor Brinkman, Mariah Lewis. CARPENTER: Emily DeBower, Lindsey DeBower. CLARION: Cynthia Fregoso-Reyes, Cassandra Mendoza. COULTER: Erin Root. CRESCO: Abbigail Burke, Allison Burke. CRYSTAL LAKE: Maria Mata-Zamago, Brooke Meyering. DECORAH: Lauryn Eggert. DES MOINES: Breazi Preston. DOUGHERTY: Trey Pfeffer, Cailey Weaver, McKenna Weaver. DOWS: Caleb Sturgeon. EARLHAM: Kelcie Hale. FERTILE: Marissa Westfall. FLOYD: Matthew Freund, Caleb Hejna, Stephanie Mercer, Emma Staudt. GILMORE CITY: Bailey Johnson. GOODELL: Grace Greiman, Brylee Halfpop.
HANLONTOWN: Hailee Ausenhus, Hannah Ausenhus, Kolton Kinne. IONIA: Valerie Allison, Rebecca Hoffman, Amelia Rottinghaus, Caleb Winters. JOICE: Myja Johnson, Tyler Swenson, Lily Thompson, Hunter Tritch. KANAWHA: Brooklyn Buren. KENSETT: Cody Espinosa. KLEMME: Bretta Carolus, Michael Karr, Brielle Smeby, Samantha Wester. LATIMER: Jesse Anderson, Maci Lohrbach. LITTLE CEDAR: Wayne Frost. MARBLE ROCK: Gary Kadera, Angela Staudt. MESERVEY: Katelyn Fekkers. MILO: Kaci Sherwood. MITCHELL: Sadie Clayton, Halle Huebsch. MT. PLEASANT: Cecelia Hemsworth. NASHUA: Jessica Flowers, Shannon Griffin, Kylie Laube. NEW HAMPTON: Thomas Hart. NEW HARTFORD: Emma Eden. READLYN: Lakin Joerger.
RICEVILLE: Cambria Berentsen, Mitchell Christensen, Renae Jensen, Taylor Kraft. RIVERSIDE: Chase Rath. ROWAN: Justin Jones. RUDD: Marissa Schwickerath. SIBLEY: Erin Schwarzkopf. STACYVILLE: Abigail Kulow, Alexis Meek, Christa Merten. SWALEDALE: Jason Meier, Morgan Meier. THORNTON: Christopher McDowell, Rhonda Smit, Edward Westemeier. URBANDALE: Ashley Johnson. VENTURA: Matthew Heinemann, Ashley Markla, Amy Reynolds. WEST DES MOINES: Kristine Metcalf-Putnam. WADENA: Denise Thompson. WATERLOO: Tahya Campbell, Cecilia Novotney. WAVERLY: Sigrid Brus. WELLSBURG: Cody Meyer. WESLEY: Alexus Witham. WILTON: Evan Reifert. WODEN. Jacob Trunkhill. 
HELENDALE, CA: Brittany-Ann Kirschbaum. ARLINGTON HEIGHTS, IL: Anthony Catalano. OHIO, IL: Alexa Loftus. CLARE, MI: Gabriel Denton. ADAMS, MN: Jeremy Heller. APPLE VALLEY, MN: Patrick Pridgen. AUSTIN, MN: Mariam Odjegnide. BLUE EARTH, MN: Nicholas Schonrock. EDEN PRAIRIE, MN: Vaughn Deinhart. EXCELSIOR, MN: Fox Leum. MANKATO, MN: Isabel Blakewell. MARSHALL, MN: Dylan Criquet Danielson. OAKDALE, MN: Miyah Walker. SPRING VALLEY, MN: Nathan Skare. WOODBURY, MN: Brodie Paulson. EXCELSIOR SPRINGS, MO: Sydney Shea. RIVERTON, UT: Stephen Horne. SOUTH JORDAN, UT: Brett Dean. AUGUSTA, WI: Alyssa Laxson. OSCEOLA, WI: Sydney Roush.
COLAC, AUSTRALIA: Caitlin Serle. PERTH, AUSTRALIA: Jarod Larg, Julian Giustiniano. PORT MACQUARIE, AUSTRALIA: Michaela Elford. TELEGRAPH POINT, AUSTRALIA: Kirrilly Hughes. THORNLANDS, AUSTRALIA: Kyle Pike. WINCHELSEA SOUTH, AUSTRALIA: Kasey Parish. AKASSATO, BENIN: Gerard Faton. BRCKO DISTRICT, BOSNIA: Aleksandar Trujic. CANOAS, BRAZIL: Pedro Giordani. RIO DE JANEIRO, BRAZIL: Leonardo Costa Espindola, Joao Braganca Valle Dos Santos, Renan Pinto Ceccato. SAO PAULO, BRAZIL: Vinicius de Oliveira. BOGOTA, COLUMBIA: Julian Echeverri Spaggiari. KOFORIDUA, GHANA: Mordecai Nsabaah.
ANJO, JAPAN: Ryosuke Arakawa. BUNKYO-KU TOKYO, JAPAN: Takahiro Higuchi. KAMOGAWA CHIBA, JAPAN: Maria Ishii. MACHIDA CITY, JAPAN: Erika Ohki. OTA-KU, JAPAN: Ayaka Nakaaze. SAITAMA-SHI, JAPAN: Sae Oikawa. IKORODU, NIGERIA: Konyegwachie Dieyi. TAURANGA, NEW ZEALAND: Rachel Kontze. HUDDERSFIELD, UNITED KINGDOM: Rose Priestley. KIDDERMINSTER, UNITED KINGDOM: Emily Jay. PORTSMOUTH, UNITED KINGDOM: Rosanna Freeman Walters