The Mason City High School Vocal Music Department celebrates the beginning of its 93rd concert season with its annual Fall Concert at 7:30 p.m. Tuesday in the North Iowa Community Auditorium on the NIACC campus.
The evening will feature the talents of 300 students in four performing groups. There will be a wide range of musical selections that offer something for all generations, from world music, classical works, and contemporary gospel numbers. The ensembles are conducted by Joel Everist, Sarah Bouska, and feature collaborative pianist Rachel Everist. 
A Chamber Choir of select students will open the concert with the traditional "America the Beautiful" and "Regina Coeli" by W.A. Mozart. The Mixed Chorus, a 9th-12th grade choir, will continue with "Like A Mighty Stream" by Moses Hogan. They will feature two German works: "Das Ist der Tag" and "Frieden Zur Welt" by Jerry Estes. They close with "Stand In The Light" arranged by Roger Emerson.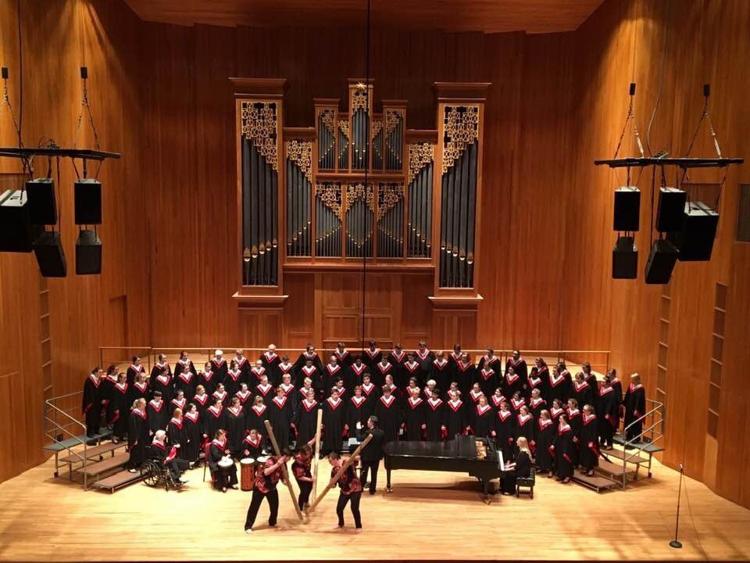 The Varsity Choir, an auditioned ensemble of sophomores, juniors and seniors, will begin with "Sing To The Lord" by Franz Joseph Haydn; and "Three Madrigals," a setting of Shakespeare texts by Emma Lou Diemer. The Varsity Choir will close with "Gamaya" a work sung in Sanskrit, and a multicultural song "Bwana Asifwe."
You have free articles remaining.
The Concert Choir, an ensemble that was chosen to close the concert for the Choirs of America Nationals at Carnegie Hall in New York last Spring, will conclude the evening. They will begin with a "Afternoon On A Hill" a new work by Stephen Paulus. They continue with the choral classic "Os justi meditabitur sapientiam;" by Anton Bruckner. The choir will sing "Wings" in memory of Carol (Pardun) Halvorson, a long time choral director at MCHS who passed away this summer. They close with two new works, "The Heaven's Flock" by Eriks Esenvalds, and "Unclouded Day" arranged by Iowa native Shawn Kirchner.
The combined choirs will conclude the evening joining as a mass ensemble for "The Battle Hymn of the Republic."
The choirs are partnering with Papa's American Café following the concert. Ten percent of all sales at Papa's American Café all day and evening on Wednesday will go toward helping the MCHS Vocal Music Department.
The MCHS Vocal Music Department will also release their newest recording, "A Mural Of Change" at the concert. Copies of the new CD will be available at the concert or by contacting the choir office at 421-4506.