House Of Sports
Locally Owned and Operated
3431 4th St SW
Mason City
,
IA
50401
Last Updated: May 14, 2018
| | |
| --- | --- |
| Sunday | Closed |
| Monday | |
| Tuesday | |
| Wednesday | |
| Thursday | |
| Friday | |
| Saturday | |
Special hours:

After hours appointments available.


Welcome to

House of Sports!
The House of Sports is the place for you to come by and stop for Grasshopper mowers and John Deere mowers from walk-behind models to the X595 series as well as John Deere Snowblowers and Ariens consumer products.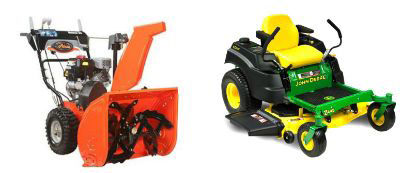 Grasshopper zero turn mowers are a stable in the industry and we carry them also. Along with all of these lines of equipment, our service and parts department are second to none! So if you enjoy great products brought with great service then House of Sports is the place to go!


More About Us
The House of Sports is a family-owned and operated business that began with my father Jack starting North Iowa Tire Company in 1965. This business started with a $2,000 bank loan. Jack worked very hard and prospered in the tire business, but soon found the tire business to be a struggle in the winter months. Jack has always enjoyed anything that had to do with an engine, so he started to fool around selling snowmobiles in 1966.

In the fall of 1969, Jack made the purchase of a snow blower and bought 3 Ariens, one for himself and 2 for his neighbors. In Spring, the Ariens representative came to the shop and told Jack that he needed to buy lawnmowers as well if he was going to be and Ariens dealer. Jack had no intention of being a lawnmower dealer, but he bought some Ariens soon after. As a result, the snowmobiles, the snow blowers and mowers were selling. As the business expanded, Jack was in need of more room and rented the building next door as the tire customers started complaining about the noise from the snowmobiles and other equipment while their tires were being changed.

Like many "mom and pop" shops, Jack's wife Elizabeth has been the secretary and bookkeeper since the beginning. Jack's son, John, joined the business in 1975. Since then we have taken on the John Deere consumer products line along with Grasshopper lawn equipment, the full line of Bombardier products (ATV, snowmobile & watercraft) and Ariens Consumer Products. In the meantime we have built two additions. A vacant lot west of the current site for buildings has also been purchased for possible expansion in the future.
Contact Us
House of Sports is located at 3431 4th St SW, Mason City, IA, 50401 (On Hwy 122 Across from the North Iowa Events Center in Mason City). For more information, or to order, call 641-424-2861. You can also email us at: Houseofsportsmc@gmail.com. Be sure to visit our website. Stop in soon - John and the crew would love to serve you!




Accepts:

Cash

Check

Credit Card (fee may apply)
House of Sports
3431 4th Street SW, Mason City, IA 50401
641-424-2861
Check out our website!