Iowa may have to close more than 30 courthouses – possibly several in North Iowa – due to budget cuts, state judicial officials said. 
The reductions caused an unpaid furlough day for all staff except judges and magistrates, Iowa Supreme Court Chief Justice Mark Cady said in 2017.
Cady also warned at the time status-quo funding would be devastating to a system with more than a 100 vacant positions, due to a hiring freeze. He also noted more than half of Iowa's 99 counties share clerk duties. 
Budget proposals this year call for much of the same. 
Gov. Kim Reynolds has suggested a $1.6 million reduction to the judicial branch. Senate Republicans want the body to trim $4.8 million. House Republicans are still finalizing their budget numbers.
If the Senate Republicans' plan is adopted, State Court Administrator Todd Nuccio said in a Jan. 25 news release the state may have to close more than 30 courthouses across eight judicial districts. 
Since 96 percent of the branch's budget is personnel, Nuccio said its has "no other choice than to close courthouses and eliminate personnel branch-wide."
Closures, which would be indefinite, would be determined by caseload volume in each county, according to Nuccio, which would be shifted to other county courthouses within that judicial district.  
"Providing equal access to justice for all Iowans is a fundamental principle of the Judicial Branch," Nuccio said in a statement. "We will endeavor to fulfill our commitment to this principle subject to the resource limitations placed upon us."
These are all preliminary estimates, and multiple local county attorneys emphasized Monday they're unsure what cuts might actually occur, and how they would impact their respective courthouses.
Winnebago County Attorney Adam Sauer said he doesn't expect his courthouse to close. He believes more of an impact will be on the clerk of court's office in the courthouse, but doesn't know what that might look like.
"Everything at this time is just talk," Sauer said. "I honestly haven't given it a lot of thought as to what could happen, because we don't know what is going to happen."
Other county officials, however, acknowledge the impact such cuts could have. One of them is Worth County Attorney Jeff Greve, who serves a population of just under 7,600.
Greve said e-filing would help curtail some consequences of possible cuts. But he also thinks people who use the courthouse to file important paperwork — no-contact orders, actions for mental or substance abuse, or paying fines and small claims — would be impacted. 
"The impact on the general public is going to be felt more greatly than what we feel," he said.
There's also the chance some area courthouses could close completely. The Mitchell County Board of Supervisors discussed this possibility last month, and how its courthouse, which opened in October 2015, might operate.
Mitchell County Attorney Mark Walk could not be reached for comment via two phone calls or email Monday.
Mitchell County Supervisor Stan Walk in a letter to the editor published Feb. 4 said he thought his county's court system could be impacted, causing a hardship for residents and possibly a bigger workload for other counties.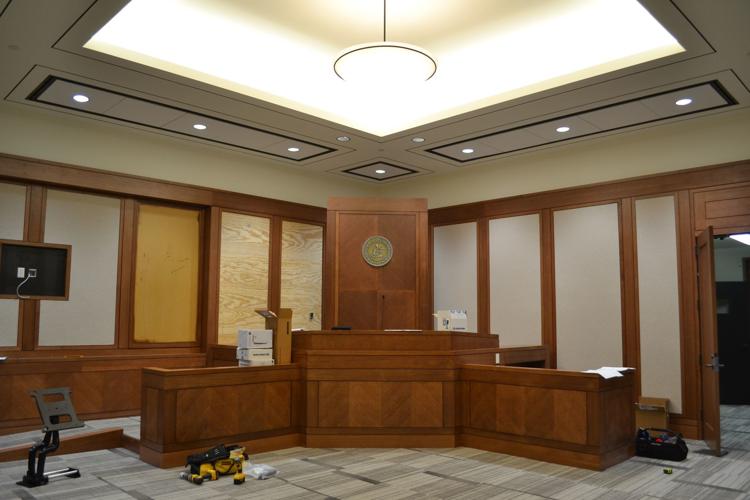 "When one considers everything inclusive, the increased costs to local government and the public, there is no savings, but there are substantial additional expenses," Walk wrote. 
Franklin County Attorney Brent Symens said that given his county's population — just under 10,200 — his courthouse is another possibility.
"It's just one of those small rural counties that has to be considered," Symens said. 
Symens said he's uncertain of what cutbacks would do logistically, and is waiting to see how much money is cut and how it will be allocated.
He added, however, that the chance that trials might not be held in his county would cause logisitcal problems.
"Presumably, if they do not have the judges traveling to the courthouses they close, you'd have to take all the cases to another county," Symens said. "And it would just be the difficulties of having all of those hearings in another county instead of Franklin."
Both he and Greve noted the added travel costs for defendants, sheriff's offices and jurors. Greve added that Cerro Gordo County or others would have to handle more cases, and it wouldn't be an easy fix.
"If they close the courthouse completely, then, yeah, it would be a nightmare logistically," he said of Worth County. "Cerro Gordo is currently very busy and doesn't have excess courtroom space."
Cerro Gordo County Attorney Carlyle Dalen could not be reached for comment via phone or email Monday.
Still, multiple Republicans feel the cuts will not be as harsh as what the state's judicial office has projected. That includes Speaker of the House Linda Upmeyer, R-Clear Lake. 
"I doubt that they're going to need to close 30 courthouses," Upmeyer said. "I sure hope not, because that would seem like not trying very hard."
But for rural counties, the impact may still be considerable, according to Greve.
"The biggest concern I have is the citizens of Worth County who can't come to Northwood to interact with the court system, and instead are going to have to travel further," he said.