Buyers take an exclusive tour inside a John Deere factory in Iowa (with photos)
The manure man from Arizona bought three John Deere 624K wheel loaders he'll only get to operate on really good days.
At about $200,000 each, Donny King spent more than a half-million dollars at John Deere Davenport Works. And that's just this time around.
King and his wife, Karri, operate D & K Farming Enterprises in Goodyear, Arizona, supplying farms and farmers across their state with the fertilizer they need to keep them in high yields. They flew to the Quad-Cities this past week to star in an elite production: a Gold Key tour of the plant where their wheel loaders were made.
The tour is part wine-and-dine; part behind-the-scenes access.
While several thousand people tour Davenport Works every year, only high-dollar customers like the Kings get the Gold Key treatment. The close-up look at the production line put them shoulder-to-shoulder with the workers who made the equipment that makes their operations possible.
It began, as most things do, with introductions.
Keeping up with the times
In the general manager's conference room at the Deere plant off Highway 61 in Davenport, Donny King was asked to tell a half-dozen employees about his business.
"My dad started the company in 1960," he began. "We just had dozers in those days. Now our loaders do all the work. We run 22 spreaders pretty much all day. There's a dairy boom in Arizona right now, and we have 170,000 milk cows, which is a high number for Arizona. There are very few small dairies in the state.
"I'll probably be the last generation of farmers in the King family."
In early October, many people in the Quad-Cities detected a powerful odor that lingered in the air for a couple of days. An Iowa conservation officer confirmed what most people figured: The smell was coming from manure that was being applied to Scott County farm fields.
That's what D & K does. The company collects, sometimes treats, then spreads manure.
It is clear from his arsenal of heavy equipment — and his recent acquisitions — that business is good.
"I'm the boss, so it's a really good day — like a day off — when I get to run a machine," King said. "My (equipment) operators don't know how spoiled they are."
Today's air-conditioned cabs are a far cry from the open-air seat of a mid-century bulldozer. In earlier years, King said, "If my dad bought an umbrella for the sun, he was really doing something. That and the bandanas we wore over our mouths were our protection."
As organic farming has come into favor, for instance, D & K has learned to heat-treat manure to remove chemicals, so it's organic.
You have to be flexible to grow, and that's one reason King is loyal to John Deere.
After his first plant tour in 20 years, he was asked whether he noticed changes in manufacturing, to which he replied, "A little bit has changed — not their pride, though. Everybody here is proud of what they do."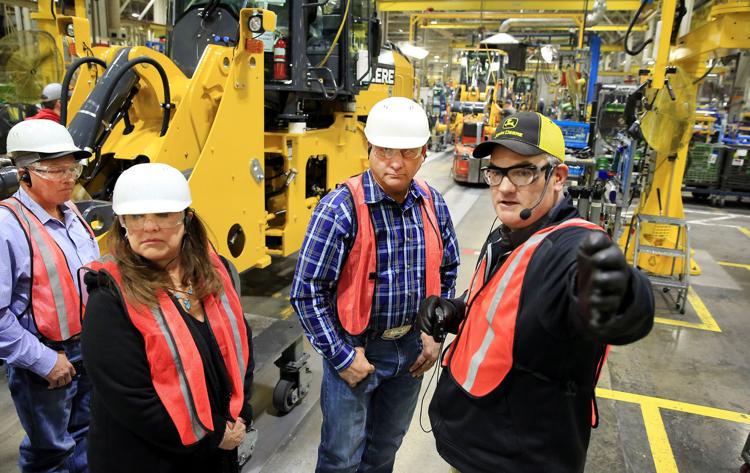 Shaking hands, asking questions
Though it hasn't always been the case, John Deere manufactures heavy equipment only after it has been ordered.
Customers choose their options, and the build begins.
With the Kings on their trip to Davenport were Mike and Jolanda Britain, who represented the Chandler, Arizona, dealership from which the Kings order their equipment. The foursome was among 14 of us, mostly Deere employees, who suited up for the Gold Key tour.
We wore hard hats, safety glasses and vests, and ear pieces that allowed us to hear what various tour guides were saying. For most of the three-hour tour, we rode on a long golf-cart-like tour train. Workers regularly looked up from their stations along the assembly line to smile and wave.
For the walking-tour portion, we met several from the loader-building crew.
At first, the Kings and Britains were introduced to workers who were asked to explain what they do. But the tour soon became less formal, and Donny King simply walked up to people, stuck out his hand and started asking questions. Mostly, he chit-chatted, asking workers how long they've been on the job.
From the get-go, Deere employees thanked the Kings for their business. They minced no words, telling the couple outright that their business allows John Deere workers to feed their families. The sentiment didn't change on the plant floor. Over and over, welders and assemblymen thanked the Kings for their business.
In his black cowboy hat, Wrangler jeans, silver belt buckle and considerable stature, Donny King had a presence on the line. Pleasant and approachable, he easily moved from questions about hydraulic hoses to his big-picture worries.
"The next generation, they don't want to go into ag, and that's a real problem for us," he told one of the Deere retirees who volunteers to help with the tours. "We have a lot of Hispanics working in our industry, and we really need those guys, especially on the dairy farm.
"They are hardworking family men, and they do work the white guys don't want. We can't do without the Hispanic guys. We need to figure out a work program, or we're going to be paying $6 for a tomato."
On one wall of the plant is a map of the United States — dotted with push pins. King was asked to push a pin into the area of Arizona that will be in receipt of three new wheel loaders from Davenport.
As he located Goodyear on the map, his wife, Karri, was asked whether she drives the giant loaders.
"I've moved 'em down the road, but I don't operate them," she said. "I don't get out of the office very often."
What goes on in there?
Deere's Davenport Works employs about 1,250 people. All the workers who were laid off in recent years have been called back, and more are being hired, said Eric Fish, business unit manager.
Groundbreaking for the plant occurred in 1974, but it has undergone multiple expansions over the years, and now contains a sprawling 2.2 million square feet.
Donny King toured the plant 20 years ago. On that tour, he spoke with workers about a specific problem he noticed with the hydraulic hoses on one of his John Deere machines. Soon after, the problem was fixed in newer models.
"I feel like I had something to do with that," he said of the upgrade.
And Fish assured him it's entirely possible. Deere relies on its customers to report problems and/or to suggest ways to make their products better.
Just inside the plant, one of King's loaders supplied the backdrop for some photos to mark the occasion. But the presence of the equipment also gave King the chance to look it over before it's shipped to Arizona.
"He can ask questions on his own machine," said Dwight Anderson, another Deere retiree who volunteers on the tours. "He can look it over as closely as he likes."
A few more photos, along with the presentation of a plaque and a gold key, and we headed into the factory.
Fish, the business unit manager, sat next to me on the train. He supplied details about the operation that weren't necessarily part of the tour.
"That's the largest machine John Deere builds," he said, nodding toward the enormous 944K wheel loader.
He pointed out the fresh-air masks that are worn on the backs of all the welders. And he pointed to the plastic caps on the ends of hydraulic hoses that waited in stacks to be installed.
"Those caps keep the smallest particles out of the hoses," he said.
At one of the paint bays, I asked Fish how they keep the area so clean. I couldn't detect any overspray on the giant windows of the bay.
The robots that do the painting know exactly what parts and pieces they're spraying, so that's part of it, he said. But also: There's a built-in down draft that sucks any paint particles to the floor under the paint bay. It lands on water, which then is skimmed of residual paint.
We watched as a large loader part was primed, then immediately painted yellow in the wet-on-wet process.
More details came through our ear pieces:
• Once every half-hour, the air in the plant is re-circulated.
• The plant uses 220 tons of steel a day.
• Many of the cabs for loaders and other equipment have no windows. Many customers in the southern U.S. don't need them.
• Dye is added to all the fluids in the equipment, so fluorescent lights can detect any leaks.
• More than half of the welding in the plant is done by robots.
'I just do the best job I can'
On our walking tour, we encountered several Deere employees who were put on the spot. Some didn't see us coming. None knew what questions the Kings might have.
When we came to Tim Rockstroh, he told us he's been with the company for six years, and he told us a little about his job building axles.
It was at his work station that a couple of us noticed how the enormous machines advance along the assembly line. Early in the process, the axles are bolted to rolling carts. As more parts are added, the wheeled carts continue to do their job, advancing the ever-bigger equipment down the line.
Before we moved along, Rockstroh looked at Donny King and said, "I just do the best job I can, so you guys have good products."
By the end of the tour, we could see how an axle grows into a wheel loader.
Among several last steps is putting each machine through a 250-point test for defects. In a high-security area dubbed the "Golden Corral," each machine goes onto a $140,000 hydraulic lift table for its final indoor inspection.
King mentioned the warranty on a wheel loader fetches $8,000. But he has put enough miles on John Deere equipment to have faith in quality. Just in case, Fish had a couple final peace-of-mind offerings.
The lift tables that come out of the floor are used to raise the near-finished machines, so the rolling carts can be removed and the tires can be added. If the torque value on wheel bolts is not precisely correct, the table will lock itself and cannot be lowered to free the machine. An engineer has to override the table after the torque value is corrected.
"Then, with every machine we build, we take it outside and run it for 20 minutes to a half-hour," Fish said.
Despite the quality assurances, Fish said plant operations are constantly advancing.
"During Christmas break, we'll be reorganizing the whole line," he said. "It'll be much more efficient."
The Gold Key customers seemed satisfied.
Before the Kings and Britains headed into a Deere-hosted lunch, Donny King gave a final impression: "It's amazing. They're always changing, always trying to make things better. That's the way to do business."