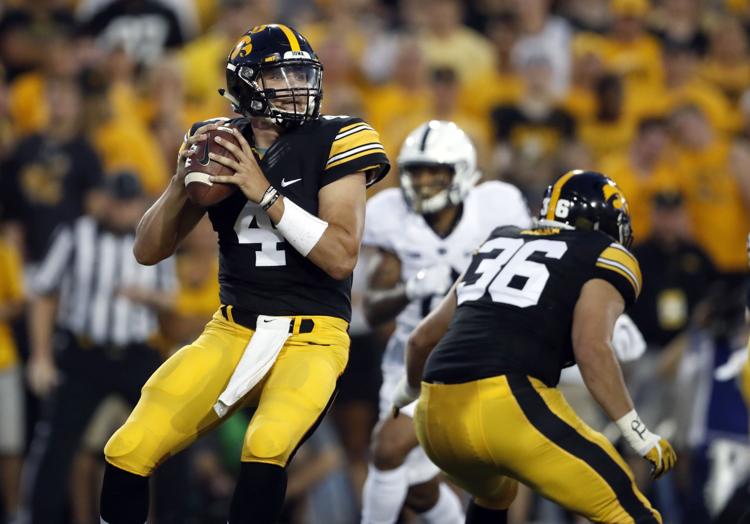 IOWA CITY | Nate Stanley measures his words and his actions carefully, finding his first five games as Iowa's starting quarterback to be filled with learning experiences.
From the highs of rallying the Hawkeyes to an overtime win at Iowa State to the challenges presented by the defenses of Penn State and Michigan State in his first two Big Ten games, Stanley has attempted to take it all in, break it down and grow from what has transpired.
Like many of his teammates, the 6-foot-5 sophomore strives for consistency.
"I try to keep things positive, no matter what situation we are in," Stanley said. "I'll tell guys in the huddle, 'hey, we've been here before, we can do this' and do what I can to keep everybody motivated."
That kept Stanley going and Iowa in the game last weekend against the Spartans.
Michigan State had shut the Hawkeye ground game down, but persistence and belief kept the Hawkeye quarterback going in a 17-10 game.
"There's always a chance. It only takes one play to turn a game around," Stanley said. "We saw that at Iowa State. So, we keep working, keep it positive and keep doing what we can so that good things can happen."
As coach Kirk Ferentz promised during the preseason, the Hawkeyes have dealt with "a few bumps in the road" on their way to the 3-2 record they bring into Saturday's 11 a.m. game against Illinois at Kinnick Stadium
It goes with the territory with a first-year starter under center.
Ferentz recalled Tuesday the fourth quarter of a game at Pittsburgh in 2014 when then-sophomore C.J. Beathard was forced into action after Jake Rudock suffered an injury.
Beathard burnt two of the three timeouts Iowa had for the half on two consecutive plays, the first on fourth-and-one call from the Pittsburgh 5-yard line and after a four-yard gain by Mark Weisman, the second before a first-and-goal play.
Iowa scored two snaps later and held on for a 24-20 win at Heinz Field, but the use of those timeouts on the goal line stick with Ferentz to this day.
"My flashback moment to C.J. was burning two timeouts on the goal line at Pittsburgh," Ferentz said.
"Those things happen with young quarterbacks. It was in a goal-line situation, there are only so many things that can happen on the goal line, but we still burned two timeouts. I think it's kind of emblematic, if you will, or symbolic of what happens with young quarterbacks sometimes."
Stanley hasn't provided the Iowa coach with a Kodak moment like that just yet, but has impressed Ferentz with his demeanor.
"I think Nate has done a pretty good job overall with that stuff," Ferentz said. "Handling things, feeling things, and that should improve with each week, too."
The expectations will grow as well.
Stanley has the ability to change the Iowa play call at the line of scrimmage based on his read of the opposing defense and he has the ability to deliver dummy calls as well to keep those defenses off balance.
He said the number varies from week to week in the game plan and Ferentz said compared to this week's game in the friendlier confines of Kinnick Stadium, Stanley had fewer audible options available to use last week because of crowd noise at Michigan State.
That will change as he gains experience.
"You can't play with handcuffs on totally, but we're probably not asking him to do as much as we will later in the season or certainly next year moving down the road, that type of thing," Ferentz said.
Stanley understands that as well.
He said things within the Iowa offense have been simplified to a degree this season compared to the expectations placed on Beathard a year ago when he was in his first season at Iowa.
"There are things that are designed to help me out a little bit," Stanley said. "There is enough there for us to make it work as long as we execute the way I know we can. I have confidence in everybody in the huddle and we believe we can make the offense work."
Tight end T.J. Hockenson said Stanley has shown the ability to keep things calm in the huddle even when things get a bit chaotic on the field.
"He does a good job of keeping things real, not adding any pressure," Hockenson said. "He's been a good and strong leader for us, very consistent."
That describes his overall performance as well.
Stanley currently ranks second in the Big Ten with 12 touchdown passes for the season and enters Saturday's game against Illinois having attempted 133 passes without an interception since having his third attempt of the season picked off in Iowa's season opener against Wyoming.
Overall, he has completed 80-of-136 passes for 1,043 yards, a 58.8 percent completion rate.
The numbers are solid for a first-year starter, but Ferentz's faith in Iowa's starting quarterback goes to what he sees on a daily basis.
"I think all of us are really impressed and pleased with what he's done so far," Ferentz said. "He's working hard, he's conscientious. He's made some errors that are going to come with inexperience, so there's no reason to get worried about him right now. It's just a matter of what we can do to clean a few things up."