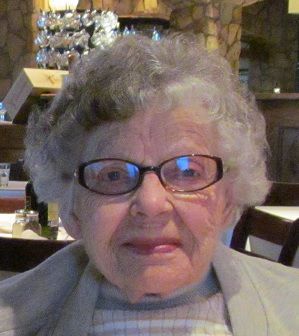 Clarice Ritter Pederson
August 7, 1917 - November 22, 2017
Clarice Ritter Pederson, 100, of Springfield, Virginia passed away peacefully on Wednesday, November 22, 2017. Born on August 7, 1917 in Mitchell, Iowa, she was the daughter of the late George C. and Chloe Cheney Ritter (Jacobsen).
Clarice is survived by her son, Richard and his wife Carole; three grandsons, Michael, Kevin, and Brian; and five great grandchildren, Kristina, Kyle, Lauren, Conner, and Clary. In addition to her parents, she was preceded in death by her husband, Harold Pederson; her son, James; her granddaughter, Kristina Pederson; and her brother, Clyde Ritter.
A graveside service will be held at Quantico National Cemetery in Triangle, Virginia at 2:00 PM on December 8, 2017.
In Lieu of flowers, donations may be made in her name to the American Cancer Society.
Tributes to Clarice may be viewed and posted at www.everlywheatley.com/tributes.