After sexual assault in college, North Iowa woman finds healing through Clothesline Project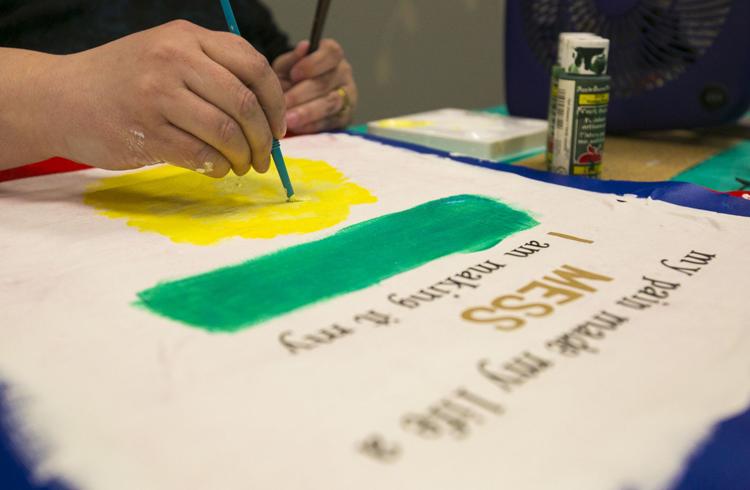 MASON CITY | A woman dabbed yellow paint onto a red T-shirt as she sat at a table in a vacant storefront at Willowbrook Mall in Mason City Wednesday afternoon.
It's the fifth year she's attended The Clothesline Project, an annual event hosted by the North Iowa Domestic & Sexual Abuse Community Coalition and Crisis Intervention Service, aimed at honoring victims and survivors of sexual violence.
"I like to paint, so it's kind of healing," she said.
And for each year the woman, who is not being named because the Globe Gazette doesn't identify sexual assault victims, has attended the event, she has a T-shirt symbolizing her journey through the healing process.
"I'm in a much better place than I was, but there are still steps to be taken," she said.
The woman said she was sexually assaulted in college nearly 20 years ago, an act that left her "living this hollow existence for a really long time."
Her parents, she said, are the reason it took her so long to talk about it.
"They had this view that bad things happen to people who deserve it, so I was worried about what people would think," she said, adding her parents still aren't aware of the assault.
It wasn't until six years ago that she opened up to a friend about the assault and the women later attended The Clothesline Project.
"This is more like me focusing on how far I've come versus where I was," she said as she completed the wording on her shirt.
This year's shirt, as in years' past, shares a healing and hopeful message, "My pain my life a mess. I am making it my message."
As part of the event, community members as well as survivors of violence and their friends and family were invited to paint T-shirts, pick up informational brochures and purchase a slice of a "End Victim Blaming" cake for a freewill donation.
Shannon Roberts, a Crisis Intervention Service sexual assault advocate in Cerro Gordo County, said the event raises awareness about intimate violence and provides "a creative outlet" for survivors to heal.
Last year, 20 shirts were painted, but she said that represents a "very, very small portion" of those impacted by sexual violence.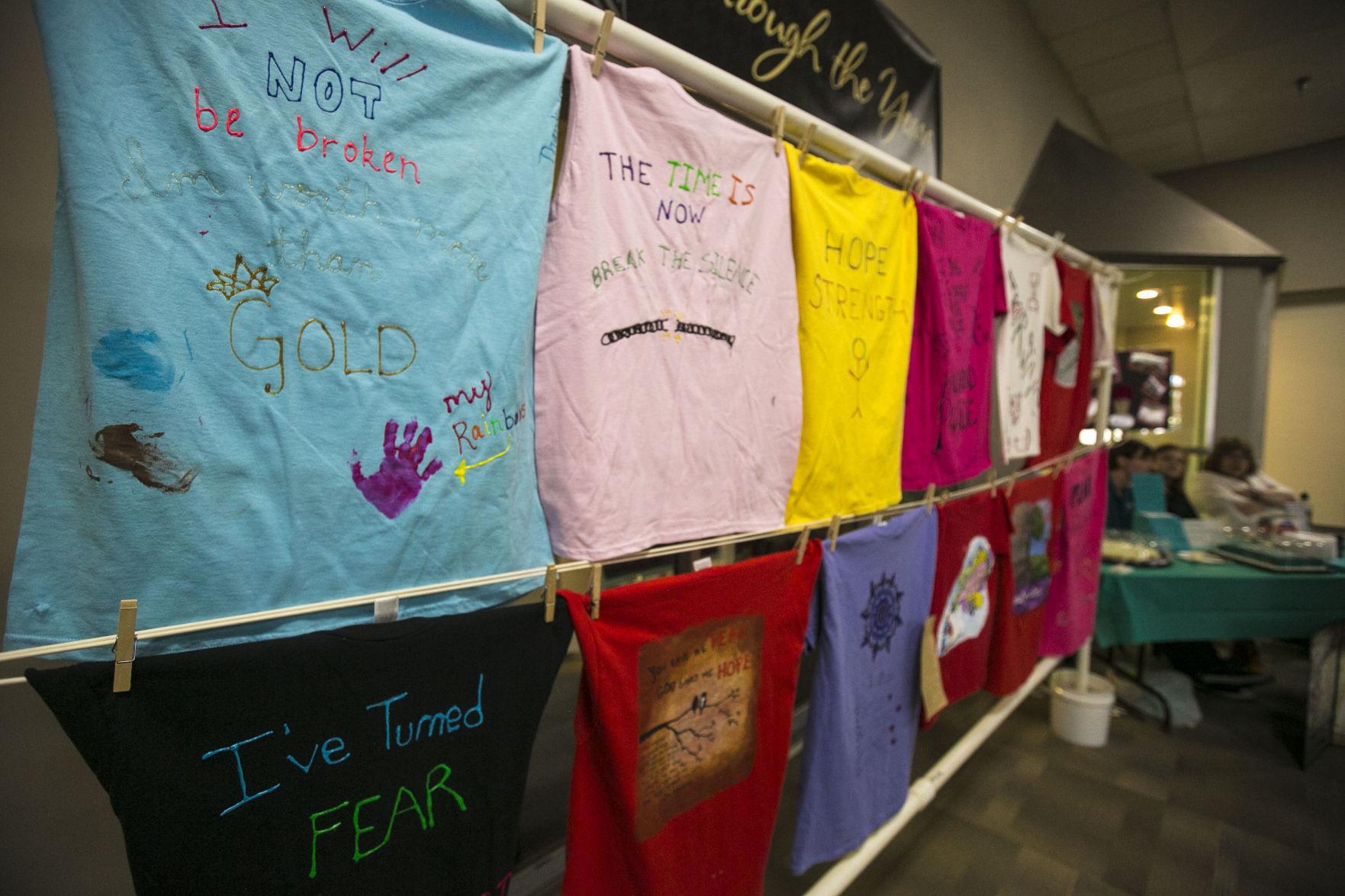 "There's way more than we could imagine," Roberts said. "You have to figure the people who don't come forward, that don't report it, that don't seek help. There are people who wait years or decades before they tell anybody. It's a very, very small portion just in our county alone (who have come forward)."
Crisis Intervention Service provides free and confidential services within 15 counties in North Central Iowa, including Butler, Cerro Gordo, Floyd, Franklin, Grundy, Hamilton, Hancock, Hardin, Humboldt, Kossuth, Mitchell, Webster, Winnebago, Worth and Wright.
Roberts said the shirts are made by those "who may be farther along in their healing process" and "able to express themselves about it."
"If you look at some of the messages the T-shirts say, some of them are extremely powerful and that takes a lot for a person to be able to express that in such a visual way," she said.
Shirts decorated with puffy paint, fabric makers and paint from the past were displayed on the clothesline.
After The Clothesline Project, law enforcement escorted survivors and supporters carrying signs to raise awareness about sexual assault for the annual Take Back the Night walk along Highway 18. April is Sexual Assault Awareness Month.
If there's one thing Roberts wants victims of sexual violence to know, it's that Crisis Intervention Service and its advocates are here to help.
"It doesn't matter the circumstance of how it happened. It doesn't matter who you are, what your reputation was, any of that. It's not your fault, and we do believe you," she said. "I think that's the strongest message we have."
Crisis Intervention Service has a 24-hour hotline: 641-424-9133.