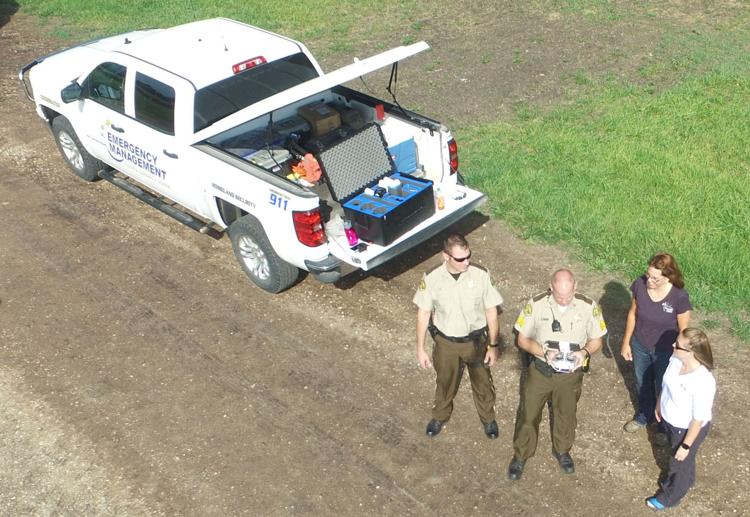 CHARLES CITY | Floyd County Emergency Management purchased a drone for the county's emergency personnel to utilize in hazardous situations, search, rescue and more.
Floyd County EMA Director Lezlie Weber is one of the designated and certified drone pilots in the county.
"I got my hands on it a few weeks ago in training," Weber said. "It's a very unique experience and took a little time to get used to."
According to state law, drone operators must have an FAA drone pilot license.
There are four county employees who have been trained, tested and certified on flying the drone including Weber: Floyd County Conservation Naturalist Heidi Reams, Floyd County Sheriff's Office Deputy Chad Weber and Floyd County Sheriff's Office Sergeant Deputy Travis Bartz.
"The FAA regulations state as long as there is one certified drone pilot on the crew, we can have others helping operate," Weber said. "We will be training few more from our departments to help be observers on our crews."
A crew should have two to three members. Batteries for the Inspiron 1 drone last between 17 and 23 minutes. A crew would help spot obstacles and keep the batteries charged.
Weber said the group took a three-day course, involving training on the FAA regulations, the equipment and systems for the Inspiron 1 and the FAA Testing.
"The Emergency Management Department decided to purchase a drone to help aid in the increasing search and rescue situations and to help evaluate potentially hazardous situations," Weber said.
Weber said the Floyd County Sheriff's department could use the drone for aerial views as it investigates traffic accidents and for search warrants, if necessary, to evaluate the situation.
Floyd County Conservation will use it to be able to completely view areas to help better manage invasive species, high usage areas, and more. The drone will also help the county get a better view of flooding, when needed.  
The Inspiron 1 drone system the county will use has a payload system that can carry 1 to 1.5 pounds.
"With that, we can get a life jacket out to someone," Weber said.
Drones are becoming more common for emergency workers. Mitchell County Emergency Services purchased a drone early this year.
In July 2016, first responders used a drone to locate and direct rescuers to an Algona man and his granddaughter, who were lost after their boat became stuck in the Des Moines River.
After they were located, emergency management services were able to quickly coordinate medical services to their location, as the man had suffered a heart attack. The man was later released from the hospital. 
"This is a step to bridge the gap between being on the ground and having a helicopter," Weber said.
The Inspiron 1 drone costs $1,999 without any add-ons.
Unless demand for drone use in the county increases "there are no plans to purchase another drone," Weber said.