Gun show organizers denounce 'all criminal use of firearms' in wake of threats at Mason City High School
MASON CITY | Phillip Sanchez is concerned about school safety, especially given a recent school shooting in Florida — along with the fact he's seen flyers around town promoting an upcoming local gun show.
That gun, hosted by the River City Rifle and Pistol Club, will be at the North Iowa Events Center this weekend.
Sanchez, a city council candidate for Mason City's Fourth Ward last fall, detailed some of his concerns about that and gun violence to the Mason City School Board on Feb. 19.
His comments ranged from questioning why businesses were promoting the River City Rifle and Pistol Club's gun show this weekend, to asking how Mason City schools can better equip themselves in the event of an active shooter.
He told the Globe Gazette this week the school district probably needs more than one school resource officer in order to keep its students safe. 
"Gun violence is ubiquitous throughout the United States, and I want to take measures that are helpful in keeping our children safe," Sanchez said.
In response to Sanchez's concerns about its upcoming gun show, the River City Rifle and Pistol Club issued a statement detailing its commitment to the community and how it educates the public on safe firearm use.
"The River City Rifle & Pistol Club denounces all criminal use of firearms and joins in mourning for the loss of life at the hands of murderers," the statement read. "The River City Rifle & Pistol Club has been a part of our community since 1968. We have always been and will continue to be good corporate citizens and a responsible member of the community."
The statement comes in wake of Mason City High School dealing with two recent safety threats. 
Last weekend, police reported a student threatened Friday to bring a weapon and use it against students and staff. That student has been referred to juvenile court. 
Then, in an unrelated incident, police said a threat was made toward a school pep rally on Monday. Police later released a Instagram post that referenced a shooting and warned: "Don't go to the school assembly."
Mason City Superintendent Dave Versteeg told the Globe Gazette this week that the Mason City Police Department fully funds one school resource officer at its schools. He added further conversations need to occur to decide if additional resource officers can be funded by police, the school district or both bodies.
Versteeg said those costs would have to come from the district's general fund, which mainly pays teacher salaries. He added safety is always at the "top of the list" in term's of the district's priorities.
Those issues can range from transportation problems, all the way to possible school violence, Versteeg said.
At the school board's last meeting, Sanchez argued arming teachers was a "knee-jerk reaction," and that trained professionals should be tasked with protecting students.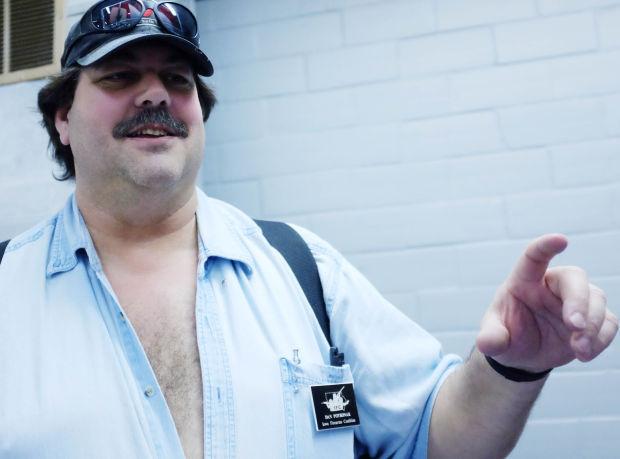 Dan Potkonak, however, thinks teachers may be able to react more quickly than resource officers.
Potkonak, a member of the Iowa Firearms Coalition since its inception in 2010, argued police departments across the state are understaffed, likely limiting how many resource officers they can deploy to schools.
An Iowa Falls resident, Potkonak has attended dozens of guns shows over the years, including those hosted by the River City Rifle and Pistol Club. As long as teachers are trained to shoot a firearm, they should be allowed to protect their students, Potkonak said.
"Your teacher is gonna be your first line of defense," Potkonak said. "Cops may be minutes away when seconds count."
Versteeg, however, stated not all teachers may be ready to take on that additional responsibility.
"At this day and age in 2018, I don't know if a teacher got into education, thinking they would have to deal with these types of things," he said. "I would agree with that, that's not what they're here to do ... I'm not saying some of them aren't prepared to do it, but I don't think a lot of them thought they were getting into this to do that."