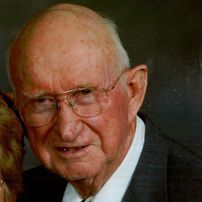 Burton Eugene Shanks
June 28, 1927 - November 11, 2017
Mason City - Burton Eugene Shanks, 90 of Mason City, died Saturday, November 11, 2017, at Muse-Norris Hospice Inpatient Unit in Mason City.
A memorial service will be 2:00 p.m. Saturday, November 18, 2017, at Hogan-Bremer-Moore Colonial Chapel, 126 3rd St. NE, Mason City, with Pastor Beverly Butler officiating.
Visitation will be one hour prior to the service at the funeral home.
Family suggests memorial contributions to the Burton Shanks Memorial Fund.
Burton was born June 28, 1927, the son of Leonard and Gladys (Anderson) Shanks in Mason City. He married Jeanne Potter on December 10, 1950, at the Little Brown Church in Nashua.
A graduate of Nora Springs High School, Burton worked for a lumber company where he created blueprints for farmers and contractors while also remodeling properties in Mason City and the surrounding area. For over 50 years he farmed in Mason City raising hogs, dairy cattle, and crops. He also worked at the ASCS office, American Crystal Sugar and completed claims for Cerro Gordo Mutual Insurance Company.
Burton was a member of the Rock Falls Old Stone Methodist Church. He enjoyed traveling often, including visits to Hawaii, Mexico, Florida, and California.
Burton is survived by his wife, Jeanne Shanks of Mason City; four children, Patricia Swoboda of Arizona, James Shanks, Sr. of Mason City, Susan (Brian) Wood of Mason City, and Charlotte (Kurt) Huntington of Cleveland, NC; nine grandchildren, James (Meghan) Shanks, Jr., Angela (Zane) Kantaris, Billie Sue (Jake) Hiatt, Jennifer (John) Eckart, David (Kristen) Huntington, Jackie Huntington, Christopher Swoboda, Kellie Marie Swoboda, Brian Wood, Jr.; eight great-grandchildren; and three of his siblings, David, Larry, and Glenn Shanks.
He was preceded in death by his parents; and five siblings, Esther Ford, Dorothy Frank, George Shanks, Howard Shanks, and Earl Shanks.
Hogan-Bremer-Moore Colonial Chapel, 126 3rd St. NE, Mason City. 641-423-2372. ColonialChapels.com.