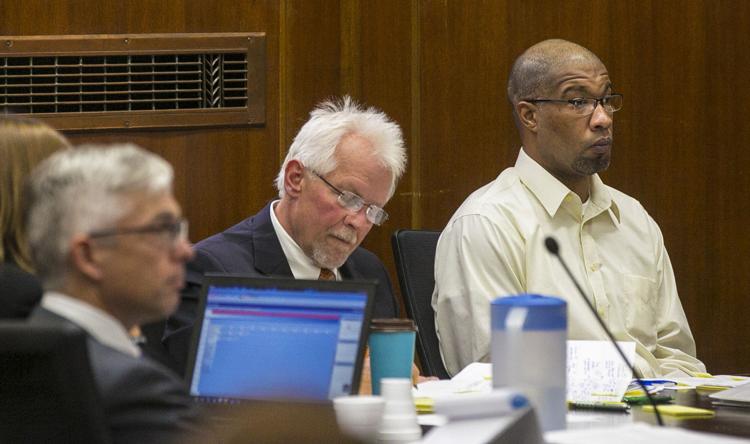 CHARLES CITY | In a third-floor courtroom at the Floyd County Courthouse, Edmund Brown recalled the events surrounding a fatal shooting outside the Clarkview Apartments in Charles City June 30.
He admitted he was drunk at the time, but his testimony during the first-degree murder trial Friday afternoon provided many details about Antoine Williams — a 36-year-old Chicago native who police say shot Nathaniel Fleming, 36, last known address in Mason City.
"At one point, he was OK," Brown told jurors about Fleming's behavior shortly before his death. "But then he took off in another land ... and got tough for no reason."
Steve Kolberdanz, one of the attorneys representing Williams, questioned Brown about his encounter with Fleming in the Clarkview Apartments — now known as the Casa Apartments — parking lot, about an hour before he was shot by Williams.
Brown, who said he was one of Williams' best friends, testified that the parking lot was a place where people would frequently hang out. He added that Fleming was acting strange the night of June 30, and heard about a threat he made toward Williams.
"He said, 'this MF talking about killing me,'" Brown testified based on a previous conversation with Williams.
When cross-examined by Iowa Assistant Attorney General Coleman McAllister, Brown testified he was drunk when he encountered Fleming June 30, and when he was later interviewed by police.
He added he remembered the threat, however, because it was something that "stuck out."
Earlier in the trial, multiple investigators testified that they believed Brown had sold a black handgun to Williams, the weapon used for the murder. 
Brown, however, denied selling Williams a gun, but added he had seen him with a weapon in the past.
One of those investigators was Jon Turbitt, an Iowa Department of Criminal Investigation Special Agent who interviewed Williams July 7 at the Cook County Jail in Illinois.
Turbitt told jurors that Williams initially denied involvement in the incident, but then admitted he fatally shot Fleming on June 30.
He added that Williams approached Fleming that night in a red Chevy Equinox to see if he would pull a gun on Williams, according to the interview. Williams told Turbitt that he "should've let it go," regarding the brewing conflict between him and Fleming.
"I said, 'But you didn't let it go, Antoine,'" Turbitt testified Friday. "And he said, 'No, I didn't, it's on me. That's on me.'"
In cross-examination, Nellie O'Mara—the other attorney representing Williams—asked Turbitt if he asked Williams during the July 7 interview whether Fleming threatened him.
After re-consulting an 18-page report of the interview, Turbitt said a threat had been made.
"He made a threat when talking about the gun that he had," Turbitt testified. "But he (Williams) said he never saw the gun, he never saw the gun in Nate's possession that night."
At several points during the trial, both sides have debated what evidence should be admissible, and how certain laws pertaining to the case should be interpreted.
One of these discussions occurred after the jury broke for lunch, concerning a new "stand your ground" law enacted by the state legislature July 1.
The new law states that individuals do not have to retreat when in a self-defense situation. Furthermore, it states that individuals can be wrong in their "estimation of the force necessary to repel the danger, as long as there is a reasonable basis" that such self-defense is needed.
O'Mara argued that since Williams was not charged until after July 1, the new law should stand, despite the shooting occurring June 30.
Judge Rustin Davenport, however, denied the motion, saying the law is not "retrospective," giving a common fine as an example.
"It would be like if you were changing the speed limit from 55 to 65 on June 30," he said, adding that just because the paperwork isn't filed before the change, that doesn't exempt the motorist from a speeding ticket.
Testimony finished around 3:30 p.m. Friday. The defense is scheduled to call several more witnesses, as Brown was the only one called so far.
The trial resumes 9 a.m. Monday.
---
Previous story:
CHARLES CITY | Prosecutors rested around noon Friday in a trial involving a Chicago native accused of fatally shooting a Mason City man in June.
Antoine Williams, 36, has been charged with the first-degree murder of Nathaniel Fleming, 36, last known address Mason City.
Iowa Assistant Attorney General Coleman McAllister questioned law enforcement official and criminalists from the state crime lab unit in Ankeny.
Perhaps the most important testimony came from Jon Turbett, an Iowa Division of Criminal Investigation special agent who interviewed Williams at the Cook County Jail in Illinois July 7.
McAllister questioned Turbett about the interview.
Turbett testified Williams said it was "crazy" to think he was involved in the shooting, but later admitted he shot Fleming. Turbett said Williams never told him he acted in self-defense.
"Did he ever say 'shoot or be shot'?" McAllister asked.
"No," Turbett testified.
Nellie O'Mara, the public defender representing Williams, then cross-examined Turbett.
"Was he trying to find him to calm him down?" she asked about the interview between Turbett and Williams.
"I don't recall," Turbett testified.