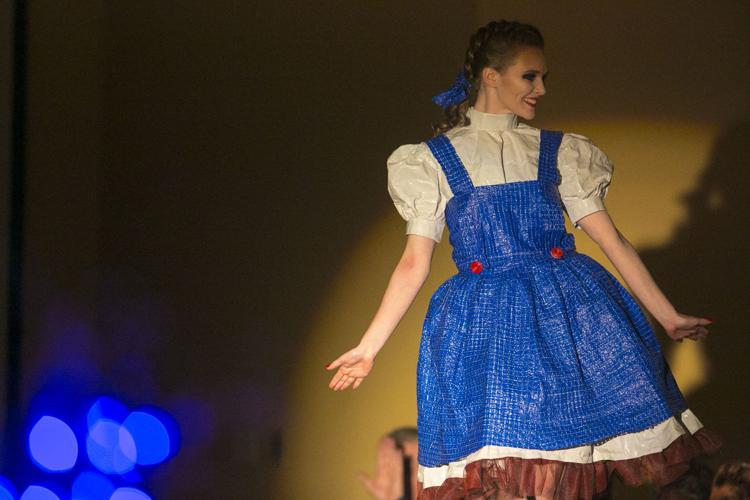 MASON CITY | Habitat for Humanity of North Central Iowa's largest annual fundraiser Thursday evening was a success.
That's what Melissa Schoneberg, Habitat for Humanity of North Central Iowa executive director, said Friday afternoon.
"It was amazing," she said. "We had more people than we imagined, and the dresses were so creative. We're very appreciative to all the people who came out to support it."
Hammers & Heels for Habitat — in its third year — raised nearly $50,000, which is about $80,000 more than last year's event.
The event drew more than 300 people to The Music Man Square in Mason City for an evening where construction met couture. It featured a fashion show, live and silent auctions and food and drinks.
"We'll have great ways to help people in our area with safe and affordable housing thanks to this fundraiser," she said.
Habitat for Humanity of North Central Iowa, a nonprofit Christian housing ministry financed through local private and corporate donations, serves Cerro Gordo, Hancock, Franklin, Winnebago, Worth and Wright counties through its homeownership and home repair programs.
Habitat has provided homeownership opportunities to 50 families and completed 12 home repairs throughout the six-county region.
The fashion show showcased the creativity of 10 area businesses that designed construction-material dresses that were modeled on the runway during the event.
Participating businesses were Paint Me Gourmet, Crown Point Builders Inc. of Garner, Dean Snyder Construction of Clear Lake, MBT Bank, Diamond Jo Casino of Northwood, Floor to Ceiling, WWA Architecture + Planning, Hy-Vee East, Market 124 and Habitat for Humanity.
Backsplash tile, paint samples, house wrap, duct tape, hardware and landscape materials were among the dress components.
A panel of judges awarded awards in eight categories and the audience voted for its favorite dress through donations in the People's Choice Award.
The awards were as follows:
• Most wearable: WWA Architecture + Planning, which paid tribute to nearly a century of architecture and design in North Iowa beginning with the Waggoner family with its 1920s-inspired dress.
• Best craftsmanship: Diamond Jo Casino, which featured shredded art in its 99 percent construction materials dress using plastic tarp, canvas drop cloth, mesh cargo tarp and more.
• Best use of construction materials: Crown Point Builders Inc., which used 100 percent construction materials to design a "voluminous gown fit for a socialite."
• Bling factor/best accessory: Dean Snyder Construction, which used butterfly adornments and a mermaid-esque silhouette for its 100 percent construction materials dress.
• Most creative: Paint Me Gourmet, which illustrated Red Riding Hood's slaying of the Big Bad Wolf through the use of a cape included in its design.
• Most colorful: Hy-Vee East, which designed a dress all about paint—paint samples, paint brushes and even painter's tape.
• Most eclectic: Market 124, which designed a Victorian steampunk-inspired dress re-purposing materials from historic Mason City buildings.
• People's choice and Best of Show: MBT Bank, which designed a Wizard of Oz-inspired dress with shoes emblazed with backsplash tile.
"They really wowed the crowd," Schoneberg said.
Habitat for Humanity's Asian-style dress was inspired by items donated by the Habitat ReStore.
Schoneberg said Habitat events, like Hammers & Heels, are "extremely important" for the organization because it relies on the local funds for its projects.
"It truly is neat to see with the division in the world now between politics and different things so many different groups and community people come together to support a great cause," she said. "We're glad they chose to support us."